Voronia
Direction and choreography Marcos Morau
La Veronal
Sadler's Wells
–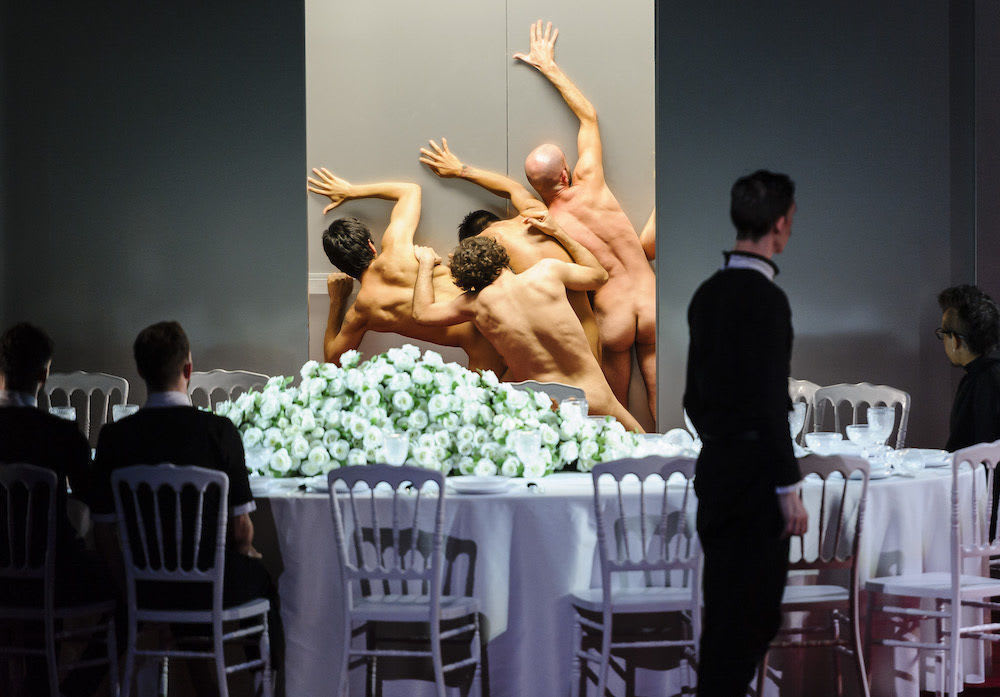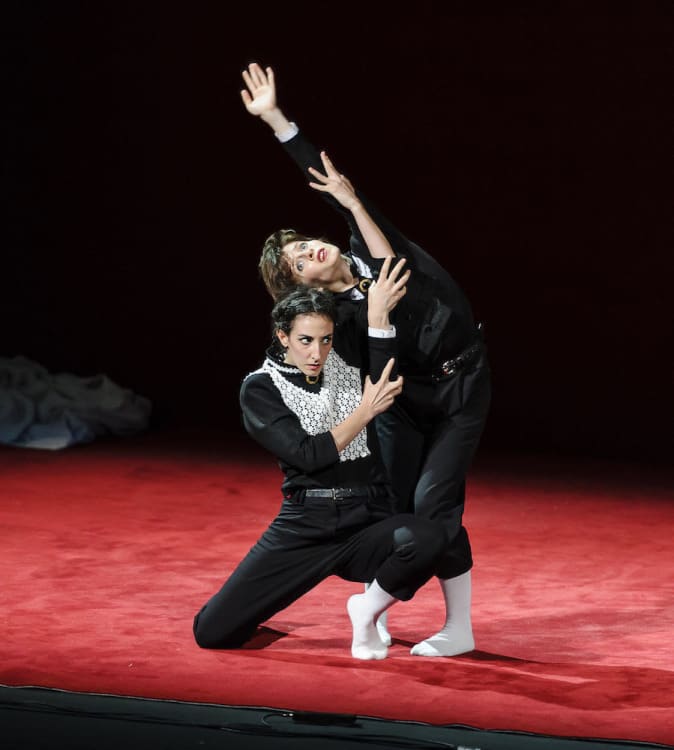 Using the deepest cave in the world, Krubera Cave, known locally as the Crows' Cave—Voronia Cave—in Abkhazia, formerly part of Georgia, as a starting point for a surreal meditation on heaven and hell on earth, on religion, on evil, Marcos Morau tests his audience's literary, cinematic, visual and musical references.
Morau, who studied choreography in Barcelona, Valencia and New York, and I would suggest is mightily influenced by Pina Bausch, William Forsythe and Anne Teresa De Keersmaeker, founded La Veronal (Virginia Woolf's first suicide attempt drug of choice) in 2005.
Since then he has been winning acclaim in Europe, but this is the company's first visit to Sadler's Wells as part of Dance Umbrella 2015—it isn't a sell-out and there are walkouts, but I quite like it.
Last year saw them at the Queen Elizabeth Hall with Siena, which I missed, so this is my first exposure to La Veronal, and no I don't want to commit suicide. Rather I enjoy having my tired brain scramble for that elusive connection—what is that piece of music, that scene, that piece of movement, can I retrieve them from my mental store…
I imagine Voronia is saying something quite different to each of us watching it. Voronia in Russian is an adjective; here it seems to be a noun, but no matter. Crows or ravens—a murder of crows or an unkindness of ravens eight dancers in Wayne McGregor-ish awkward avian moves suggest both. What is it about ravens—McGregor's Raven Girl is still playing at the Royal Opera House.
With input from his dancers, "a company of artists from the worlds of dance, film, photography and literature", an animated episodic slideshow of images following hard upon each other, a dance / video installation of sorts intrigues.
In girum imus nocte et consumimur igni—a palindrome and a riddle known as the devil's verse—Latin scholars can have fun unpicking that—we walk around in the night and are consumed by fire—a caption in capitals opens proceedings—a statement of intent. A boy stands against the grey back curtain and is consumed by fire.
What follows is straight out of Luis Buñuel, David Lynch and Jean-Luc Godard, who famously said film should have a beginning, a middle and an end but not necessarily in that order.
We are in a hotel lobby, which is being cleaned by a group in white—is this heaven—Powell and Pressburger's A Matter of Life and Death? Are they Juan Muñoz sculptural figures come to life? And the Soviet anthem softly plays…
More distracting captions guide us along the way—I take note and then give up, life's too short. Ecclesiastic singing, ecstatic spasms, the curtain opens to show a hospital operating theatre, another vitrine slides into view—ah, a riff on Damien Hirst's A Thousand Years.
Naked Hieronymus Bosch figures try to fight their way out of the lift. Up to heaven down to hell, which is it to be? Red lighting might be the clue. The birds clap, magpies chattering… And Verdi's Hebrew Slaves Chorus sings Va, pensiero, sull'ali dorate, Fly, thought, on golden wings.
Bells and electronic hums, Middle-Eastern pipes remind me of the Georgian-Armenian film director Sergei Paradzhanov, explosions and film scores I almost identify but they elude me, it's all happening so fast, one thing after another. Marcelo Lastra's soundscore fascinates, as does Roberto Fratini and Pablo Gisbert's dramaturgy. But do thoughts to heaven or hell go?
A table beautifully laid with white flower centre-piece is delivered from the service lift—an endless last supper, or is it referring to the collapse of civility in The Discreet Charm of the Bourgeoisie or The Exterminating Angel? A polar bear takes its place, priests and acolytes. One can almost smell the incense.
The boy (Jared Irving) opens a door and out comes the gorilla from Cabaret—ah, it's an Auschwitz gas oven. He opens another and floods the stalls with light. Imagery and metaphor, music and text, movement and still pose, you cannot drink to the lord and the devil too. I abbreviate, but you get the drift.
A woman shouts, a man has his head shaved, there's a policeman in riot gear in the lift, thunder and white noise, are we now in film noir thriller territory? Is that the sound of quarry blasting? A valley full of bones that God breaths life into—magic and mystery. That's life. That's enough, seventy-five minutes with no interval is quite enough.
Reviewer: Vera Liber