Waitress
Music and lyrics by Sara Bareilles; book by Jessie Nelson, based on the screenplay by Adrienne Shelly
Waitress Tour Limited
Leeds Grand Theatre
–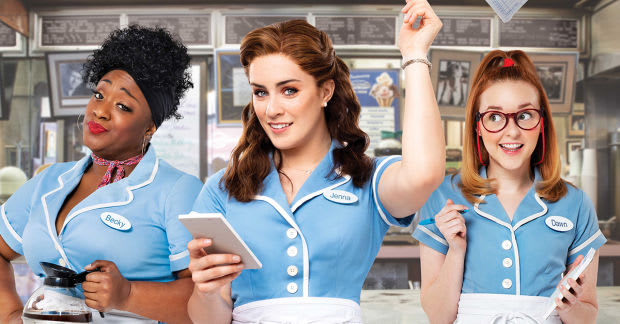 Waitress is a prime example of a musical that has eclipsed its predecessor in the public imagination. While the original film—written and directed by the late Adrienne Shelly—opened to appreciative reviews when it was first released in 2007, it only received a limited theatrical release and is now largely forgotten. The stage version, however, has enjoyed considerable success all over the world, and has now embarked on its first UK tour after making its West End debut in 2019.
Jenna (Lucie Jones) works as a waitress in a small-town diner with her friends, Becky (Sandra Marvin) and Dawn (Evelyn Hoskins). Life at the diner can be a drag, but at least it gives her the opportunity to exercise her extraordinary flair for pie-making. Trapped in a loveless marriage to Earl (Tamlyn Henderson), a feckless layabout who pockets her tips, Jenna's narrow world tightens even further when her pregnancy test comes back positive.
Opportunities for escape arise in the form of Jenna's charming (but married) gynaecologist, Dr. Pomatter (Matt Jay-Willis), with whom she has an affair, and an upcoming pie contest with a cash prize of 20,000 dollars.
Much like 9 to 5 the Musical, which I reviewed in Bradford the other week, Waitress offers audiences a stirring tale of female empowerment in the face of adversity. I don't wish to overstate the show's feminist credentials, but it was pleasant to see a musical in which the heroine does not depend on a man for happiness or self-worth.
Overall, I found Waitress to be an entertaining and vibrant production, packed full of well-crafted tunes from singer-songwriter Sara Bareilles, best known for her Grammy-nominated hit "Love Song" from 2007. The show's opening number, the aptly-titled "Opening Up", has been buzzing around pleasantly in my head since I watched the show.
Diane Paulus's direction is slick and purposeful, and Lorin Latarro's inventive choreography adds dynamism to a familiar story of marital unhappiness and thwarted ambitions. The fluidity of the production is greatly enhanced by Scott Pask's attractively detailed set, which can be taken apart and reassembled with great ease.
My main reservations about the show lie in Jessie Nelson's book. Despite cheating on her husband while pregnant, Jenna makes for a rather vanilla protagonist, and her passive niceness can be rather grating at times. That being said, she does gain agency throughout the show, and her close bond with her co-workers yields moments of great warmth and humour.
Lucie Jones brings considerable likeability to the role of Jenna, and her voice is impeccable: she fully deserved the rapturous applause she received for her barnstorming rendition of "She Used to Be Mine". Christopher D Hunt is suitably loathsome as Jenna's useless husband, and Matt Jay-Willis (of Busted fame) makes for an amiably bumbling love interest.
Most of the show's biggest laughs come from the supporting cast. As Becky, Jenna's older, more world-weary co-worker, Sandra Marvin brings some much-needed bite to the production, and Evelyn Hoskin is terrific as Dawn, the kookiest of the three waitresses. George Crawford is hilarious as Ogie, Dawn's equally nerdy beau, and there are also nice turns from Michael Starke, Christopher D Hunt and Scarlet Gabriel.
Despite lapses into sentimentality, Waitress is buoyed up by a strong songbook, confident direction and an ensemble of talented actors.
Reviewer: James Ballands