What the Butler Saw
Joe Orton
Vaudeville Theatre
–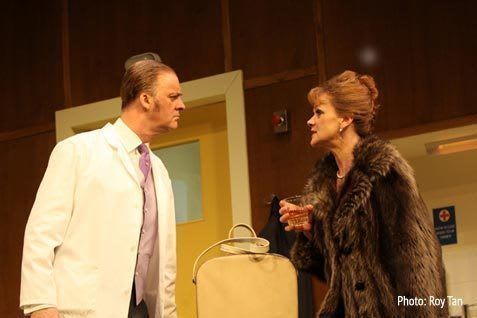 Joe Orton is always fun in a fashion that still manages to be subversive close to half a century after he scandalised Britain in the Swinging Sixties.
This latest production of his farcical 1967 comedy set in a mental hospital is directed by Sean Foley, still most fondly remembered as half of The Right Size, who struck gold with The Play What I Wrote.
The drama is played out in a psychiatrist's consulting room, tellingly twisted off centre by designer Alice Power, while the period is primarily exemplified by the actresses' hilarious costumes and wigs—why did women dress like that?
One innocent-ish little lie sets off a chain of events that for the most part follow their own internal logic, while repeatedly demonstrating a vein of madness that can be unsettling and is consistently the cause of laugh out loud comedy.
The opening scene on this occasion is unusual, in that Joe Orton is performed as Oscar Wilde, and it works surprisingly well, given the continuing class consciousness of the 1960s. The term thereafter is far closer to slapstick.
What the Butler Saw is a farce that thrives on confusion. After Tim McInnerny's Dr Prentice seduces a would-be secretary, rather than risking the wrath of his overbearing wife when she practically catches them in flagrante, he attempts to hide the girl, extremely well played by West End newcomer Gemma Moffett.
Samantha Bond, a long way from Miss Moneypenny in her black lingerie, is the nymphomaniac Mrs Prentice who has plenty of her own skeletons in the cupboard, one of them in the well-fleshed form of hotel pageboy / rapist Nick Hendrix playing Nicholas.
Add in the additional ingredients of Jason Thorpe as a thick policeman and another psychiatrist, Omid Djalili in the role of Dr Rance, making a very capable return to the theatrical stage after an 18 year interregnum building his career as a stand-up and you have the makings of a great evening.
As he did in his radical reinterpretation of The Ladykillers, Foley has asked his actors to appear manic, to degree that should not be necessary given the quality of the text. Tim McInnerny frequently slips into Basil Fawlty mode while Omid Djalili faces an increasingly uphill struggle with the upper reaches of his volume control.
Clothes are lost as frequently as minds in a play that pokes fun at numerous targets including the respectability still demanded by the authoritarian British society of the period, the medical profession and organised religion.
Audiences will have a good time and should generally forgive a little heavy-handedness in getting the laughs during 2¼ hours of likeable stage shenanigans.
Reviewer: Philip Fisher