When the Crows Visit
Anupama Chandrasekhar
Kiln Theatre
Kiln Theatre
–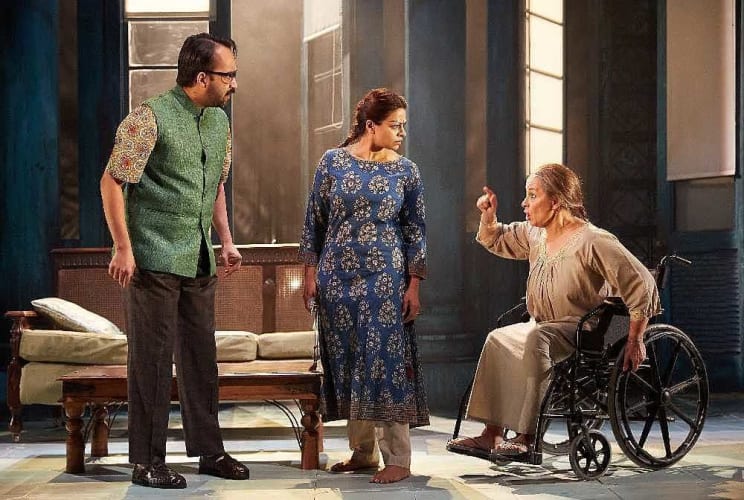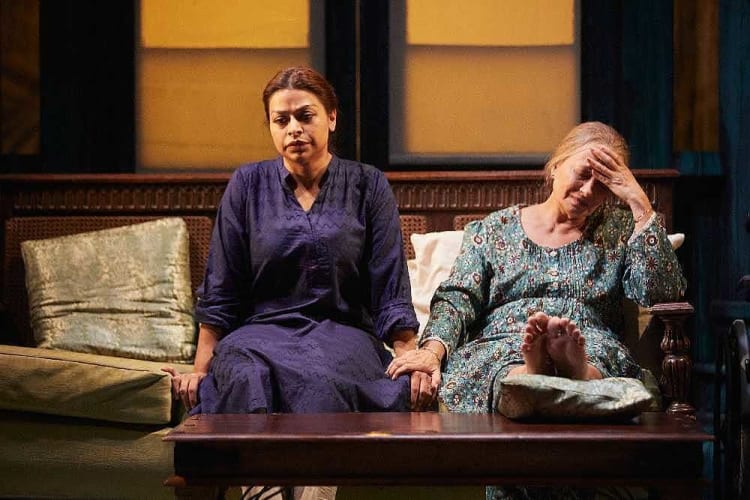 When the Crows Visit is very much a play of two halves. For the opening part of this world première, viewers are invited to watch what is effectively an Indian soap opera playing out in a comfortable home in an unidentified location.
The events circle around a series of stock characters that might well be familiar to Bollywood audiences, each behaving entirely predictably in an effort to generate gentle laughter.
Working downwards generationally, the starting point is wheelchair-bound Jaya, Bollywood favourite Soni Razdan depicting an irritating, self-absorbed tyrant who drives everybody else to distraction.
A generation down, the pick of the performers Ayesha Dharker portrays her daughter-in-law Hema, a woman whom we discover was constantly beaten and abused by her late husband, the apple of Jaya's eye.
The old woman is attended by Aryana Ramkhalawon's Ragini, a long-suffering nurse who gives as good as she gets, jousting with verbal aplomb.
The household of tetchy women seeks hope and reassurance in distant Mumbai, where Hema's son, Bally Gill in the role of Akshay, is the inspiration that keeps his worshipful grandmother alive.
However, the young man has his own problems, working as a games developer without the talent to do so, only supported by his mother's hidden moral and financial blackmail.
By the interval, in a performance that last two hours 20 minutes, given the occasional dodgy accent and some overly demonstrative acting, viewers might be wondering why Artistic Director Indhu Rubasingham has chosen to stage and direct this world première.
The answer comes during a much stronger second half, in which the heavy influence of Ibsen's Ghosts becomes a guiding force.
A corrupt police inspector arrives determined to discover whether Akshay can provide information connected to a truly horrific rape and prospectively murderous assault at a bar in which he had attended a business meeting just before the incident.
The drama is ramped up considerably when Akshay becomes a suspect, despite the fact that he can offer a cast-iron alibi and his mother a cast-iron bribe.
What ensues is a gripping drama, which explores the nature of families generally and more specifically with an Indian slant, as the older women react to the information and the young man attempts to clear his name.
Most significantly, as a consequence of her son's involvement on the periphery of the rape case, Hema is forced to make the kind of life-changing decision that her mother-in-law had faced decades previously.
Around the central story, it is fascinating to see the extent to which Jaya can use Hindu myth and parable as a model for life, creating a series of different but always meaningful symbols for the crows that live in the tree outside her bedroom window. The birds are cleverly depicted by designer Richard Kent with his lighting colleague Oliver Fenwick and sound experts Ben and Max Ringham, collectively making fine use of eerie shadows and sound effects.
While When the Crows Visit is far from perfect, with the soap opera influence weakening the power of the serious drama, it is a worthwhile and important drama shining a light on the difficulties that so many women still face in India today.
Reviewer: Philip Fisher