Wild Tango
Choreographer and artistic director Germán Cornejo
Germán Cornejo's Dance Company
Peacock Theatre
–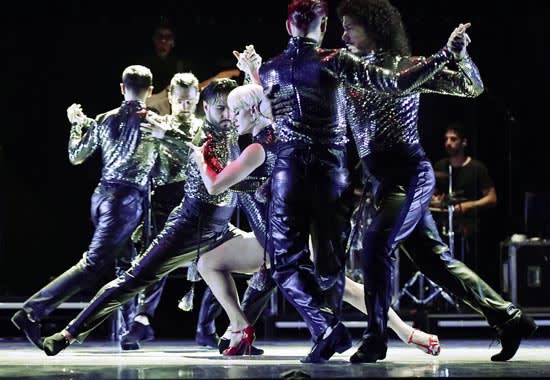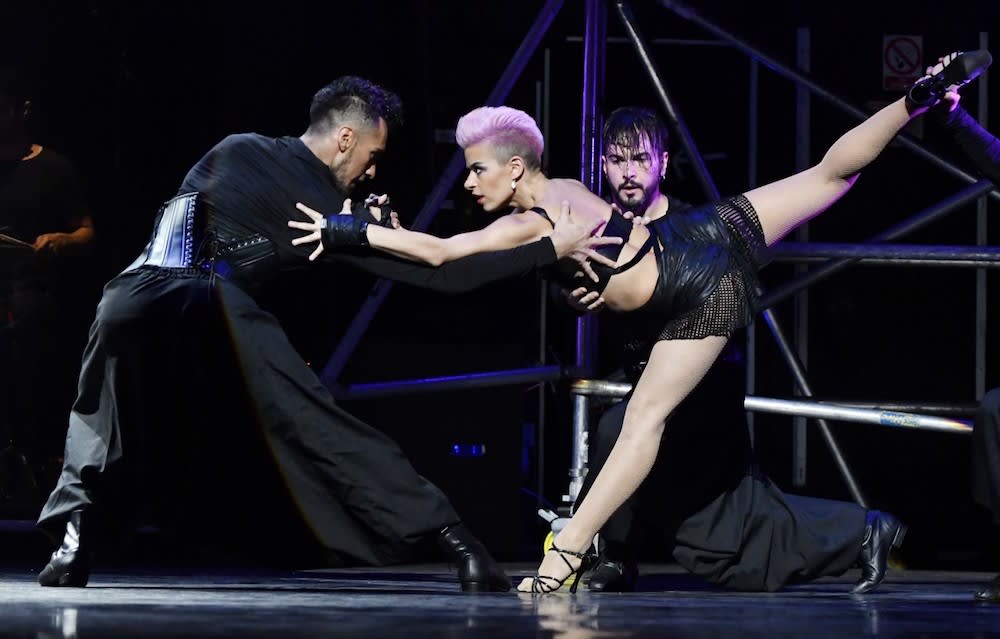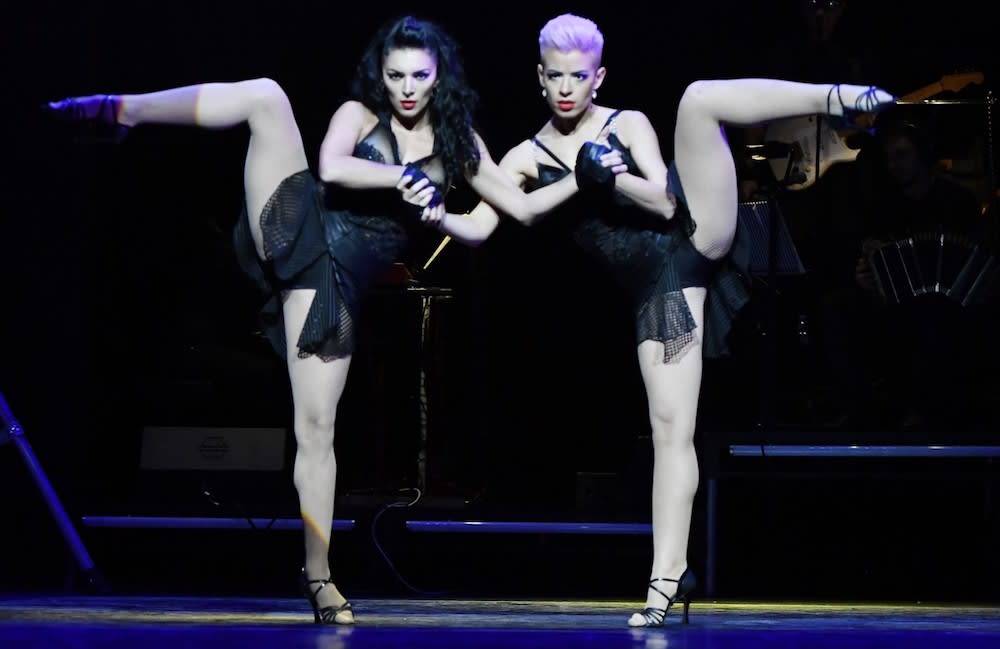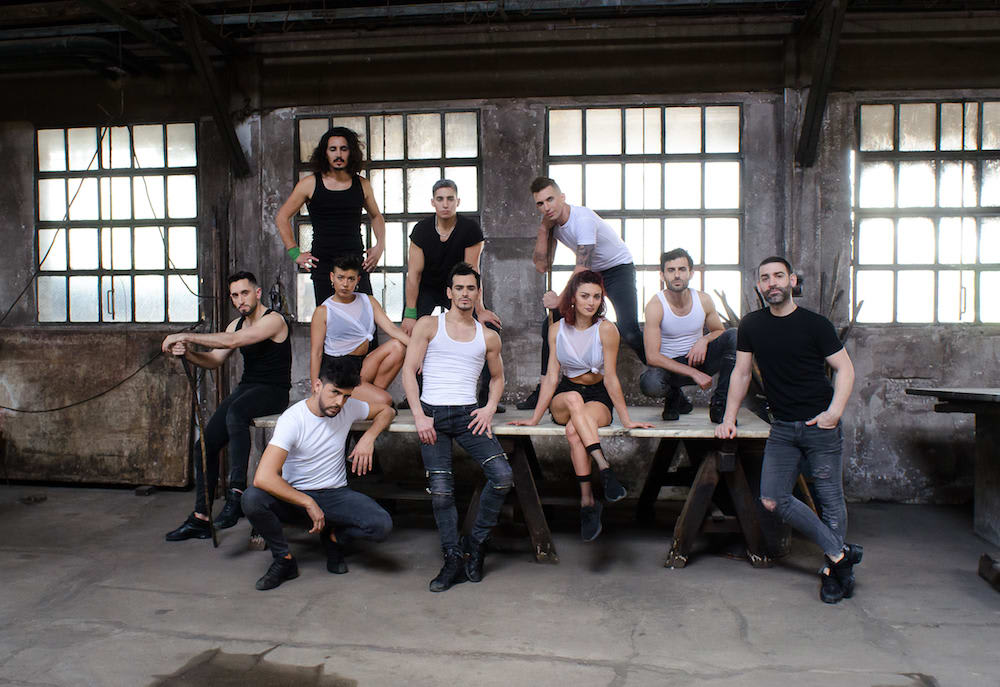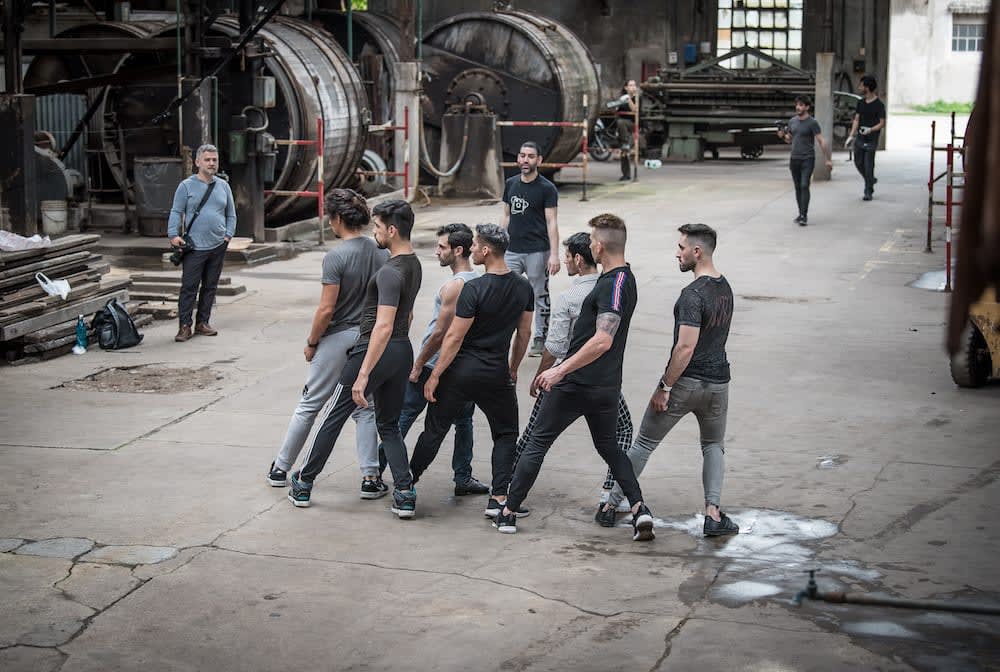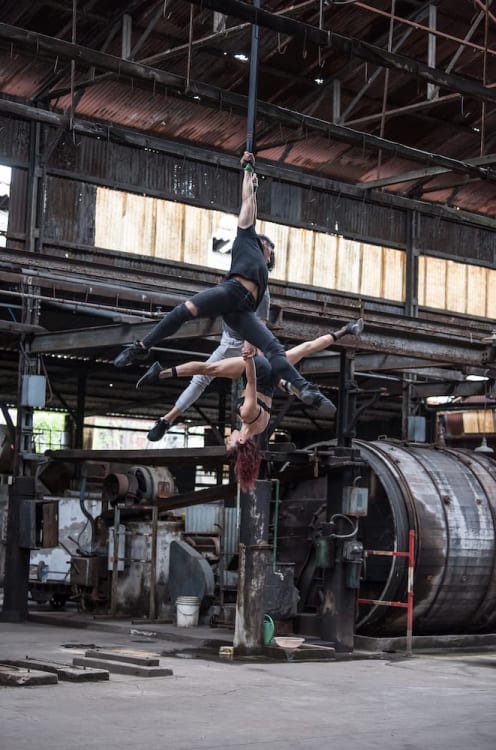 Germán Cornejo and Gisela Galeassi (world tango champion in 2003) I first came across in 2013 in Sidi Larbi Cherkaoui's dynamic m¡longa. Here they are again as the lead couple, but it's not about them. Cornejo's idea ("It's so different from everything I've previously created") is to move away from the usual tango shows, hetero couples, and have men dancing with men as used to be traditional. Strictly were not breaking with tradition then with their first male on male couple… Here the ratio is ten male to three female.
Many of the dancers are trained in a range of styles, folkloric, malambo, salsa, urban, contemporary, jazz, classical, Latin, artistic and rhythmic gymnastics, aerial straps, and tango, and they bring all that and more to the show. Malambo is gauchos showing off to each other, a bit like street dance battles mixed with tap.
No question the dancers have energy and style in spades, but this Wild Tango mix comes as a surprise. From the programme images, in rehearsal in ripped jeans and sweaty vests against an industrial factory set, I imagined something different, raw, but this fusion of tango, malambo, contemporary, urban and 'Cirque du Soleil' aerial dance style comes across as more of a cabaret show with a bit of this and a bit of that.
The stage is set with two neon-lit metal towers either side, which the dancers and the guitarist will utilise to minimal dramatic effect. And the brief aerial numbers are fine if bitty. Black costumes, lots of leather, hoods, the men look as if they have stepped out of the Assassin's Creed video game as they circle the stage and the lead couple.
This is promising I think, but lots of costume changes (from black to pink-lined PVC cloaks and pink tops over white, skin-tight pants) and acrobatics don't make for a creative whole. It's nearly half an hour late start tonight and I wonder if they are not quite ready for the first night. I'm assuming the show will settle in time and find its rhythm.
It is a show, but not tango as we think we know it, nor that wild either. But, there are some exciting musical numbers from the terrifically loud band that break up the dance sequences and cover costume changes. Ovidio Velazquez on keyboards, Jeronimo Izarrualde on drums, Matias Rubino on bandaneon and Luciano Bassi (in gaucho hat) on guitar and vocals are over-amplified: turn up the volume to turn up the excitement pitch, I guess. It's a rock gig.
But, I love Bassi's singing—at times I hear Rufus Wainwright in his voice—he has quite a range, from rock to smooth love songs. He dominates the band, often coming forward under a spot front stage. The beat is strong, but the bandaneon is drowned—I have always loved Piazzolla—in a heavy rock sound. I find I'm paying more attention to the singer than the dancers—he really is stealing the show for me.
All the performers (several are world tango champions) give everything of themselves, but I'm expecting more corazón (Bassi sings of it): my heart is not jumping with excitement. My feet are tapping, but as the show progresses, my brain decides this is maybe too gimmicky, too kitschy, even as my heart wills them on. And the sexiness is so faux as to be amusing.
They give an encore; the people in the stalls cheer them on. It is quite sedate in the circle by comparison, and there are some empty seats up here after the interval. As good troupers, they overcome whatever spanner is in the works tonight. I'm sure the show will find its measure during the run. And streamline its hybrid padding. And deliver what it says on the box—gritty, rough trade 'Car Man' vernacular rather than a tourist show with little cohesion as yet. Early days… the vehicle could do with some tinkering.
Reviewer: Vera Liber