The Woman in Black
Adapted by Stephen Mallatratt from the novel by Susan Hill
PW Productions
Theatre Royal, Newcastle, and touring
(2010)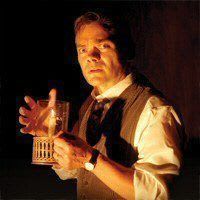 Would it work for me again? I last saw The Woman in Black in the same theatre in 2007 and was mightily impressed, seeing a full house in a 1,300-seat theatre held by the performance of two actors using nothing more than their own skills, a simple and effective set design and excellent lighting and sound - and the audience's imagination. This production has been running for 21 years - it opened at the Lyric, Hammersmith, on 11th January, 1989 - so surely by now it would show signs of aging and not be able to hold the audience?
Not a bit of it. There was a very mixed audience with a significant proportion of school parties (I guess mainly years 10 and 11) and they reacted as one - although it has to be said that the teenage girls reacted most vocally. If any of them has lost her voice, it's buried deep in my ears! The screams and squeals, followed by giggles, were, if anything, even louder than three years ago.
As an aside, it is good to see so many school parties still attending theatre. Given the bureaucracy surrounding such outings (risk assessments, obtaining written parental permission, organising transport and so on) and the ever-present dangers inherent in our modern compensation culture if something goes wrong, to see so many teachers willing to, as it were, put themselves on the line for the benefit of their students (or must we call them "learners" nowadays?), something I've seen a lot of over the Christmas period with groups ranging from infant schools to secondaries, says a lot for the dedication and professionalism of their teachers.
So much, of course, depends upon the actors. The rest, though very important, are supporting factors. Robert Demeger (Kipps), who was in the 2007 touring production, and Peter Bramhill (The Actor) do exactly what, at the beginning, The Actor tells Kipps he should do: they stimulate the audience's imagination. We actually see what they mime: the props basket which becomes so many different things, the dog, the marsh, the causeway.
If I have a criticism, it relates purely to stagecraft. At times the vocal shock reaction went on for some time but, instead of pausing to wait for the noise to die away, the dialogue continued. Perhaps nothing important was lost and, indeed, by the second half they had adapted, but it did niggle at me a bit.
But that is a minor quibble. It did work again for me and - more importantly - for the packed audience.
Touring to Leicester, Woking, Edinburgh, Sheffield, Cambridge, Darlington, Swindon, Blackpool, Swansea, Northampton, Hastings, Brighton, Belfast, Nottingham, Cheltenham, Bath, Plymouth, Liverpool, Glasgow, Cardiff, Norwich, Southend, Worthing and Leeds.
Seth Ewin reviewed this production in Edinburgh and Steve Burbridge saw it in Darlington
Reviewer: Peter Lathan