Wonder Boy
Ross Willis
Bristol Old Vic
Bristol Old Vic
–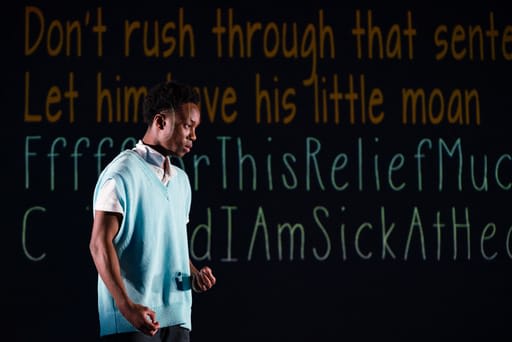 The much-anticipated debut of Wonder Boy has finally arrived at Bristol Old Vic after its COVID-inflicted delay. Sally Cookson, the award-winning director of A Monster Calls, is at the helm of Scott Willis's play—written by the local scribe eight years ago when he was just 19 years old. The pair spent lockdown daydreaming how this will be staged, with Willis telling The Guardian in 2021 about his aim to create something "to be inherently theatrical".
Wonder Boy tells the story of a reclusive 12-year-old school pupil with a stammer named Sonny, portrayed by RADA graduate Raphel Famotibe on his stage debut, as he navigates his inner frustrations through the struggle of speech. School is difficult for the comic-loving, artistic boy but he finds friendly support from trouble-making student Roshi (Juliet Agnes) at the lunchtime drama club supervised by Miss Wainwright (Amanda Lawrence), with whom Sonny builds a quick rapport. Sonny's inner monologue is driven by a superhero of his own creation, Captain Chatter (Ramesh Meyyappan), who acts as his guide / adviser with Sonny's best interests in mind.
Original storytelling of untapped corners in our society can seldom be told on stage and screen—or, at least, are hard to find. Willis's accessible script here certainly helps fill that void, creating something we've not seen before. In collaboration with Cookson, whose work on A Monster Calls dealt with a young boy's struggles, it is a welcome treat.
At times, Wonder Boy is as heartwarming and as it is heartbreaking, with the struggles of loneliness, anxiety and bullying palpable. Willis's unconventional script takes us some way to walking a mile in a Year 8's shoes but it can trip into half-empty symbolism and the occasional stiff dialogue. Whilst the premise is strong, original and promising, it doesn't always deliver on its potential. Despite strong performances—especially from a riveting Famotibe—and a dynamic production design, it is a tad frustrating that it occasionally falls into short abysses of what-the-hell-is-going-on-here moments.
The critical consensus so far has hailed the profane-heavy script as nothing short of earth-shattering, but it feels like it could have been so much more. But Wonder Boy isn't without its strong merits, especially on the production side. Willis's vision was for it to be a "John Hughes film on acid". Here his play succeeds.
Benji Bower's live dynamic and synthesizer-led music connects with the story perfectly, in tandem with Jonathan Everett's sound. The backdrop is harnessed through the powerful and accessible video design by Tom Newell, unfolding a comic book creation before the audience's own eyes onto a minimalistic, future-looking set designed by Katie Sykes. It's rather impressive stuff.
It certainly can be said that Bristol Old Vic is delivering on its promise to create things we've never seen before, like the Mark Rylance-led Dr Semmelweis and the upcoming production of The Meaning of Zong starring Hamilton's Giles Terera. And for this, they should be applauded.
Reviewer: Jacob Newbury