Young Men
Choreographed by Iván Pérez, original score by Keaton Henson
BalletBoyz theTalent
Sadler's Wells
–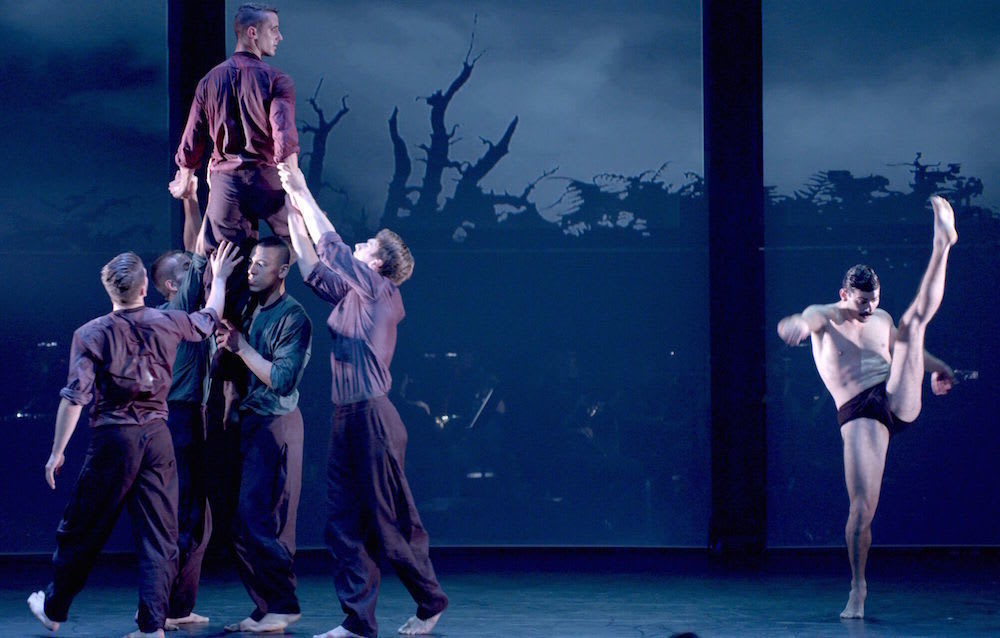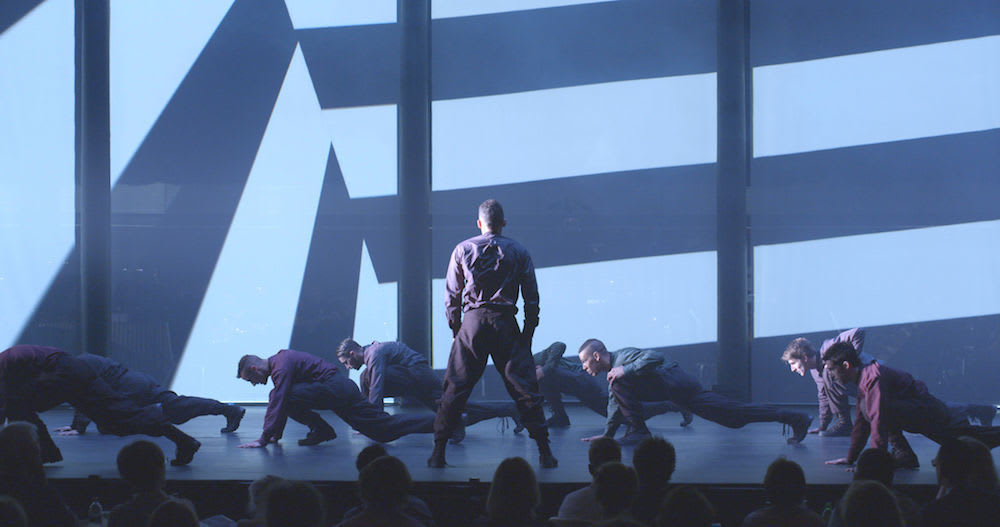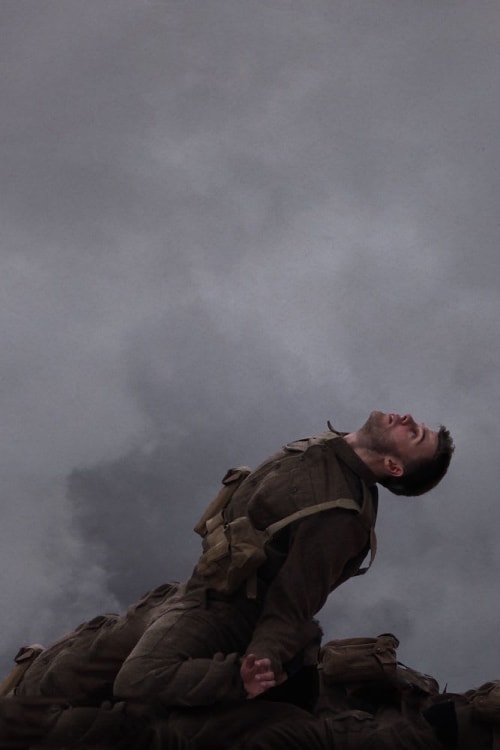 Assault is the all-encompassing word for the ninety unremitting minutes of war (there is thankfully an interval) and its effects on Young Men from choreographer Iván Pérez, composer Keaton Henson, and BalletBoyz theTalent, tonight comprising eleven young men and two women.
An assault on all the senses: Henson's thunderous new score never lets up, cranking up the volume, drum and electronica beating the point home—war damages everyone. Strings shriek and wail; ominous hum underlines the nightmares of damaged souls.
The onstage orchestra—behind a gauze on to which are projected dark murky cloudy scenes—lends tremendous force to the high testosterone choreography before us, painting an aural landscape to equal the one before our eyes.
Jackie Shemesh's lighting plays with the high drama of each scene. Ten scenes split into five either side of the interval. Their titles tell of shellshock, gassings, loneliness, camaraderie, training, and homecoming.
Young men must do what old men tell them to do, and women must weep. Pérez quotes figures in his programme text of losses in both world wars, but what touches him personally is a story from the Spanish Civil War.
And the destiny of women, who dared to follow their men to the battlefields, hence the need for two female figures, Dalma Doman and Jennifer White, who must represent all women, the mother and the lover.
But we don't have to look far for visions of war; we can see them every day in the news. Have we learnt nothing from the disasters of the twentieth century? Man is a combat machine. In cohorts and phalanxes they conceal the frailty of flesh and blood.
However much the creative industries depict with great compassion and respect the scars and wounds of war, mental and physical—lest we forget—little changes. I longed for some lightness amidst the dark.
But that is not to take away from the intensity of seeing young men give their bodies up to twisting and tumbling, military exercise and martial dance, encouraged and aided by their comrades-in-arms.
Abused men pumped up for action by Mars the god of war. George Clausen's 1916 Youth Mourning grips my heart, as the music takes its toll on my head.
Emotion heightened by dance that doesn't get more visceral than this, bodies so full of energy it's a crime to see them simulate collapse, physical and mental.
Easy flips, runs, slides, spins and leaps turn to crippled walks and contorted torsos (Andrea Carrucciu is remarkable, barrel chest, sway back, legs deformed into swastika shape), Pérez's narrative tugs at every sense and yearning emotion.
Sirens sound, alarms ring, this is hell on earth. Never-ending, the images come hard and fast. Wheeling and reeling, young men subsume themselves to the machine that devours them in scenarios you can see at the Imperial War Museum Art Gallery.
Tender duets turn into something more sinister when a third person joins in—is this rape or a sharing of the camp follower? The music chugs. Bodies and music in a catatonic state...
Rise and fall, close to the ground, alert and tired out, in close embrace (is it tender or aggressive?) and frenetic flight: who is watching over the living dead? Layers of sound and a layer of bodies, legs in the air like upturned beetles.
Buried alive in soil that is not theirs. Searchlights dance, drum and bass (John Malcolm Moore), a heavy sound, grow louder, eardrums and hearts are perforated by the unbearable reverberations of war. No lightness of being here.
An immersive experience, Young Men gets you in the guts, as it is meant to do, but can we watch the flowers grow next time? Battered, bruised, under nine spotlights they stand looking at us—confrontationally. What did you do in the war, brother?
Energy to spare, senses aflame—they are still young men. I am drained and battle weary.
Reviewer: Vera Liber