ENB announces 2018-19 season and shows off new home
Published: 15 March 2018
Reporter: Howard Loxton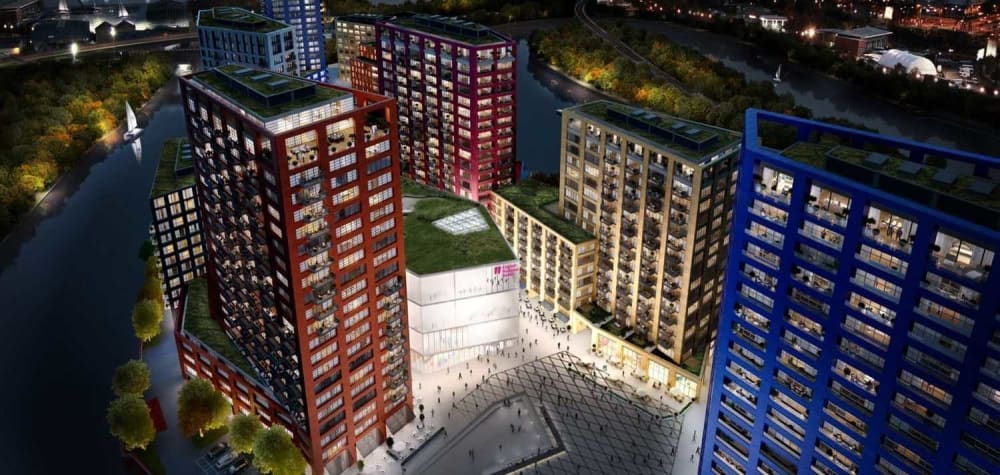 A trip out to Canning Town, up a long twisting stair and across a red-painted bridge is something that may become a familiar journey in the future. Later this year, the headquarters of ENB company and ENB School will be moving out East to City Island—and with Sadler's Wells developing a new base at Stratford not far away this is going to be a new East London Dance Hub.
Today, the island is a building site, though people are already living there. The present approach is along a wooden path on the edge of the water, hemmed in by a continuous hoarding covering in photos of a bluebell wood—which probably isn't an accurate image of what it will look like.
In an art gallery in a nearby, completed building, English National Ballet presented its Annual Review and announced plans for its 2018-2019 season before taking journalists on a tour of what will be its new home.
Inevitably, there were questions raised concerning rumours in recent months of some dissatisfaction in the company with some dancers leaving and criticism of the Artistic Director's relationship with one of her leading male dancers questions when such liaisons were against company policy.
Patrick Harrison, the company's Executive Director, and Artistic Director Tamara Rojo denied that the company had a policy against personal relationships between its members and declared that Miss Rojo's happy relationship with Isaac Fernandez did not affect his treatment as a company member or that of any others. There was no conflict of interest between personal and professional life; she wanted the best for the company. As for departures, there were many reasons why someone might leave and it would breach confidentiality to discuss any particular departure. The company did listen to its members and took measures to respond to the concerns of its hard-working, talented members.
It was also announced that Justin Bickle, Chairman of ENB since 2013, would be standing down following his move to Dublin to take up a role as CEO of Glenveagh Properties PLC. His years in office have seen the making of the deal with EcoWorld Ballymore that makes the creation of their new home in East London possible. A search for a new Chair is underway with the announcement of a successor anticipated in the coming summer.
2016-2017 Annual Review
Executive Director Patrick Harrison presented a brief overview of the past year's achievements, as set out in its 2016-2017, noting that it gave 175 performances at 11 British venues and 6 in Paris, playing to a total audience of more than 296,000 paying customers with over 30,000 of those tickets costing £14 or less. Ticket sales for Nutcracker at the London Coliseum set a new record of 79,000 last Christmas.
The company web site was redesigned and ENB has a strong digital presence. So far the new site has had 485,000 page views (up over a third on the previous year) and its films have had over 6.5 million views. There have been big increases in followers on media platforms with video content there attracting 14.9 million views.
There were four new commissions during the year, three of one act and one of two acts (Akram Khan's Giselle).
2018-2019 Season
As well as seasons in London at Sadler's Wells and the London Coliseum, ENB will tour to Manchester, Milton Keynes, Southampton, Liverpool and Bristol in the UK and will also take out a spring 2019 tour of My First Ballet which adapts a popular ballet to make it accessible to audiences as young as three (full details coming later).
They open at Sadler's Wells with award-winning Lest We Forget, the trio of works by Liam Scarlett, Russell Maliphant and Akram Khan that reflects on the First World War. Premièred in 2014, it returns to mark the centenary of the end of that conflict.
Manchester, Milton Keynes and Southampton will see Kenneth MacMillan's Manon (on the second time it has been seen outside London in 30 years) and Swan Lake in Derek Deane's version will visit Liverpool and Bristol. Both those productions will then seen at the London Coliseum following Christmas time season performances of Nutcracker (with has fewer performances this year to make room for them).
In April She Persisted, at Sadler's Wells in April 2018, follows on from celebration of female choreography see in last year's triple-bill She Said with a programme that includes Pina Bausch's Le Sacre du printemps, a revival of Broken Wings, Annabelle Loped Ochoa's ballet about Frida Khalo in which Irek Mukhamedov will be seen as Diego Rivers, and Nora, a new commission from company member Stina Quagebeur. Norma is inspired by Henrik Ibsen's play A Doll's House, a story which, although written 140 years ago, the choreographer sees as still having great relevance today.
In what the Royal Albert Hall describe as a very happy collaboration, ENB will also be presenting Cinderella there in June in a new in-the-round version created by Christopher Wheeldon. This promises to be a spectacular production with magnificent sets, 90 dancers and lots of surprises.
London will also see the annual Emerging Dancer competition at Sadler's Wells in June with the six finalists performing before a panel of eminent judges.
Overseas, in spring 2019 ENB will be taking its production of Akram Khan's Giselle (recently released as a digital film) to Chicago and later to the Bolshoi in Moscow.
Two years ago, ENB became the first UK ballet company to perform on the Paris Opera Palais Garnier stage for 60 years, Michael Nunn and William Trevitt (the Ballet Boys) made a five-part documentary that follows the company as it prepares to make history with its performances of Le Corsaire on that famous stage. This will be released in June through the company's YouTube channel.
English National Ballet's new home
Hard hats and boots were the order of the day for a tour of the new building. At the moment it is a towering five-storey structure of concrete and empty spaces it takes some imagination to see the state-of-the-art new headquarters due for rapid completion. ENB plans to start taking occupancy from the end of this year with the full company moving in early in 2018. The English National Ballet School plans to move after the end of term in Summer 2019.
Designed by Glen Howells Architects, the building will include:
A theatre-sized production studio with a five-storey fly tower for the development and rehearsal of production and creation of new commissions. There will be a section of seating for invited audiences at rehearsals and possibly perhaps for some public events.
Seven stage-size studios for rehearsals and teaching (four for the company and 3 for the school).
A health suite including gym, pilates studio, hydrotherapy pool and rehab facilities.
On-site costume workshops.
Digital infrastructure to allow both organisations to capture and share work with audiences in the UK and round the world.
Dedicated engagement spaces to further company work with the local community and a wellbeing programme including its flagship Dance for Parkinson's programme.
Dedicated music room and space for the English National Ballet Philharmonic to rehearse on site.
Open spaces and architectural features that will create a transparent, welcoming environment to share the creative process with the public both inside and outside the building.
Even muddy and puddled with water, this is truly impressive. The rehearsal and development spaces are huge; even with grey concrete walls they look vast with a five-storey void in the fly tower. There will be space for the company to rehearse along with its orchestra.
The company was successful in its stage two application to the Arts Council England's Capital Large Grants programme (funded by the National Lottery) providing a £3 million investment in this future home. It has also expressed its thanks to the Linbury Trust, Garfield Weston Foundation, Foyle Foundation, Clore Duffield Foundation, London Marathon Charitable Trust, Wolfson Foundation, trustees and former trustees of English National Ballet and generous individual supporters for their investment in the company's future. Fundraising still continues.