The 39 Steps
John Buchan and Alfred Hitchcock, adapted by Patrick Barlow
Criterion Theatre
(2007)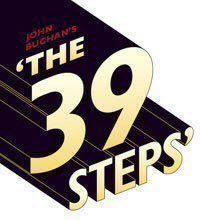 John Buchan is reported to have declared that Alfred Hitchcock's 1935 black and white film of The Thirty-Nine Steps was a better story than his own.
Whether Hitchcock could ever have created anything so enduring without the author's inspiration is another matter. Three films have been made of Richard Hannay's first adventure and none of them, certainly not Hitchcock's have been too concerned with the detail of Buchan's original narrative.
Maria Aitken's present production, following a run at the Tricycle Theatre, is now at The Criterion with a new leading lady, Rachel Pickup in the role immortalised by Madeleine Carroll. Pickup has her own special interest in the play as her father, actor Ronald Pickup, was in the third, 1978 film by Don Sharp.
This rare stage production is itself the produce of much metamorphosis. First produced on stage by North Country Theatre at the Georgian Theatre, Richmond, it was initially seen at the West Yorkshire Playhouse directed by Fiona Buffini. None of these theatrical transitions, it must be said, cast any obvious shadow on today's performances.
The result is a brilliant, fast-moving spoof in which the entire company, remarkably only four actors, entertain us all hugely with great skill and real wit.
Buchan himself seems to have been uncertain as to the source of it all. For there is certainly no reference in his story to North Foreland on the Isle of Thanet, the headland where, legend has it, the concept of Thirty-Nine Steps first struck him.
Indeed Hitchcock it was who first translated the "steps" into a team of spies to be learned by a variety theatre memory man. Hannay merely observes that he turned into a music-hall but did not stay long. It is to Hitchcock also that we owe the film presence of Miss Carroll and, today praise be, that of the lovely, leggy Miss Pickup who ranges easily from dusky spy Annabella to Pamela and to Margaret. Otherwise, we recall, Hannay would have had no real pal to go about with!
Much of the delight of this production results from the inspired imaginations of a backstage crew responsible for excellent period music, costumes, movement and minimal settings. Nothing, for example, the scream of a station whistle, is too small to overlook nor is anything, such as the vast acres of the Scottish Highlands, to great to leave out.
There is a moment of indecision at the end when snow, Christmas tree and a baby appear in a finale which is quite out of character and better omitted.
Nevertheless, Charles Edwards, a dapper, pencil- moustached Hannay holds the whole thing together with a fine sense of style. Yet it would never truly live without a string of cameo gems from Simon Gregor – brilliant as Mr Memory and an inarticulate Scottish spokesman lost on a public platform – and Rupert Degas who plays almost everybody else. How Miss Pickup, who walked into this strange world only a few days ago, can appear so cool is one of the wonders of professional theatre.
Meanwhile, The Thirty-Nine Steps, which has embraced a theatrical hall of fame from Robert Donat, Carroll, John Laurie and Peggy Ashcroft to Kenneth More, Andrew Cruickhshank and on to Robert Powell, Eric Porter and John Mills, now thrives on the deepest stage in London, an appropriate setting for mystery and intrigue.
John Thaxter reviewed the original production at the Tricycle and Philip Fisher reviewed the initial transfer to the Criterion in which Catherine McCormack appeared
Reviewer: Kevin Catchpole