Nation
Based on a novel by Terry Pratchett, adapted by Mark Ravenhill
RNT Olivier Theatre
(2009)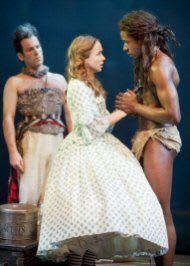 Melly Still showed her talent as director/designer with a wondrous vision for Jamila Gavin's Coram Boy on the same stage four Christmases ago. That was the start of a tradition that has subsequently seen the National Theatre welcome adaptations of His Dark Materials and War Horse, the latter still playing at the New London.
She works similar magic with Nation, a novel directed at youthful readers by popular fantasy writer Terry Pratchett, re-worked for the stage by that reformed darling of the In-Yer-Face generation, Mark Ravenhill, who does at least occasionally allow his wicked sense of humour to peek out.
The parable of colonial conquest has echoes of The Tempest, as shipwrecked visitors a century and a half ago are washed up on assorted South Sea Islands and divide along class lines.
An aristocratic father desperately seeks his lost daughter, while she goes native in a tribe of "noble savages" led by a well-muscled man-boy, whose community has been lost to a scarily realised tsunami. This young couple periodically save the Nation and each other before an ending that is overly-romantic to the extent that it could draw tears from the unwary.
Pratchett uses this underlying plot to consider the theme of parallel worlds where our dreams and nightmares can be explored before ultimately, we must return to grown up reality.
This production owes a vast amount to Miss Still's clever design concept, aided by Mark Friend. The action takes place on the top 10% of a globe. Behind it are three offset screens, through which characters can ascend to the stars or join dolphins and sharks in the vasty deep.
Again and again, she creates unforgettable images whether it is articulated Grandfather birds, computer generated images or just singing, dancing natives filled with innocent exuberance and songs some of which sound uncannily like early Rice/Lloyd Webber.
It is hard on the leading actors but Jason Thorpe playing Milton, a naughty parrot, steals the show. Not only is his movement close to perfect but this excellent actor's comic timing gets a laugh every time.
He complements two talented young actors. Gary Carr makes a good fist of mixing innocence with growing experience as Mau, the teen chief who has greatness thrust upon him, while Emily Taafe plays his plucky British counterpart, 13 year old castaway Ermintrude Fanshaw, who inexplicably prefers Daphne to her given name.
The young couple endure a series of adventures from childbirth through an Orphean visit to the underworld and a battle with Paul Chahidi's crazed former butler Cox who suffers from an unfortunate grudge and is one of numerous embodiments of Locaha or death.
By the end, they have both come of age in time for what should be a happy ending but turns out to be bittersweet, as the pair have to choose between duty and love.
The script probably includes a few too many random ideas, which allows the drama to lose focus on occasion and may confuse younger audience members. Overall though, it will grip all fans of adventure stories and should prove to be yet another seasonal success for the National.
Reviewer: Philip Fisher