A Christmas Carol
Charles Dickens, adapted by Neil Duffield
Derby Theatre
Derby Theatre
–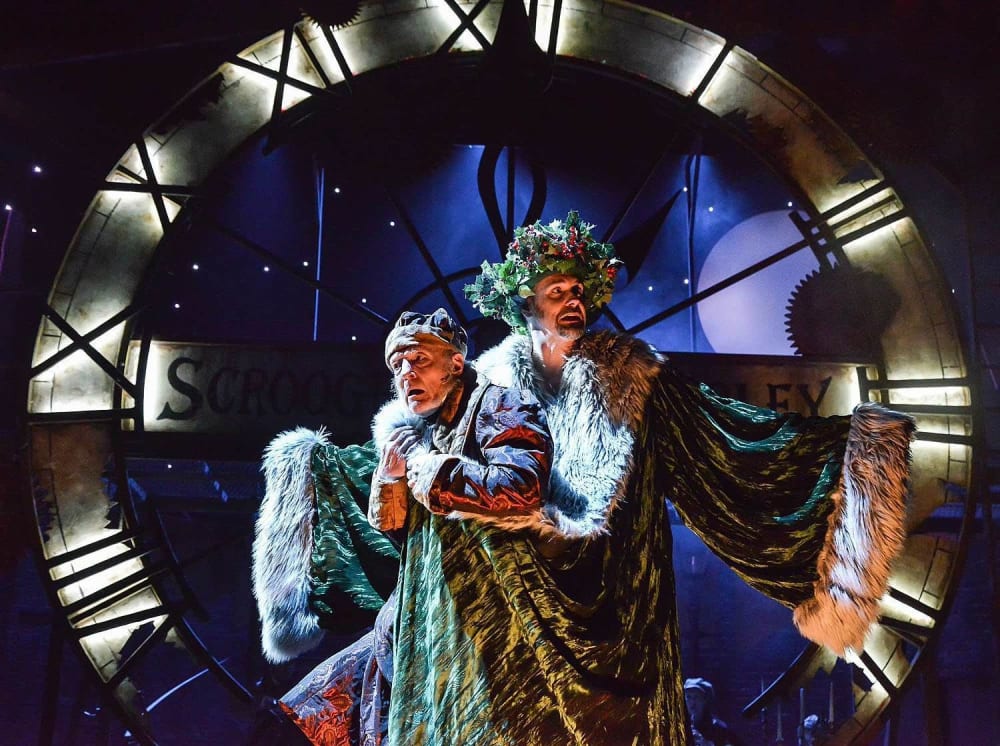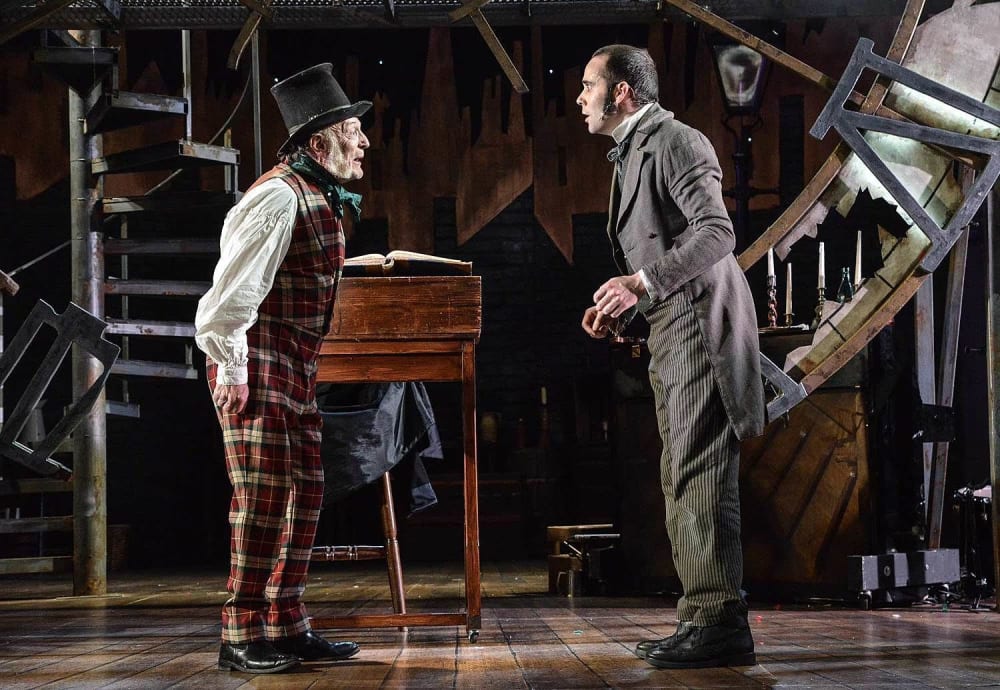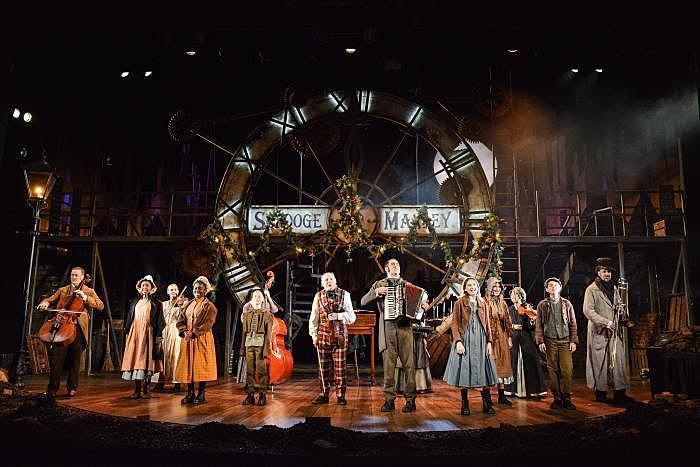 Five years after staging A Christmas Carol, Derby Theatre has brought back Neil Duffield's adaptation of the Dickens story with a new cast and a different director.
The 2014 version was directed by the theatre's artistic director, Sarah Brigham. She has now handed over responsibility for the production to Oliver O'Shea, who was her assistant on Derby Theatre's Christmas shows Hansel and Gretel in 2018 and Peter Pan in 2017.
The 2019 offering of A Christmas Carol has a similar look and feel to its predecessor, the action taking place in an industrial setting rather than Victorian London. It is still an ensemble piece that calls for multi-talented actor-musicians who can play a variety of parts, sing carols and act as narrators.
Neil Irish again designs the set which is dominated by a huge clock, a stark reminder for Scrooge that time is money as well as a poignant indicator that he does not have long to change his ways.
O'Shea adds his own imprint, retaining a hint of the darkness that underpins the story as well as bringing out the total joy of Scrooge's transformation from grumpy old man to admirable philanthropist.
The director also allows composer and musical director Jack Quarton to introduce deft touches, adding attention to detail for which the theatre has become renowned.
The production cleverly brings out Scrooge's back-story—how he was left alone at school every Christmas while other boys went home—to illustrate how his love of money became his overriding passion.
Gareth Williams gives a superb performance as Scrooge. His despair when the Ghost of Christmas Yet to Come shows him an unbelievably bleak future is heartbreaking. The way he changes from a dismissive skinflint into a generous benefactor is a joy to behold and was the best part of the show, according to my eight-year-old granddaughter Holly.
Grandson Toby who is ten especially enjoyed the scene in which Scrooge jokingly berates Bob Cratchit for turning up late for work the day after Christmas Day before awarding him a big pay rise.
The only pity is that the audience does not get much chance to hear the vocal talents of Williams, formerly a singer with the a cappella group the Flying Pickets.
In an episode of the BTG podcast, Williams explains how he has it easy while the rest of the cast dash around playing multiple roles, changing costumes and picking up all sorts of instruments.
Oliver Ashworth, Sophia Hatfield, Liz Jadav, Aimée Kwan who is making her professional debut, James McLean, Benedict Salter and Charlotte Workman throw themselves into all their roles with relish, as do half a dozen young actors whose glee at being on the theatre's main stage is clearly visible.
As the audience showed their rapturous appreciation at the end, the theatre's decision to revive A Christmas Carol was justified, as was the choice of O'Shea as director.
The 2019 version of A Christmas Carol is even better than the 2014 show. It is the perfect way to start the festive season, even if you are as mean as the old Scrooge before his transformation.
Reviewer: Steve Orme