A Midsummer Night's Dream
William Shakespeare
Michael Grandage Company
Noël Coward Theatre
–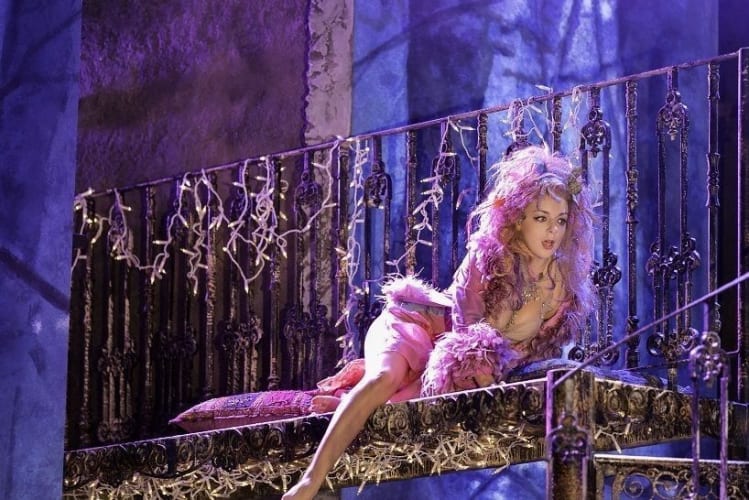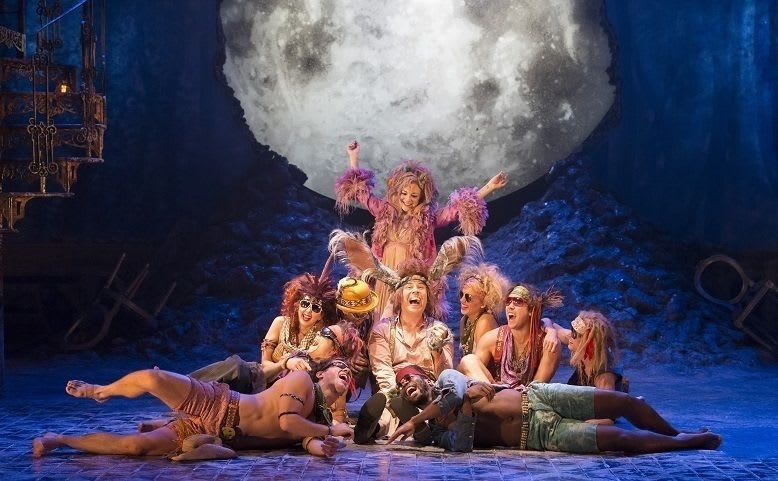 If one of Michael Grandage's primary goals in conceiving this production was to make his audience view the Dream through fresh eyes, few would deny that he has succeeded.
However, such is the mixture of underlying aesthetics that many will greatly enjoy certain elements while struggling to come to terms with the whole.
Coming in at only just over two hours, the production keeps up an impressive pace from its breathless opening scene in an ancient Athens transformed to the 1950s.
This is where an argument between a father and daughter over marriage leads to such dissension that, despite the efforts of Pádraic Delaney's Theseus, two pairs of lovers flee to, of all places, contemporary California (amusingly signposted by The Mamas and the Papas).
At this point, designer Christopher Oram really scores with a beautiful, ethereal vision peopled by drugged-up hippies who would have felt completely at home in a revival of Hair.
This is the magical kingdom ruled over by Delaney as Oberon and Sheridan Smith playing Titania, respectively looking and behaving like Russell Brand on a bad hair day and Cyndi Lauper on a good one.
As the Athenian couples bicker, their plight is exacerbated by Gavin Fowler's dark, muscular Puck, a good distance from the expected wraith-like fairy who normally flits through this play.
His magical powers are never quite there, leading to battles that take time to warm up due to a collective tendency towards emotional excess. However, they duly reach a satisfying peak as Susannah Fielding and Katherine Kingsley in the roles of Hermia and Helen match the efforts of their menfolk, Lysander and Demetrius getting physical in highly funny fashion.
While all of this is going on, Titania is persuaded to fall for the mildly ass-like Bottom of Little Britain favourite David Walliams. This little and large combination is as incongruous as can be imagined and their mutual passion struggles to convince.
That is because Bottom the Weaver, complete with variable list, is so enamoured of Peter Quince that the simpering pair always leave the stage hand in hand. Indeed, when the mechanicals are on stage A Midsummer Night's Dream becomes camper than even the first play in this season, Peter Nichols's Privates on Parade and that is really saying something.
Most readers and prospective visitors will be primarily interested to know how David Walliams performs in only his second theatrical outing and the answer is that he plays one of his stock characters to perfection, never allowing us to forget who we are watching nor integrating that successfully into the play. Sheridan Smith fits in far better and has some fine moments, particularly after Titania realises the enormity of her own, far from private, dream.

The lines are generally clearly spoken and the story has been cut down, which should guarantee accessibility. However, despite the beauty of the design and some noticeably effective lighting from Paule Constable, the different elements rarely meld together to create a satisfying whole.
The result is that this evening is most likely to appeal to David Walliams's sizeable following rather than Shakespeare buffs looking for a different take on a bardic favourite.
Reviewer: Philip Fisher