Ace of Clubs
Noël Coward
Union Theatre
–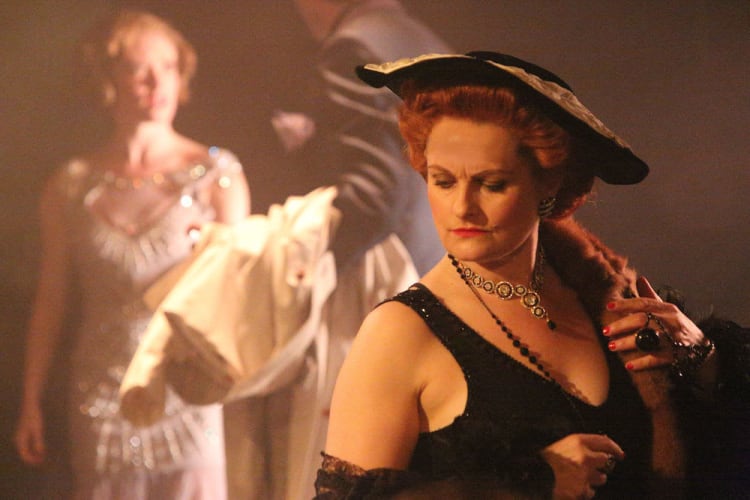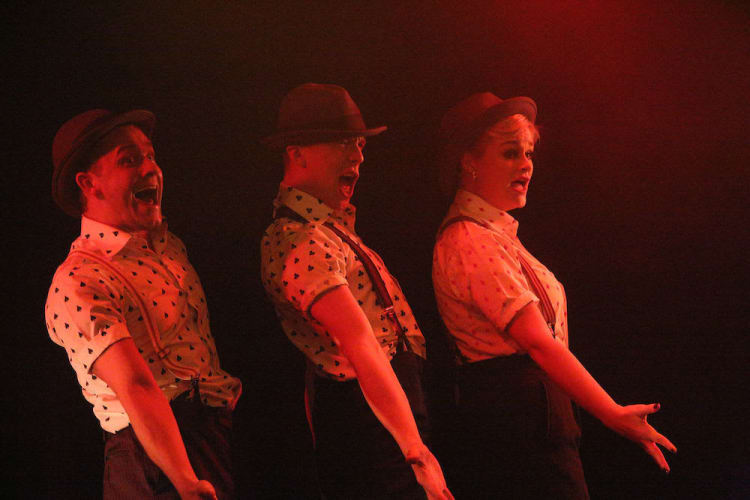 Noël Coward is everywhere. Blithe Spirit and Relative Values are on in the West End. Fallen Angels has been touring. Ace of Clubs is at the Union. Tonight at 8:30 (which consists of nine one-act plays spread over three nights) is touring. This Was a Man, banned by the Board of Censors in 1926 and never produced in England, is to be staged in July at the Finborough.
The Union Theatre has an excellent policy of reviving musicals which nobody else would risk reviving. There will be lots of people who will want to see Ace of Clubs precisely because it is by Noël Coward and they won't mind, even if he show is as bad as everybody said it was.
At its première in 1950, when Coward took his curtain call he was booed. He yawned ostentatiously and the booing stopped immediately. The reviews the next day (according to Coward) were patronising, irritating, badly written and silly. The headlines were somewhat predictable: "This Ace is No Trump", "Ace is Not a Master Card", "Coward's Ace Hardly Wins".
Ace of Clubs, arriving, as it did, in the wake of Oklahoma!, Annie, Get Your Gun and Carousel, seemed terribly old-fashioned and Coward's attempt to be up-to-date was crude and unconvincing. The story is set in a seedy Soho night club in post-war Britain, a black-market world of stolen nylons and stolen French perfumes.
There are two stories. The first story concerns the love of a sailor on shore leave for a singer. The second story deals with small-time, amateur gangsters, a stolen necklace, a bit of blackmail and a punch-up. The terrible script, which rarely sounds as if it is written by Coward, sounds like the screenplay for a tacky British B crime film.
The toughness is not tough and the sentiment is very sentimental. You have only to think of what Richard Rodgers and Lorenz Hart had already done in Pal Joey in 1940 to appreciate just how far short Coward fell. His songs feel as if they belong to a pre-World War 2 era.
The gags at the expense of tacky floor show songs sung by untalented chorus girls are never quite funny enough. There is such a shortage of good songs that Thorpe Baker has the cast in the curtain call singing "London Pride", a song Coward wrote in 1941 during the Blitz. The best song is "Sail Away," which he reprised in 1961 in a musical of that name.
The vulgar cabaret/musical hall number, "Would You Like to Stick a Pin in My Balloon?" could easily be even more outrageous if only there were more balloons, strategically placed, and more pricks, if you understand what I mean.
Coward always wanted an intimate production, feeling it would serve his story and lyrics better. The Union's auditorium for Jack Thorpe-Baker's production has been turned into a cramped nightclub with the audience sitting on hard chairs at tables. The setting is the best thing about the show.
Graham Payn, Coward's lover, who played the sailor in the original production, said in his autobiography that the two principal roles should have been played by comedy actors and that he and Pat Kirkwood (who played the singer) had been directed to act their scenes straight and that it didn't work.
Emma Harris and the engaging Gary Wood (more of a dancer than a singer, who impressed in A Chorus Line at the London Palladium) play the roles straight, too; it seems most unlikely the affair will go anywhere.
You would never guess from the way it is performed here that "Three Juvenile Delinquents" stopped the show in 1950. It was also a great success when it was sung at midnight charity gala in aid of the Actors' Orphanage at the London Palladium by Laurence Olivier and John Mills with John Gielgud on one occasion and with Danny Kaye on another when they were all dressed up as Teddy Boys.
Has anybody thought of reviving the hilariously bad Sirocco, Coward's greatest failure, in which Ivor Novello and Frances Doble made fervent love on the floor? It could be a hoot if the première in 1927 was recreated with Doble's legendary curtain speech, Coward presenting his backside to the audience, and the audience booing.
Reviewer: Robert Tanitch