The Aliens
Annie Baker
Bush Theatre
(2010)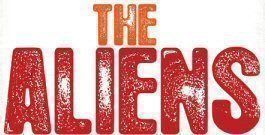 Rising American star Annie Baker is creating a very individual brand of theatre. Judging by this play and its award-winning predecessor, Circle Mirror Transformation, her forte is as a minimalist exploring human interactions.
To describe The Aliens as quirky is understating the case but Miss Baker gives her director Peter Gill and an excellent cast plenty to work with in bringing a trio of lonely, (literally) outsiders to the stage.
Their small dramas are played out in a stony unwelcoming lot at the back of a diner in Vermont, re-created by Lucy Osborne and only accessible over a 9 foot high corrugated iron wall, which tests the bravery and agility of the actors.
The space that they occupy is tiny, meaning that the surrounding audience are practically breathing down their necks, or, to express it more colourfully, able to breath in the occupants' smelly July body odours.
There, two dropouts commune, bolstering each other's confidence in the mistaken belief that they are artistic geniuses, immeasurably aided by the mystical properties of (mu)"shrooms".
Dreadlocked KJ, played by a nose-ringed Ralf Little, composes songs that somehow encapsulate his interest in propositional calculus. As it happens, Little is tuneful and makes the most of Terry Davies' compositions.
As his Charles Bukowski-worshipping pal Jasper, Mackenzie Crook believes himself to be an undiscovered novelist, but might be a little misguided in that assumption, judging by the extracts that he reads.
The pair are mutually supportive in a quiet, hippyish way and provide useful material for the writer's love of miniaturist investigation but the play is made by the arrival of the last member of the triumvirate.
As in the metatheatrical Circle Mirror, every New York theatre practitioner's delight, it is a youngster with a different outlook who illuminates these unconventional role models.
This time, the strange world of The Aliens is invaded by 17-year-old Shelmerdine, a run-of-the-mill loner who works as a vacation waiter on the other side of the lot's wall. Olly Alexander perfectly captures the constant embarrassment that characterises teenagers, as he begins to idolise men that anyone more confident would scoff at as life's losers.
Through his intervention, they are forced to explain and to a degree confront their own lives and personalities, at the same time allowing us to see what leftovers from sixties counter-culture might look like in the cold light of 2010.
With a single highly dramatic exception, nothing much happens in 100 minutes but, with echoes of the ultimate cult novel On the Road and, closer to home, Jez Butterworth's Jerusalem, which coincidentally also starred Crook, small lives are exposed in all of their richness and with much good-natured humour.
Peter Gill gets the most out of all three actors, who form a good team and, as a bonus, reveal hidden musical talents to supplement their impeccable acting.
We will hear more of Annie Baker and one hopes that Josie Rourke or some other enterprising producer brings over Circle Mirror Transformation, having tempted viewers with a first British experience of a unique theatrical voice.
Reviewer: Philip Fisher