Alone it Stands
John Breen
Gyre and Gimble Productions
59E59, New York
–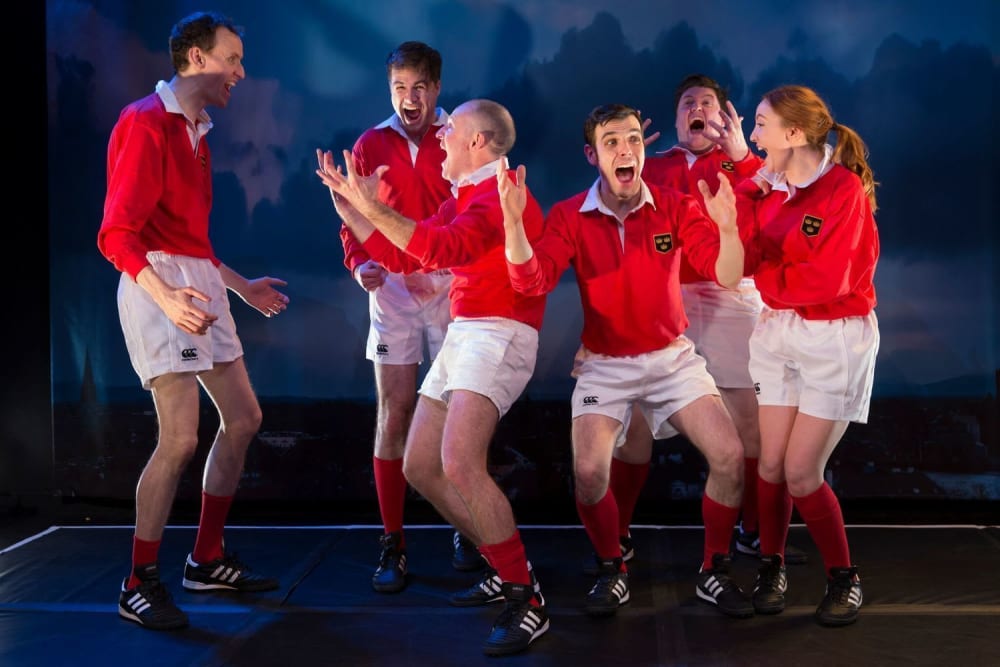 Alone it Stands is a lively comedy written and directed by John Breen, which joins On Blueberry Hill as part of Origin Theatre's 1st Irish Festival.
Its subject matter is unashamedly Rugby Union, not quite a religion but pretty close in the eyes of devotees.
The drama centres on a legendary day in Limerick in 1978 when Irish provincial side Munster took on the mighty All Blacks, New Zealand's finest and indisputably the best rugby team in the world.
The outcome can be surmised before the cleverly staged match even commences, since the Irish national side could not beat New Zealand and we are watching a bunch of part-timers and it goes without saying that John Breen would not have bothered to write a play about the anticipated sporting massacre. However, the predictability does not spoil the fun.
For the first half, the actors are togged out in the All Blacks kit, although they spend as much time playing Irish men and women as New Zealanders. After the intermission, they return in the red and white of the home side, which becomes symbolically appropriate at the death.
Much of the performance attempts to replicate events on the field, the sextet throwing themselves around with rigour, probably picking up a good number of bruises along the way.
However, there is more to life than rugby and John Breen recognises this by introducing births, marriages and a poignant death along with much more off-field drama.
We follow the topsy-turvy relationship of Gerry and Mary, the former determined to enjoy a few bevvies at what he hopes will be a historic match, while his wife inexplicably seems more interested in giving birth to the twins who will eventually give the evening a great payoff line.
Breen's style is reminiscent of another Irish classic, Stones in His Pockets by Marie Jones. Rather than two actors, an ensemble of half a dozen play countless roles, jumping around (often literally) with alacrity.
With not a prop in sight (other than the rugby type), the actors are required to use their physical theatre skills to create images in the minds of an enthusiastic audience.
By the end, whether viewers are British, American or even Kiwi, they will be egging on the brave home players in the tense final stages of what has become far more than merely 30 men bashing each other around in a muddy field.
This is all great fun and even those who have no idea about how rugby works are guaranteed to leave the theatre with big smiles on their faces.
Reviewer: Philip Fisher