Anything Goes
Music and lyrics Cole Porter, original book P G Wodehouse & Guy Bolton with Howard Lindsay & Russel Crouse, new book Timothy Crouse & John Weidman
Barbican Theatre
–

Listing details and ticket info...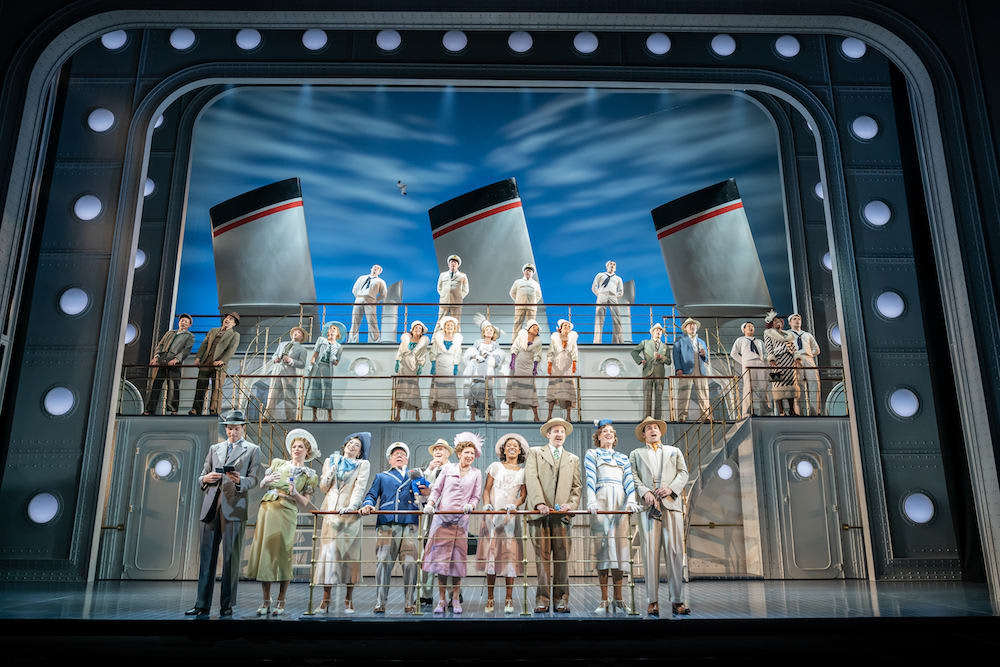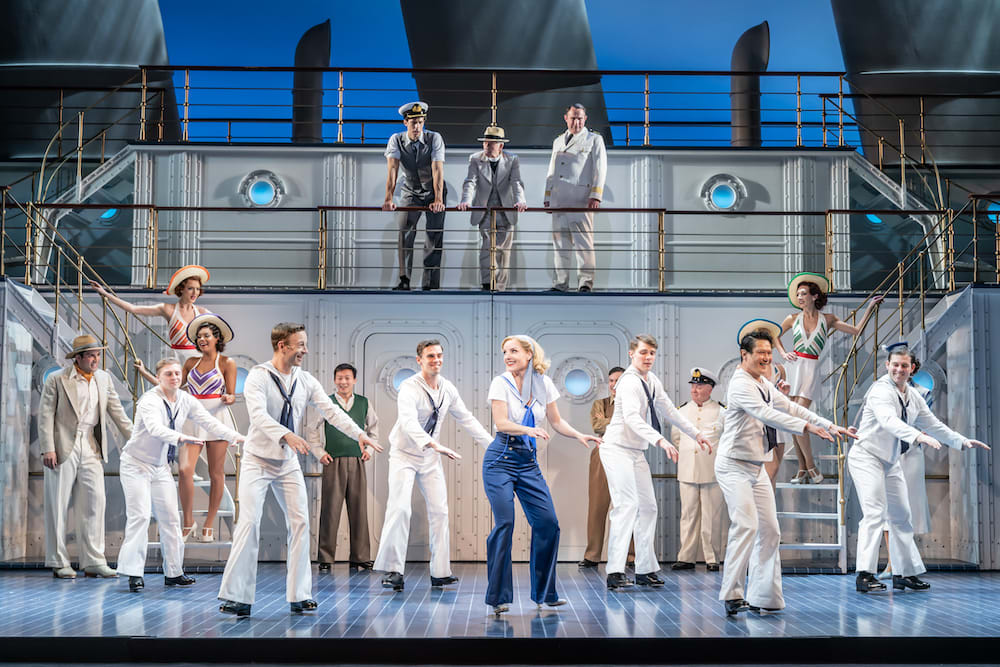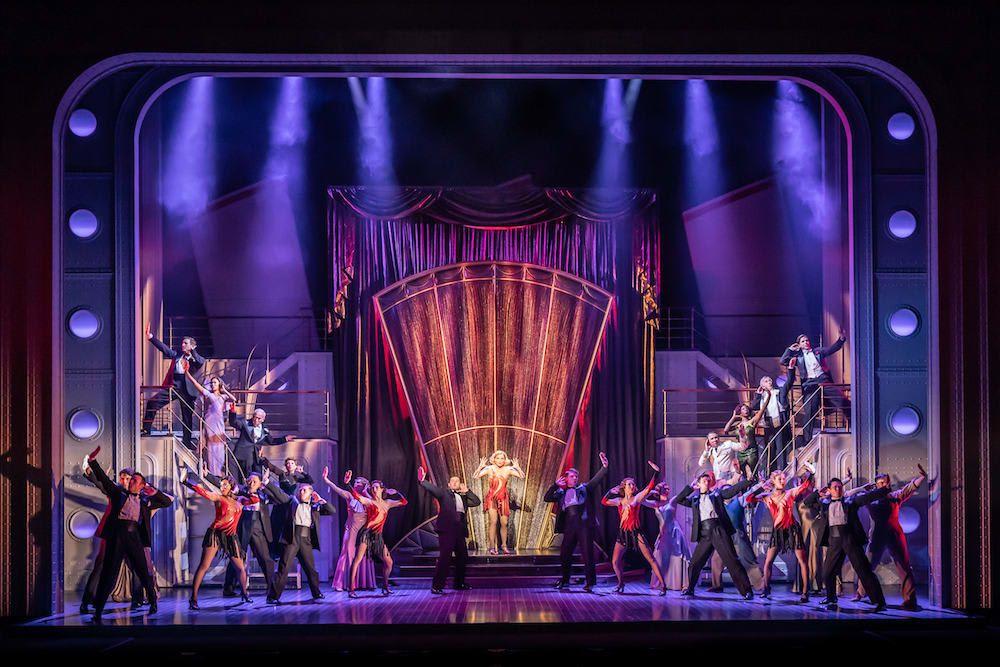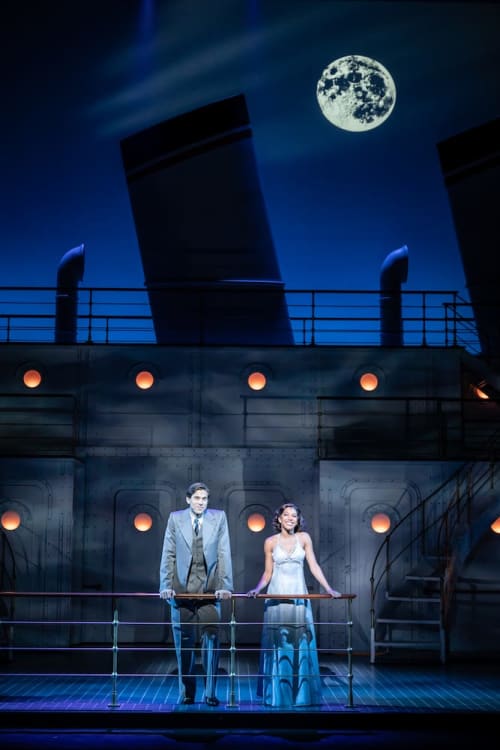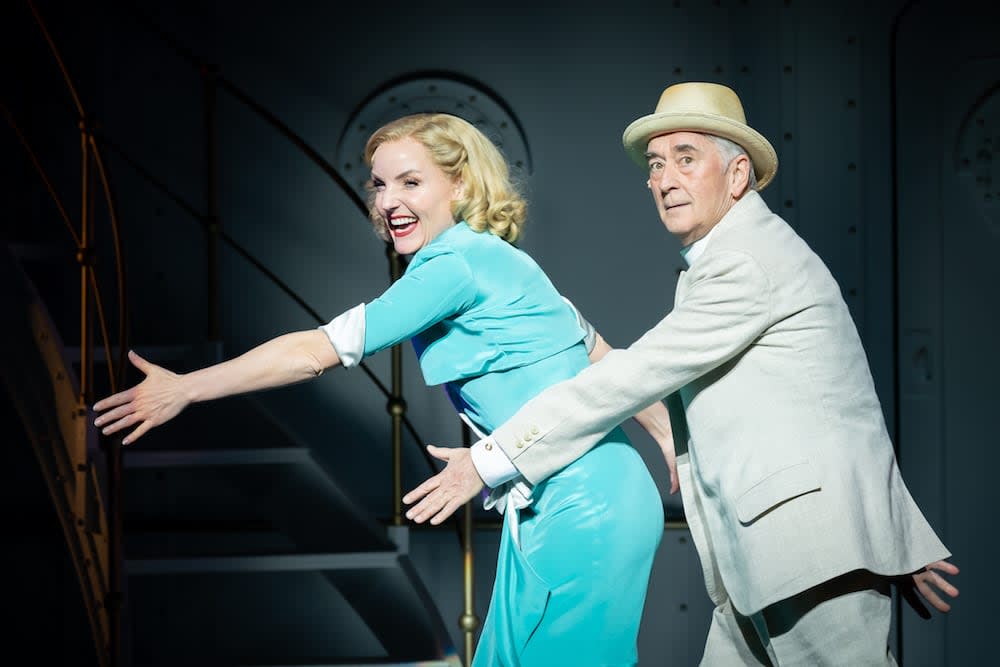 Having successfully cruised this spring to Bristol, Liverpool, Edinburgh, Dublin and Manchester, the Anything Goes smooth liner of a show docks at London's Barbican theatre for a ten-week run—its second visit here. By popular demand, so they say, which the ecstatic audience tonight proves in the affirmative. Standing ovation after standing ovation. Nearly all the numbers are showstoppers.
If you need a feel-good night out, don't take my word for it. Much has been said to that effect already. And you've probably seen it on BBC iPlayer, where it is available for at least a year. Naturally the live experience is better (just the visuals and energy in the room) than small screen, but small screen is better than nothing. And, if you're so minded, you can evaluate the changes in lead cast since the Barbican's first outing last year, which made such a big splash with critics and audiences alike.
It's like watching an old Fred Astaire movie—and that's the era Anything Goes celebrates. Written in 1934, and revived many times, this is its ninth (or so) reincarnation. You can't keep a good show off the road. The rapport with the audience is clichéd, corny, but who cares, all is in such good spirit. The fourth wall is well and truly broken from the opening orchestral medley, the conductor in the pit so 'enthusiastic' he knocks his own sea captain's hat off. And lead singer Kerry Ellis as Reno Sweeney appeals to our complicity. Audiences like to be wanted.
If you don't know the storyline, it doesn't matter, it's merely an excuse for some witty laugh-out-loud lines, sardonic humour, satirical play on words, the differences between American and British expressions played up (James Cagney and Noel Coward in the same breath…), and familiar singing and dancing numbers that blow the roof off. Anything Goes bubbles and fizzes like the expensive champagne served for these wealthy travellers—and do they drink, especially Simon Callow's very myopic (lots of convenient laughs there) Elisha Whitney.
Any stumbling blocks, we know, will be resolved with good humour and clever plotting as is traditional. As usual it's about love, or people being matched up for the wrong reasons. Wall Street broker Billy Crocker loves Hope Harcourt (word play on Hope, of course), but her hard-up mother has palmed her off with British Lord Evelyn Oakleigh for obvious financial advantage.
Crocker stows away on the SS American against his boss Elisha's instructions, befriends Moonface Martin, Public Enemy no 13, who is hiding in plain sight as a vicar with his gangster moll, the nympho Erma who loves a sailor or two or six, by his side. They help Crocker out with a redundant passport belonging to Public Enemy no 1, Snake Eyes Johnson. And don't the well-heeled love a bit of rough. The screwball convolutions are worthy of the best of the Hollywood Depression and post-Depression era. We need it today as much as then.
Reno, evangelist turned cabaret singer—her spirited spiritual "Blow, Gabriel, Blow" number trades on both—thinks she loves Crocker, but allows him to persuade her that the Earl might be a better bet for her—to give him a chance with Hope. I might add her four sexy backing girls are called Purity, Chastity, Charity, and Virtue. The Earl discovers the gypsy in him and allows himself to be persuaded. Mrs Evangeline Harcourt's penury is rescued by Elisha, who loves her… And finds he has lots of money, having made a killing on the stock market, no thanks to his broker Crocker. All's well that ends well.
Samuel Edwards is as good as I remember him from 2021 as Crocker; his love, the downtrodden Hope Nicole-Lily Baisden, is as low key and demure as before. Carly Mercedes Dyer is fabulous as sex bomb Erma with a voice to match (her "Buddie Beware" is a triumph), but it's Haydn Oakley as Lord Evelyn Oakleigh who is the one for me. I remember him in Christopher Wheeldon's An American in Paris, in which he played not a dissimilar role—the man who loses the girl but finds himself. He has this off to a T.
The replacements are Kerry Ellis who takes over from Sutton Foster as Reno Sweeney, Denis Lawson (lovely as he is, too lovely, is no faux gangster) steps into Robert Lindsay's dancing shoes without trying to make everything about himself. Lindsay's effervescence almost stole the show last time. Bonnie Langford is more to the manner born than Felicity Kendall was as Evangeline Harcourt, and Simon Callow as Yale man Elisha Whitney is, well, Simon Callow—Gary Wilmot knew his place...
The press release has it that, "last year Anything Goes smashed multiple Box Office records at the Barbican Theatre including the single highest grossing performance week for a musical in the Barbican's 39-year history and the highest sales across a weekend for a musical". This multi–Tony Award winning show hasn't put a foot wrong. The orchestra is wonderful, the ensemble is wonderful, even the audience is wonderful. Directed and choreographed (the tap numbers are great—imagine twenty pairs of feet beating time) by thrice Tony Award Winner Kathleen Marshall, it is a slick show. And I do love the sailor quartet Eamonn Cox, Jacob Fisher, Christopher Short and Jack Wilcox.
Reviewer: Vera Liber