Balanchine and Robbins
Choreography George Balanchine and Jerome Robbins, music Stravinsky, Tchaikovsky, Chopin
The Royal Ballet
Royal Opera House
–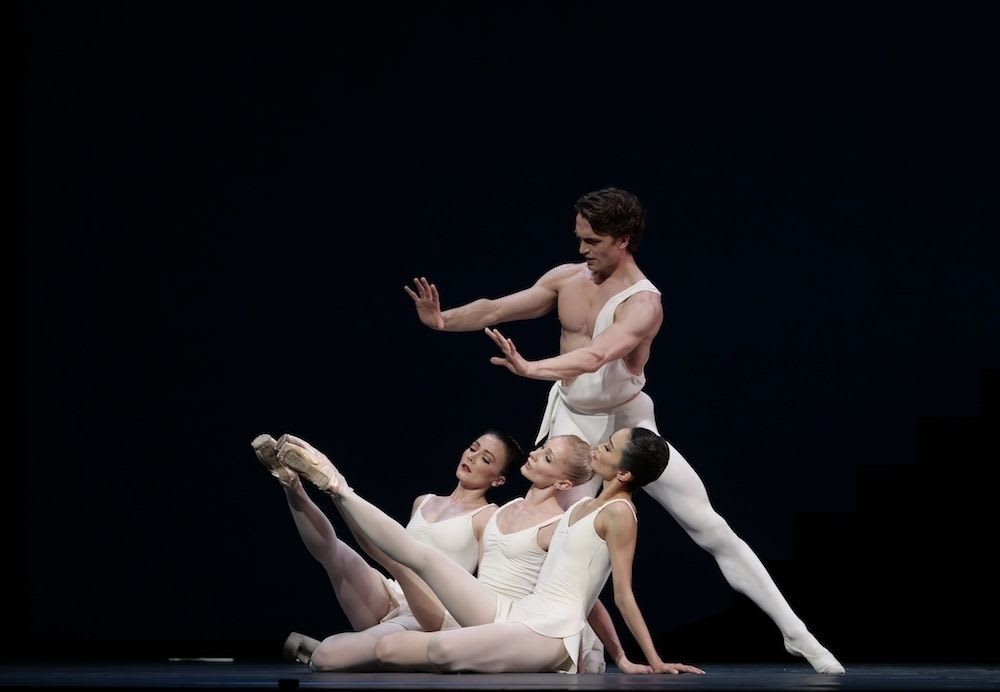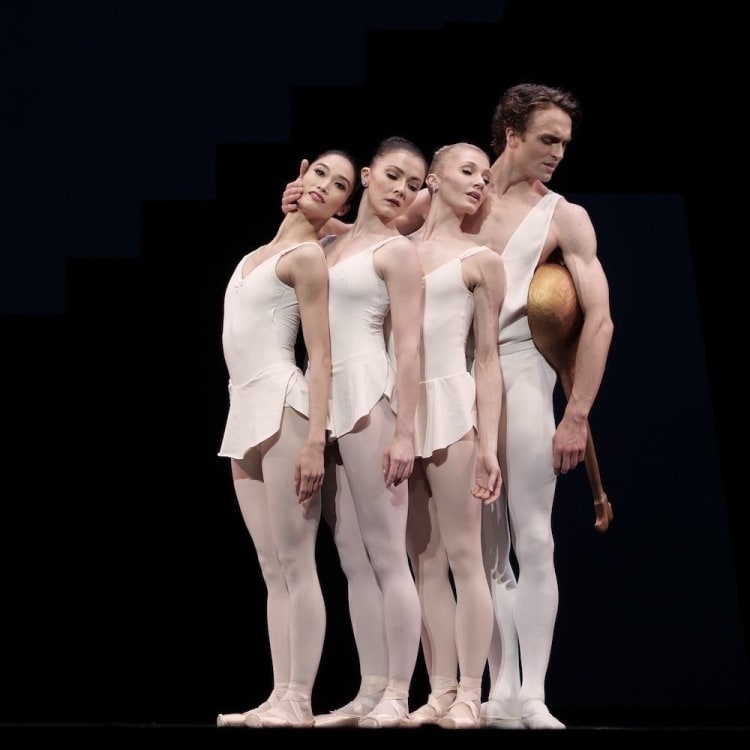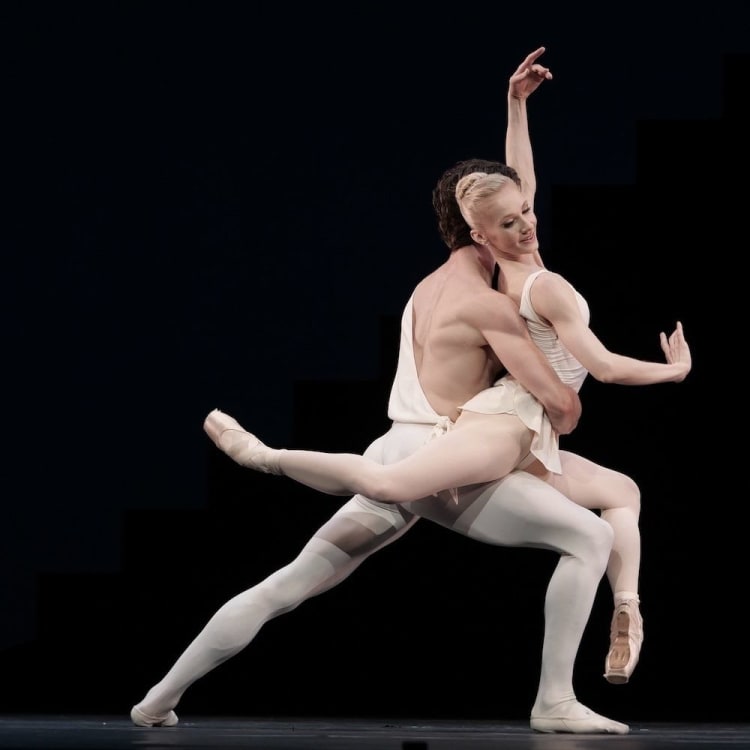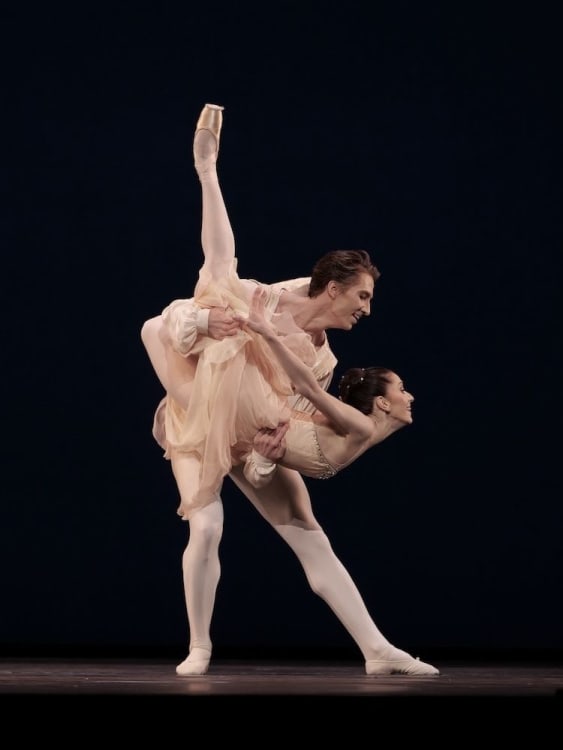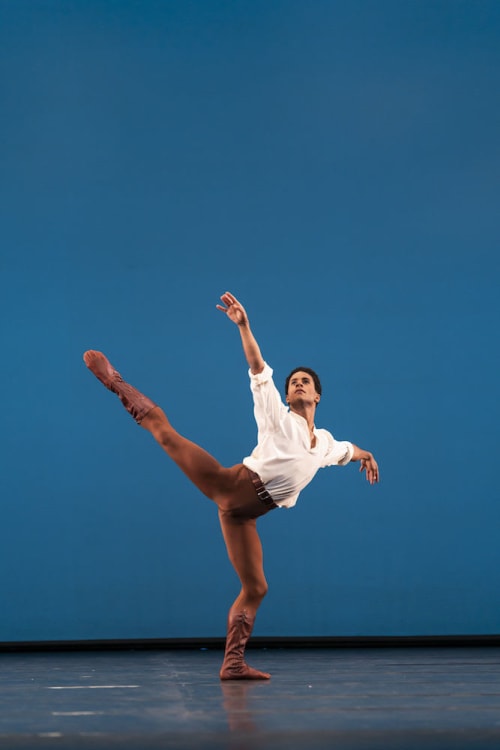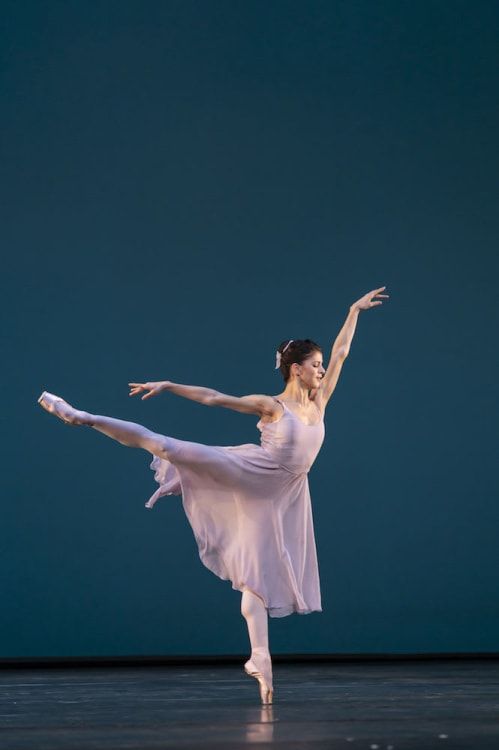 The Royal Ballet follows its 21st Century Choreographers production with two notable American choreographers from the twentieth, George Balanchine and Jerome Robbins, in a bill that takes us from the late Diaghilev era to the sixties in an exuberance of dance to music by the Slavic greats.
Curiously, streaming offers not the opening night (4 June), which received four- and five-star reviews, with Vadim Muntagirov getting stratospheric praise for his Apollo, but with a cast from the 11 June evening performance, the live run ending 13 June.
With no programme, not even a digital one (well I couldn't find one), one has to get the cast (if one doesn't recognize them by sight) off the screen credits. Matthew Ball is Apollo, Melissa Hamilton, Claire Calvert, and Fumi Kaneko the three muses, with Annette Buvoli as his mother Leto.
Created in 1928 when Balanchine was only twenty-four, it is very much of that era: neoclassical with quirky walking on heels that makes one think of Nijinsky and his sister Nijinska's work. Stravinsky thought of it as a ballet blanc, and Balanchine his "coming of age" (not unlike Apollo). I last saw it in 2013.
Many versions omit the prologue birth of Apollo and his ascent to Mount Parnassus (see for instance the National Ballet of Canada's version on YouTube), but not the Royal Ballet. Here we have Leto giving convulsive birth. Apollo stands in white swaddling cloth, unraveled by two handmaidens.
Presented with a lute, he learns quickly with much childlike arm circling. Enter the three Muses, Kaneko with a mask, Calvert with a book, Hamilton with a lyre, respectively Polyhymnia muse of mime, Calliope of poetry, and Terpsichore of dance and song.
They present their skills, and Apollo is much taken with Hamilton's Terpsichore—who wouldn't be, she is exquisite. Ball looks the part, a noble profile and presence, but on screen, which is much more exposing than viewing in an auditorium, one sees the nerves, the effort in his eyes.
The Muses hang off his encircled arms, and seem to flirt with him. Apollo carries Terpsichore on his neck and shoulders as if he were Atlas carrying the world. He drives his three muses like a troika team of chariot horses. Adulthood has been attained.
Three female legs fanning out from his body as one hybrid peacock creature symbolizes, I assume, the instilment of their qualities in him. Now he is ready to climb the steps to take his rightful place. In a beam of light he ascends in apotheosis, a classical statue in the making.
Half an hour of Stravinsky strings is followed by 'a long-lost movement from Tchaikovsky's original score for Swan Lake', and one can hear it. Only fifteen minutes, the Tchaikovsky Pas de Deux, created in 1960 for New York City Ballet dancers Violette Verdy and Conrad Ludlow, is very much a gala number, and what a performance of blistering technique and joy from Marianela Nuñez and Vadim Muntagirov, so at ease with each other and in the dance. Smiles never leave their faces. If there is effort, and of course there must be, they disguise it well.
This is one to watch again and again. He simply flies through the air; she injects positivity into each spin and fish dive. No strain, they are in their element. Dramatic, grand, dazzling variations, brilliant musicality, they look happy to be there. The auditorium explodes in prolonged ovation.
Jerome Robbins's 1969 Dances at a Gathering he claimed is just dance, no story, but listen to any Chopin and stories form in one's mind, as they seem to here in the ten individuals (Yasmine Naghdi, Mayara Magri, Anna Rose O'Sullivan, Romany Pajdeak, Fumi Kaneko, Marcelino Sambé, Reece Clarke, Téo Dubreuil, Taisuke Nakao, James Hay), who meander on alone and in company. Sixty-five minutes of dance with the odd contemplative pause pose is quite a workout. Sweat is visible.
Dreamy, jaunty, saucy, all the moods of youthful fancy (personalities will out), they paint the optimistic blue sky canvas in idyllic pastel colours, pink, mauve, apricot, green, blue, brown, purple, brick. Clarke (Purple) is the tallest paintbrush, Sambé (Brown) and Hay (Brick) the most joyously impulsive (cartwheels from a jack-in-the-box Hay). Magri's (Mauve) face in close-up is lost in the music; Naghdi's (Pink) lyrical arms seem to conduct the music (solo piano Robert Clark); O'Sullivan's Apricot fizzes with possibility.
Slavic folk dance inflections, village life, boys size up girls—one poor girl is turned down, hmm—boys have fun, girls stroll arm in arm, partners are swopped, but all ends serenely. Boys bow to the girls, girls curtsey, all is well. There's a wonderful moment when Sambé kneels and touches the ground… glad to be here?
And all is well, the strains of life eased for a moment. After the rather melancholic 21st Century Choreographers bill, Balanchine and Robbins comes as a welcome salve. You have to feel the music, and they do.
Reviewer: Vera Liber