BalletBoyz® theTalent in The Murmuring / Metheus / Mesmerics
Choreography by Alexander Whitley, Kristen McNally, Christopher Wheeldon
BalletBoyz® theTalent
Linbury Studio Theatre, Royal Opera House
–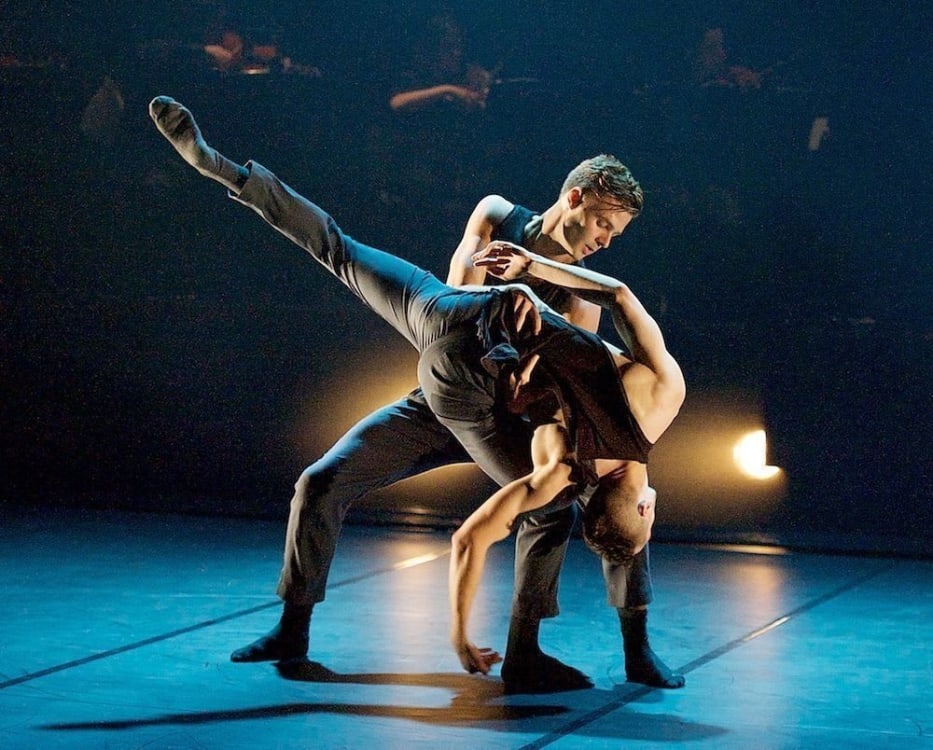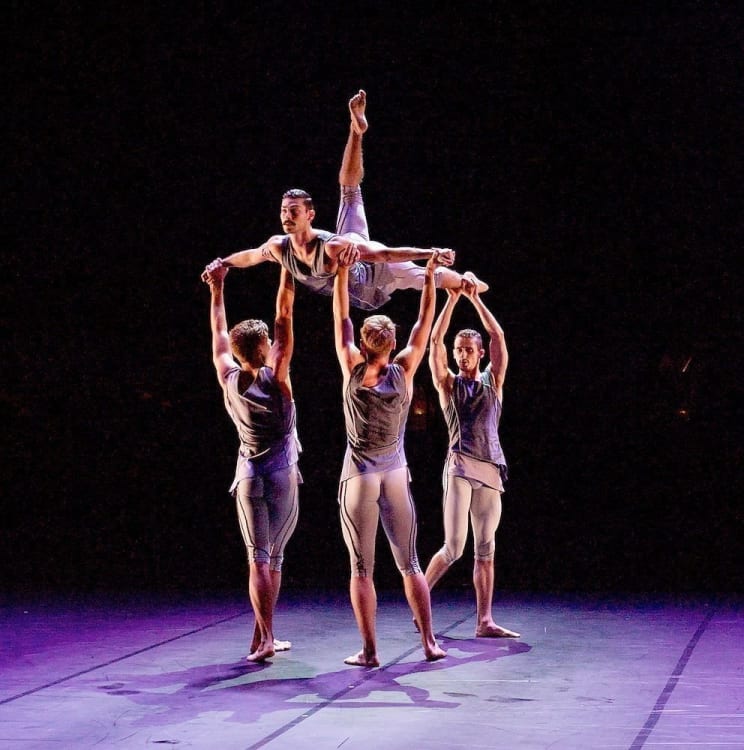 Original Ballet Boyz, principal dancers Michael Nunn and William Trevitt, co-founders in the year 2000, and now artistic directors, of the BalletBoyz®, left the Royal Ballet Company, where they first met in 1987, in 1999. 
The prodigal sons return. They return to show off the next generation, theTalent, their company of ten young men, as part of the Deloitte Ignite 2014 exploration of Myth at the Royal Opera House.
Hard to believe it has been some fifteen years (seems like yesterday) since they left to find and create more opportunities for male dancers than the Royal Ballet could offer.
It has been quite a journey, making dance accessible to a wider audience, video and film work, encouraging male talent, commissioning new productions. With live music to boot.
In their debut appearance at the Royal Opera House BalletBoyz offer two new works commissioned from Alexander Whitley (New Wave Associate Artist at Sadler's Wells) and Kristen McNally, Soloist with the Royal Ballet, and an old one reworked. Christopher Wheeldon's 2004 Mesmerics for three men and two women is now reshaped to fit eight fit young men.
Whitley's The Murmuring, a play on words signifying a sound (electronic from Raime) and the flight pattern of flocks of birds, starlings usually, has all ten boys wheeling and torqueing to a digital soundscape, shoulder and helicopter blades.
Boom and reverb, they are small cogs in a larger machine, a male arena, a gymnasium, men / cells grouping and regrouping, playing tag under Jackie Shemesh's dusky lighting.
An enigmatic monochrome film plays on the backcloth. Pulsating body cells? Do I detect a screaming mouth? All becomes clear in the end, when a male body emerges out of this morass mass. Ecce homo. Behold the man.
Bodies as landscape, The Murmuring seems to be an exercise in mythical masculinity, portentous and too profound. Robert Burns and Michel Foucault are quoted: "Look abroad through Nature's range", and "a man in revolt is ultimately inexplicable".
McNally's Metheus continues the male myth—of Prometheus… Pro-metheus—is this another play on words? Five boyz, half the squad, walk in phalanx, about turn, jog, wheel round, change partners, salute—satyrs and centaurs. Four eject / reject a fifth. Man the savage beast?
Muybridge slow motion walks, contact work, bodies as stepping-stones, shoulders catching the light (Natasha Chivers's lighting), tender cradle holds. And seven glorious strings playing Jonny Greenwood's compositions.
I preferred McNally's cheeky, witty Mad Women for New English Ballet Theatre. A bit of wit and humour would have broken up the triple bill's too solemn undertaking to impress.
Wheeldon (Artistic Associate of The Royal Ballet) has no need to impress, but impress he does with Mesmerics as he puts eight poor boyz through it.
In multiple duets, reflecting and mirroring, episodic and repetitive like Philip Glass's painting in sound music, the boyz give it all they've got. Gymnastic grace under pressure, they end huddled on the floor. Wiped out, but relieved and satisfied, they take their bow.
Well done, boyz. Not all are classically trained, but they rise to Wheeldon's demanding choreography. They continue to prove themselves. Liam Scarlett's Serpent and Russell Maliphant's Fallen at the Roundhouse in July, now this heavy triple bill.
Can we have something lighter next time? They deserve it. Something that shows off their individuality. This circuitous triple sees them as a disciplined army of young men, obedient, well-drilled.
Trevitt and Nunn can do light, as their past videos have shown. And true to form, between the second and third pieces we are treated to a video: a mash-up of Indian circus and moody boyz on street and seashore dancing to Kodaline's 'All I Want' with its 'take my body' refrain.
Reviewer: Vera Liber