Bitches Down Under
Martin Blackburn
Above the Stag Theatre
–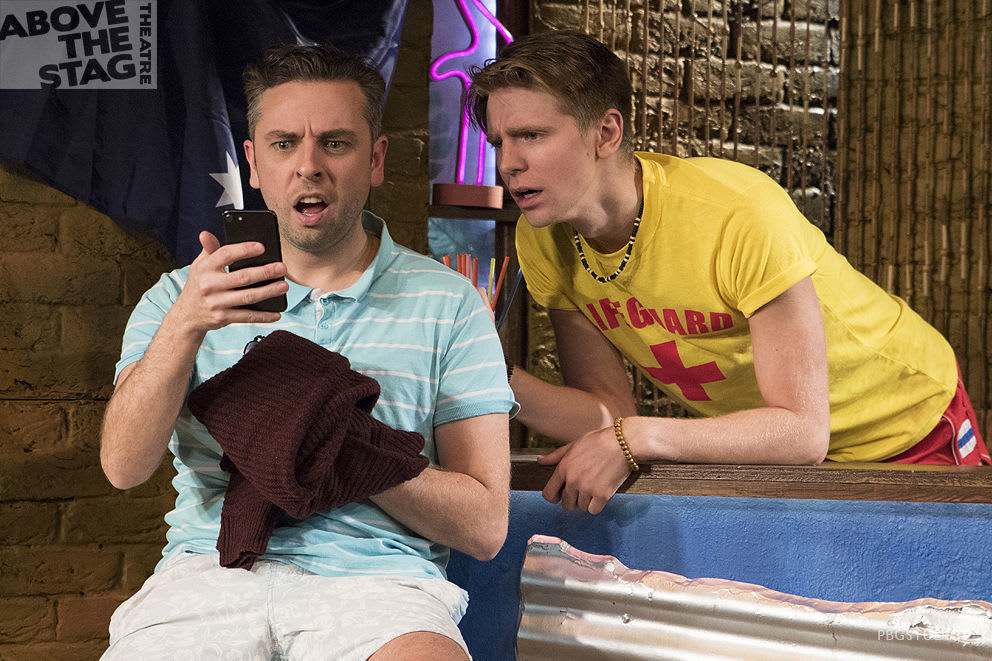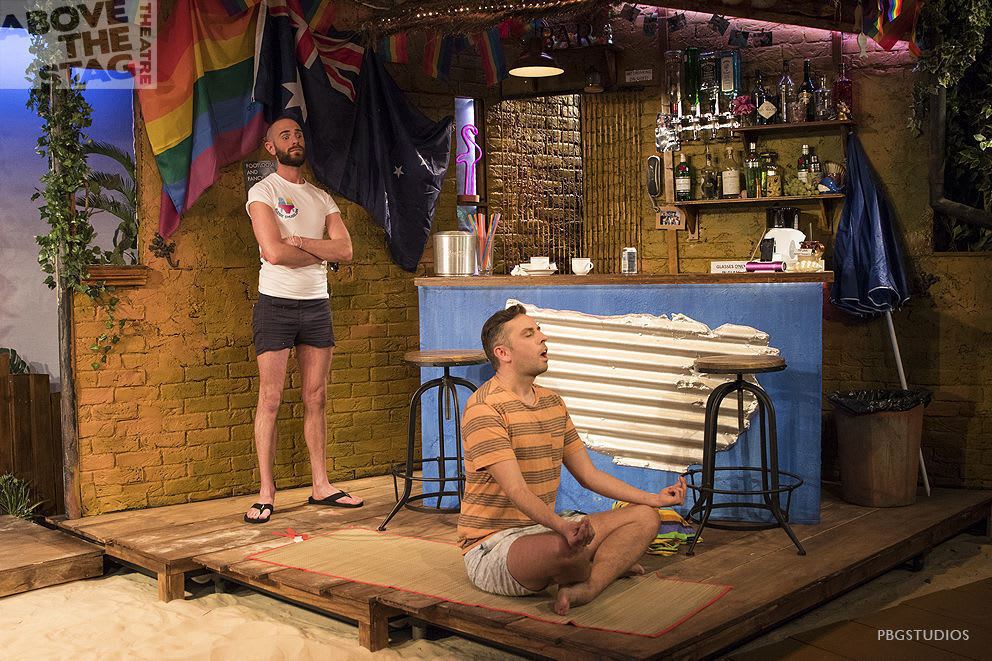 The third in a sequence of light comedies by Martin Blackburn built around the same group of gay guys and female friend. Alright Bitches! took them to a resort on Gran Canaria, Bitches Ahoy! saw them holidaying on a cruise ship and now they meet up again on the sands of Sydney in a Bondi Beach bar (and with most of the actors returning to reprise roles).
Garth (Ethan Chapples) and Drew (Liam Nooney, new to the team), who met in Gran Canaria, have stopped off for Mardi Gras on their way to get married in New Zealand. It is a marriage that roving-eyed Garth isn't too sure about, while Garth would rather be in a mindfulness retreat in Suffolk than with gay crowds on Sydney's streets.
Garth's former flatmate, caustic-tongued Max is already in Oz, with a temporary bar job right here: Lucas Livesey manages to make him both languid and lively at the same time. Young Ollie (Grant Cartwright) another survivor from the Canaries encounter is also with them—and of course Hannah Vesty's Pam, a lady still trying to hook the right man and ready to try any on offer until she finds him.
There is a hint of a serious undertow about commitment and the difficulty of making choices but this is a play full of situations, clever one-liners and camp humour designed to keep its audience laughing.
It is not one of those gay plays that character Drew moans about that offer bare chests in lieu of any plot or narrative. It is genuinely funny (with a bit of bare chest), its characterisations like real life with just a little camp exaggeration—and director Andrew Beckett doesn't let it swamp things, though performances are as bright as the colourful set. It very gently sends up folk you might find among your own friends, the actors adding personality, these aren't just stereotypes.
As one scene moves on to another, there is a ripple of coloured light like the rainbow banner and the whole production is like waving a gay flag. Comment and language are sometimes explicit but it's far more genteel than what Berkoff's East and Shaffer's Amadeus are offering this week.
Bitches Down Under! repeats the recipe of its predecessors, but it is a winning one. It is fun theatre without pretensions that gives this theatre's core audience a good night in a friendly venue where everyone is welcome.
Reviewer: Howard Loxton