Maliphantworks: Wall (The Rodin Project) / One Part II / Two / Afterlight (Part One)
Choreography Russell Maliphant
Russell Maliphant Company
Print Room at the Coronet
–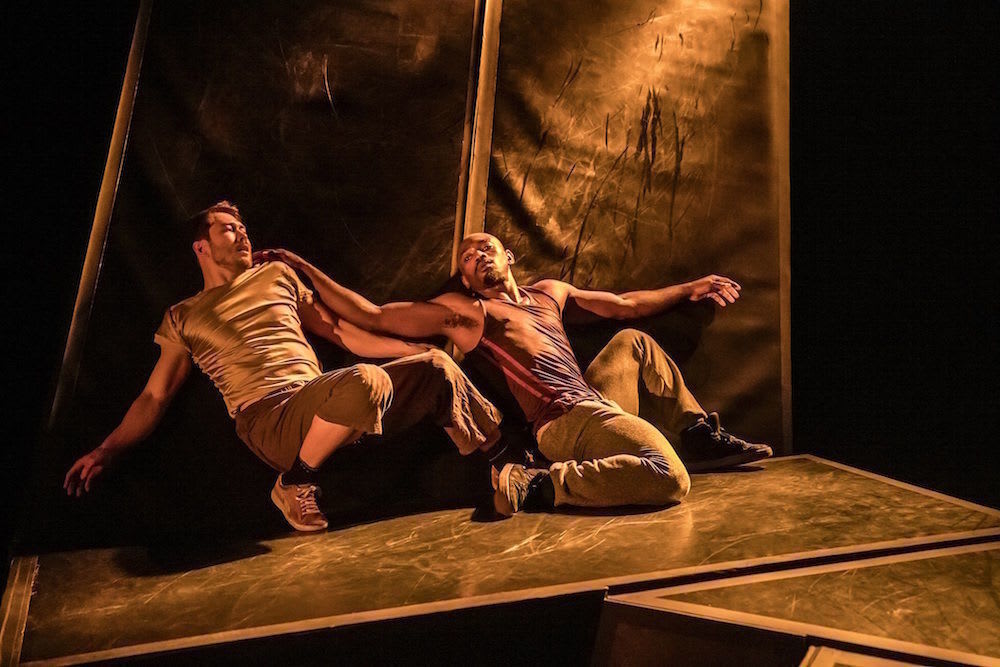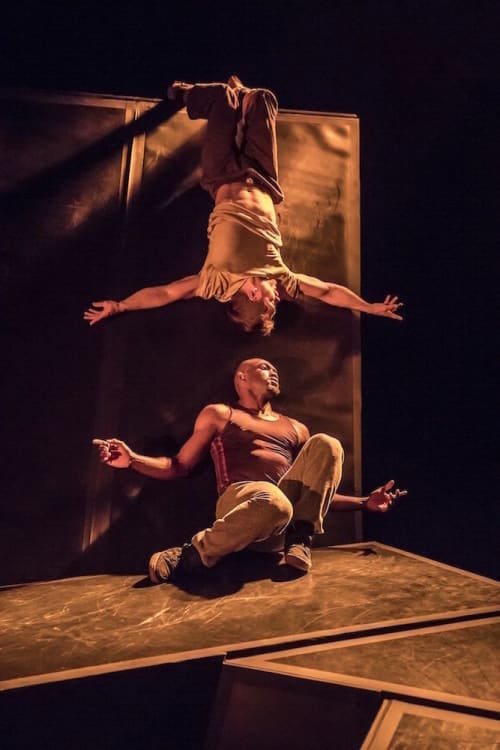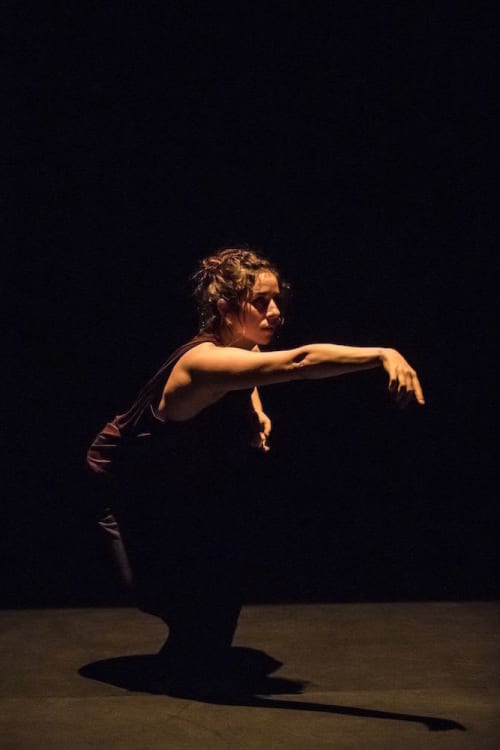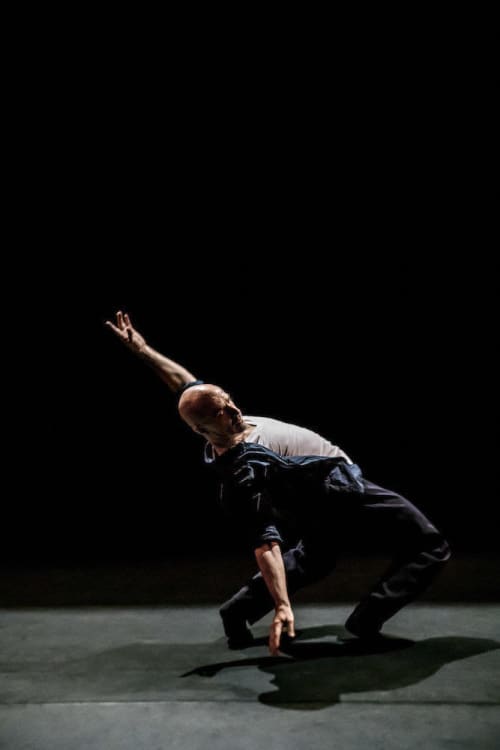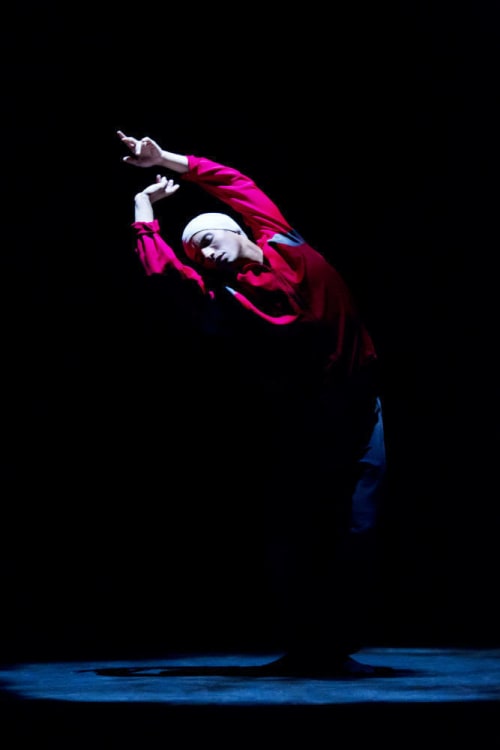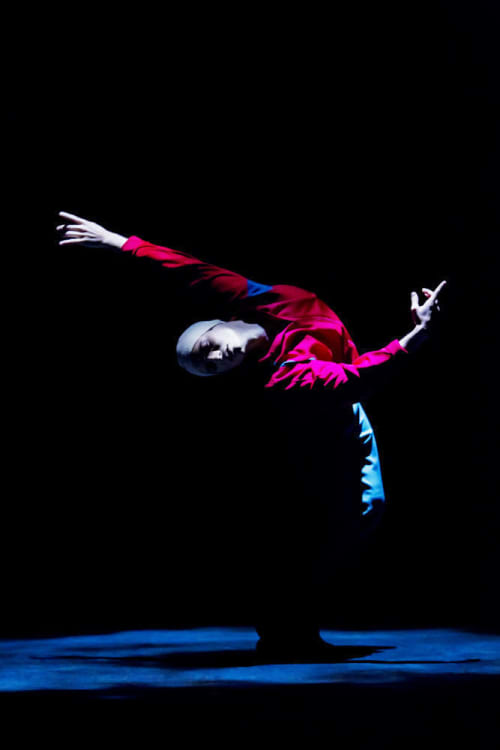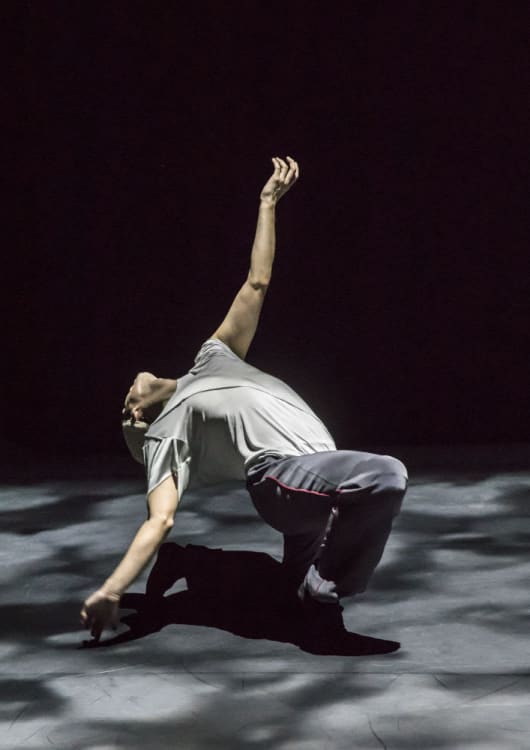 An hour of intense, flowing, transporting, meditative, magnificent dance—the usual Russell Maliphant experience—I'd go as far as to say it is therapeutic.
The shabby chic Coronet venue with theatrical history oozing out of its aged plasterwork—opened in 1898 as a theatre, turned into a cinema in 1923, even has a resident ghost—invites a re-evaluation of Maliphant's career and signature style, and wow, does the intimate space, proximity to the dancers, intensify the experience.
Under such close scrutiny (I'm sitting almost nose to nose with them) in the tiny studio, the ten-minute Wall (from The Rodin Project), a duet for Tommy Franzen and Dickson Mbi, takes the breath away.
Two bodies in unison, in mirror image, in parallel, move across a set of Cubist blocks, a Brutalist urban landscape. Sitting high on a wall, almost touching the lighting rig (the space is so compact), softly, like Olympic gymnasts, they defy gravity with seeming insouciance and effortlessness.
Parkour traceurs, to Alexander Zekke's plangent music, soundlessly, elegantly, under sepia lighting, they climb, they hang by their hands, by knees and feet off that wall, they slide, and the shoulder on shoulder, look no hands, lift is incredible.
Sculptural is the over-worn word to describe Maliphant's choreography, but nothing else will do. He sculpts bodies; he investigates space with the integral assistance of his lighting designer Michael Hulls.
One Part II (created in 2002) was not in the original plan. Maliphant had enticed James de Maria, to perform Unspoken with him, a duet he had danced with him some 21 years ago, but injury put paid to that, so a solo it is.
Classical, contemporary, t'ai chi, and maybe some gentle capoeira, underscored by J S Bach played by the late great Glen Gould, Maliphant dances on the edge of light. Muscle memory, the body remembers and holds its experience whatever the age, and he's not getting any younger, will he be dancing much longer—treasure the moment.
Moving from expanding spot to spot of light till it and he cover the whole stage of the main auditorium (we have moved from the studio). Then it shrinks, contracts, as his hands feel the space. Beautiful hands, arms, feet placement.
Arms lead in Two, originally made in 1997 for his wife, Dana Fouras, and here she is twenty years on, looking not a day older. Others may have danced it, most notably Sylvie Guillem, but here is the original interpreter.
A note strikes, shimmers, ebbs away. Movement is triggered, the body a brush of Chinese calligraphy. Dressed in black, arms bare, she stands in a square spot. Petals, stamens, arms fold and unfold, light bouncing off the flesh.
Twisting and bending in the breeze, she grows more substantial. Another note resonates in the air, another striking shift, on and on, till Andy Cowton's score grows more insistent and the moves more martial. Never stepping out of the black square of light, she exemplifies grace and strength as the sequence develops. Arms become wings.
Nijinsky flew, but Maliphant in his homage to Nijinsky, Afterlight (Part One), has Daniel Proietto, in a reprise of his 2010 award-winning performance, firmly on the ground, spinning like a propeller sycamore seed, head lifted up to the ray of light. Imprisoned in one spot, he turns and turns, spiraling slowly in some dervish compulsion.
Satie's four Gnossiennes accompany his shifting moods, whilst Jan Urbanowski's lighting animation destabilizes—is it the dancer (in white beanie hat, red jacket and off-black tracksuit pants) who is moving or the light and the shadows around him? He is in a world of his own, a spectre in this house of spectres.
Caught on the wind, a leaf amongst leaf shapes on the floor, his supple back twists, torques, and reaches up to the source of the light shining on his beatific face.
He falls on his knees, on to the wonder of light on the ground—a faun perhaps… Or Petrushka… Allusions to Nijinsky's roles abound in my head. The third Gnossienne has an oriental timbre. Red jacket comes off to reveal white t-shirt—monochrome now.
In the fourth he leaps and jumps—is he trying to escape his asylum home or the prison of his mind, a bird beating against its cage? The light diminishes, darkness crowds in. He reaches for light's succour and it's gone.
I could see it all over again. Some lucky dance students and recent graduates (age over 18) can participate in a Russell Maliphant Company workshop, on 26 March, run by a company member, and dancer Dickson Mbi. To book, you must first buy a ticket to the show using the code DANCER either online, over the 'phone or in person at the box office, but it's first come first served. For more information contact: [email protected] or [email protected].
Reviewer: Vera Liber