maliphantworks2: Critical Mass / Two Times Two / Still / Duet
Choreographed and directed by Russell Maliphant
Russell Maliphant Company
Print Room at the Coronet
–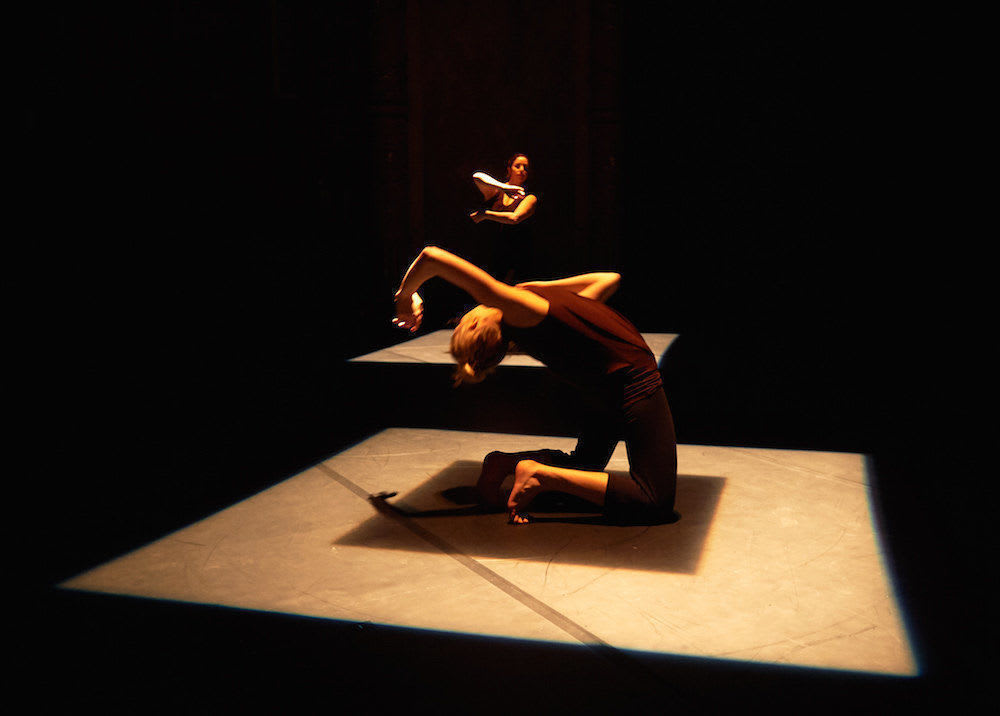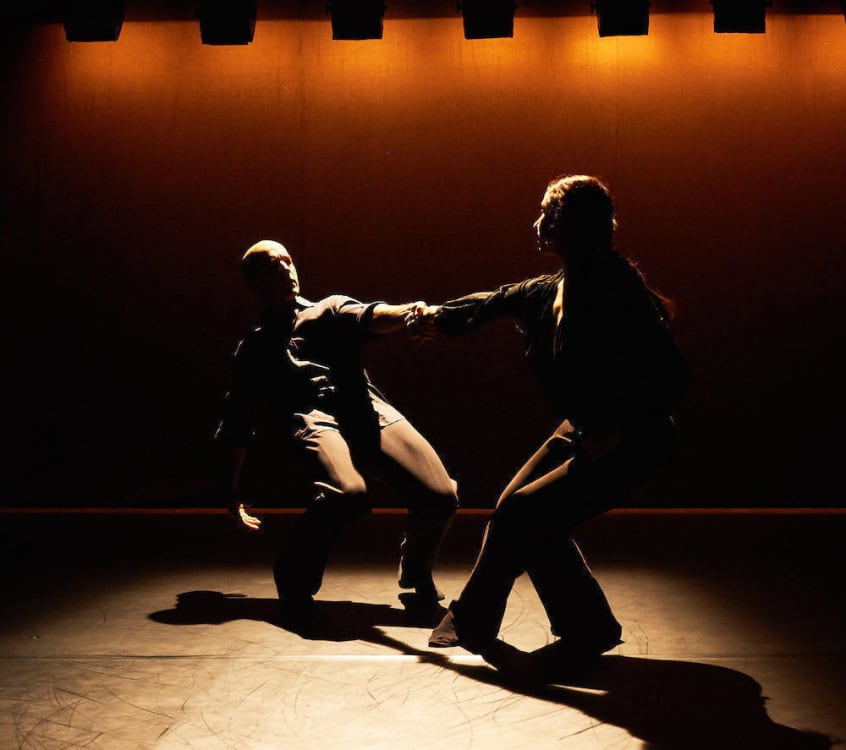 Small is beautiful, less is more: Russell Maliphant's breathtakingly beautiful gems supply a therapeutic need in our o'er-hasty world. Thankfully he is back, almost a year to the day since his previous visit, at the intimate Notting Hill Print Room venue, which suits him, and his adoring audience, well. The run is sold out and a standing ovation a regular feature.
Revisiting three familiar pieces, he also brings a new gloriously romantic duet for himself and his wife Dana Fouras, proving that "age cannot wither [them], nor custom stale [their] infinite variety". Together since 1994, he now in his mid-fifties, she late forties, the fourteen-minute Duet feels like a reaffirmation of vows.
Lovers, throwing shadows on the canvas wall, step out from the corner to centre stage. Are they Harlequin and Columbine? Are they channelling a vintage Italian film, as the radio voices and static seem to suggest? Or are they Kathryn Grayson and Mario Lanza in the 1949 American musical film That Midnight Kiss?
A scratchy record plays, it's Enrico Caruso singing Una Furtiva Lagrima—they are Donizetti's lovers from L'elisir d'amore. What is their magic elixir? A private courtly dance, taking place away from the prying eye, vocabulary understated yet oh so eloquent, each turn of the hand and arm significant, each lift on to the shoulder a dare, he wraps her round his neck like a stole, his comfort and bond.
One senses a collective holding of breath in the auditorium. The light gets brighter—are they dancing through the night till dawn? A moment of declaration then back to the shadows at the side of the stage: a wonderful end to a quietly stimulating evening.
Opening the evening is a ten-minute extract from Critical Mass (1998), its layered beats (composer Richard English) conjoining the pair of bodies anchored to the ground. The sunken stage, lit blue by Michael Hulls, suggests an arena, a gladiatorial partnership between denim-clad Maliphant and Dickson Mbi.
Arms parabolas, bodies kinetic sculptures, in tension and counter tension, incremental changes, infinitesimal power shifts, pieta holds, flexibility and strength, energy flows from one to the other, trust is tested.
Another mesmerizing coiling spiraling dance is Two Times Two, danced memorably by Sylvie Guillem but originally made on Fouras in 1997, and here is a Fouras reprise, in duo with Grace Jabbari. They stand in separate squares of light, Bacon-esque figures lost in their own worlds, Andy Cowton's tinkling sounds triggering movements, and memories perhaps.
Spiritual, meditative, expressive, arms dominate, hands flick, body rooted to the spot but torso supple: warrior queens or youth in mourning, performance art that ought to be on permanent display in a gallery.
Still, a duet from 2013 created for Mbi and Carys Staton, now performed by Mbi and Jabbari, is not for those who have vertigo or epilepsy issues. A 'Bridget Riley' flickering lines video projection by Jan Urbanowski confuses the eye as it casts long shadows on Mbi's naked torso: an anime character seeking to escape its entrapment, or hide in its interstices?
Armand Amar's thunderous 'Kodo drums' sounds compel and propel. A monolithic stone sculpture, an ancient Greek athlete revolving on a disc: look on me and wonder. Jabbari, in Stevie Stewart's long divided skirt, its swish and flow echoing her moves, enters his territory, a goddess come to challenge him, encircling his space. Space, flow and form is what it's about, as are all Maliphant's studies.
There is also a hypnotic video installation, on a ten-minute loop, in the Studio, a recently made film of Maliphant and Fouras confronting the spumy waves of West Cork in Ireland. In full and split screens, he in a suit, she in red jumper and long black skirt, he in shoes, she barefoot, their different body masses take on the weight of the sea in a t'ai chi dance of balance, of push and take.
"Using footage… from a work originally conceived by Tim Etchells and Hugo Glendinning… shot on location in the Irish Sea for a production of Dido and Aeneas at Bruges Opera House in 2003", slow motion and speeded up frames illustrate determination and folly, a King Canute defiance of the power of natural forces. A metaphor for life…
Still exploring the body's possibilities after all these years, in one hour Maliphant and Fouras take us on a journey into a private realm that encompasses the whole world, infinite space in a nutshell. The four performers look surprised at the ovation.
Russell Maliphant Company has been granted National Portfolio Organisations status from April 2018 by the Arts Council England.
Reviewer: Vera Liber