Bring up the Bodies
Hilary Mantel, adapted for the stage by Mike Poulton
Royal Shakespeare Company
Aldwych Theatre
–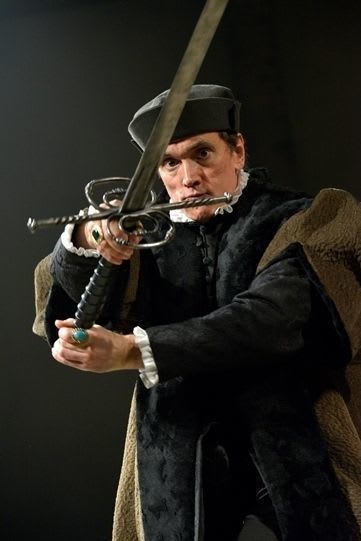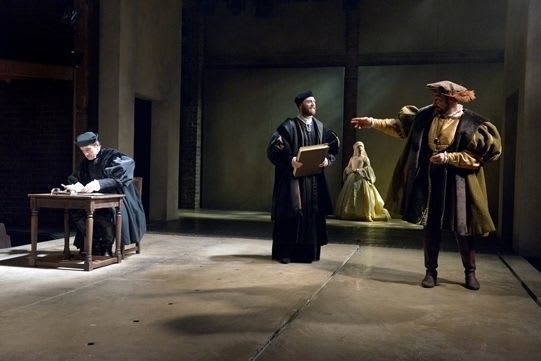 While Wolf Hall created a sensation and became the must buy (if not necessarily must read) book of the year for 2009, in stylistic terms Bring up the Bodies is a better work, while its subject matter is equally compelling.
At the end of the first play, as Anne Boleyn failed for the second time to provide the King with a live male heir to continue the Tudor line, the lights go down on a pale waiting lady, Jane Seymour, who thus far had been little more than a nonentity in the background.
Now Leah Brotherhead, given the thankless task of playing a quiet, unassuming servant who moves centre stage, takes over and starts her character's own inexorable journey towards usurping Queen Anne and having a chance to try and bear the increasingly desperate and depressed King a son.
The difference here is that Jane Seymour allows events to take their own course rather than driving towards nefarious goals like her more socially and politically astute predecessor.
While queens, princesses and right-hand men dance a complicated gavotte moving into and out of favour with remarkable rapidity, the excellent Ben Miles in the role of Thomas Cromwell is a calm constant throughout both of these plays.
Having ascended to a position of such power that even the King is in his thrall, Cromwell is such a skilled manipulator that he keeps his job and his head during a period when the axe man must have been suffering from permanent exhaustion. Indeed, for a particularly bloody finale, the replacement has to be shipped in from France.
In the second half of Bring up the Bodies, the delicate balance between international diplomacy and the more personal gives way to Cromwell's shrewd plotting on the King's behalf to unseat one Queen and replace her with another.
The planning and interrogations swiftly becomes as gripping as any thriller, ensuring that tiredness does not intervene towards the end of what for many will be a six-hour marathon, ignoring the 2½-hour-long early dinner break.
After working wonders in differing styles with Nicholas Nickleby and Les Misérables, the RSC has done it again.
Like those stage conversions, while these plays are a joy and work perfectly on their own terms, a trip to the Aldwych should ideally be followed up with a visit or return to the novels (including a planned third), which offer a different and equally fulfilling experience.
Designer Christopher Oram makes full use of the company's lavish costume department in a stark, breeze-block setting, creating a sense of historical period, helped by Stephen Warbeck's music and David Plater's lighting, which is modelled on the great paintings of the era.
The Hilary Mantel Double Bill is one of those special theatrical events that people will talk of seeing long into the future. It should not be missed.
The good news is that while early performances are sold out, tickets are still available later in the summer.
Reviewer: Philip Fisher