Bugsy Malone
Book by Alan Parker, music and lyrics by Paul Williams
Theatre Royal Bath Productions, Birmingham Rep and Kenny Wax
Theatre Royal Bath
–

Listing details and ticket info...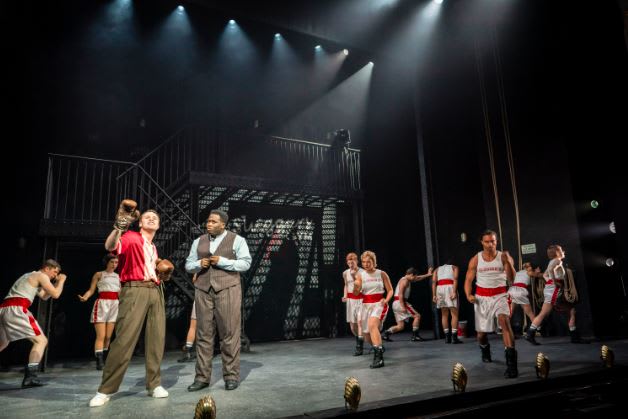 Bugsy Malone's legacy almost half a century on from its release in 1976 remains as strong as ever. An unexpected hit success, Alan Parker's gangster spoof remains the most-screened film in secondary schools and continues to be a regular in numerous 'Best Musicals' lists. It has been adapted for the stage on a couple of occasions, including a run of 300 performances in the mid 1980s starring a 14-year-old Catherine Zeta-Jones and an all-youth version in 1997 by the National Youth Theatre featuring Jamie Bell and Sheridan Smith. The most recent revival by Lyric Hammersmith in 2015 was nominated for an Olivier Award and now embarks on the first ever national tour of the musical.
The classic mob setting of prohibition New York sees rivals Fat Sam and Dandy Dan at odds with one another, with the battle for splurge guns heating up. With nobody left to turn to, Fat Sam recruits a penniless former boxer, Bugsy Malone, to be his saving grace.
The mammoth touring company consists of 39 actors, including three sets of seven children aged between 9 and 15 on a rotating basis, and a seven-strong team of musicians. If you add the backstage crew, it is suddenly apparent why this is the first national tour of the musical. With recent successes like Billy Elliot, Matilda and School of Rock, the musical scene is strong for youngsters. All are bursting at the seams with terrific young talent and Bugsy Malone is no exception. The future is strong—a glimmer of light for an industry which has been on the receiving end of a splurge gun or two in recent times.
On this occasion, Gabriel Payne (Mary Poppins, Les Misérables and Kinky Boots) stars as the titular character and boasts a resume many a seasoned adult actor would aspire towards. The youngster is joined by Albie Snelson as his partner Fat Sam, Mia Lakha as romantic interest Blousey and mob rival Dandy Dan is portrayed by Desmond Cole. Alongside the young group of seven actors are a strong ensemble, with Georgia Pemberton, Rory Fraser and Mohamed Bangura standing out amongst the group.
The show lifts off in each of the three major ensemble pieces. "Fat Sam's Grand Slam", "So You Wanna Be A Boxer?" and "You Give A Little Love" brings an energy few musicals can rival, brought on by children—most of whom cannot purchase a Lottery ticket.. The musical direction put together for "So You Wanna Be A Boxer?" is inch perfect. It is one part a capella, made up of grunts incorporated into boxercise-like choreography, and the other part pure razzmatazz. It is a truly remarkable musical number, and at times it seems astonishing that such young actors are pulling it off. Scene-stealers pile up, from an all-action car chase sequence and Payne's energetic performance in "Down and Out" to dynamic melees with more baked goods than The Great British Bake Off tent.
Sean Holmes's ambitious direction only has one criterion: fun! Here it delivers in buckets—ensuring writer-director Alan Parker and composer Paul Williams's work lives on almost 50 years later. It may have taken a while for this world-famous hit musical to tour across the country, but it is certainly worth the wait. Bugsy Malone is quite simply a slam-dunk of a musical. A triumphant, jubilant success that will entertain audiences in their droves.
Reviewer: Jacob Newbury