Carousel
Music by Richard Rodgers, book and lyrics by Oscar Hammerstein II, based on the play Liliom by Ferenc Molnár as adapted by Benjamin F Glaser
GradeLinnit Productions
London Coliseum
–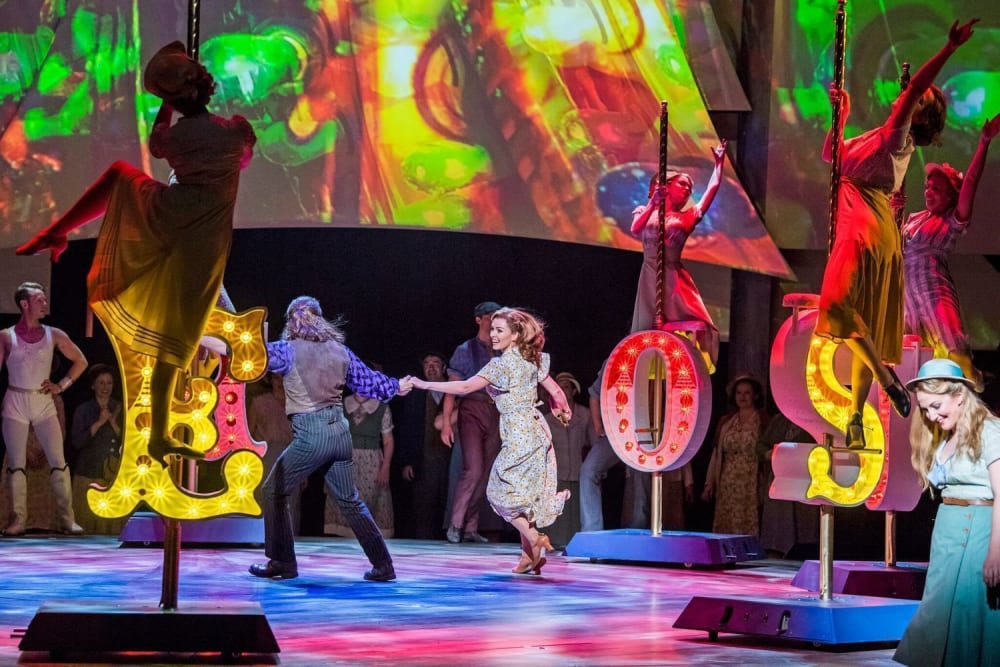 London producers seem determined to open big-budget American musicals in large theatres, ideally with a twist.
Following Christopher Wheeldon's ballet-driven An American in Paris and Mark Bramble's lavish revival of 42nd Street comes the latest in a line of co-productions backed by the ENO's 40-strong orchestra under conductor David Charles Abell.
The GradeLinnit Productions team behind Carousel, led by director Lonny Price, have worked hard to secure the names required to sell the plentiful supply of (highly priced) seats at the Coliseum.
Last year it was Glenn Close in Sunset Boulevard, which has now graduated to Broadway. Now there is the triple bill of Katherine Jenkins making her West End debut, Alfie Boe and Rodney Trotter himself, Nicholas Lyndhurst, sporting an accent from the Deep South rather than South London.
The story, based on the play Liliom by Ferenc Molnár, should be familiar. In 1945, Miss Jenkins's very sweet Julie Jordan is smitten by a carnival barker, Boe playing Billy Bigelow, and, despite warnings from all and sundry about his violent tendencies and womanising inclinations, marries in haste, unlike Alex Young as her wiser friend Carrie.
His infidelities become apparent immediately, leading to much heartache and even a baby on the way does little to tame the roustabout vagabond. Indeed, he falls in with bad company, Derek Hagan as evil Jigger whose highlight is "Blow High, Blow Low", not a famous song but truly rousing.
Tragedy strikes before the interval, leading to what could have been a depressing second half, which eventually becomes uplifting thanks to the intervention of a deus ex machina, represented by Star Keeper/eminent oldie Nicholas Lyndhurst.
The evening opens with high promise, in an extended balletic prologue in reverse, which encapsulates a story that is semi-staged. To achieve this, set designer James Noone keeps things simple, using a series of computer generated images based on Edward Hopper effectively, even borrowing one of his iconic lighthouses.
The 2¾-hour evening attempts to marry musical values with those of opera (with a sprinkling of ballet attractively choreographed by Josh Rhodes) and the results can be a little mixed.
The orchestra is a delight, while the leads sing as well as one can hope for. However, while Miss Jenkins proves to be an adept actress, Mr Boe's Billy Bigelow looks operatic having a preference for posing and growling, with movements that are stiff when they occur at all, while more show of feeling would be welcome. The upshot is that one struggles to understand how Julie and Billy could ever have fallen in love, let alone married.
In addition, the use of microphones in an opera house can unbalance the sound, even if they are necessary for some of the spoken sections.
For the most part, though, fans of Katherine Jenkins, Alfie Boe or Nicholas Lyndhurst will just be pleased to see their favourites in the flesh. They should also enjoy much of the choreography and music featuring such standards as "You'll Never Walk Alone" and "June is Bustin' out All Over", which make this one of most popular musicals that even Broadway has created.
Reviewer: Philip Fisher