Charlie and the Chocolate Factory the Musical
David Greig, with music by Marc Shaiman and lyrics by Scott Wittman and Marc Shaiman
Leeds Playhouse, in association with Neal Street Productions & Playful Productions
The Quarry, Leeds Playhouse
–

Listing details and ticket info...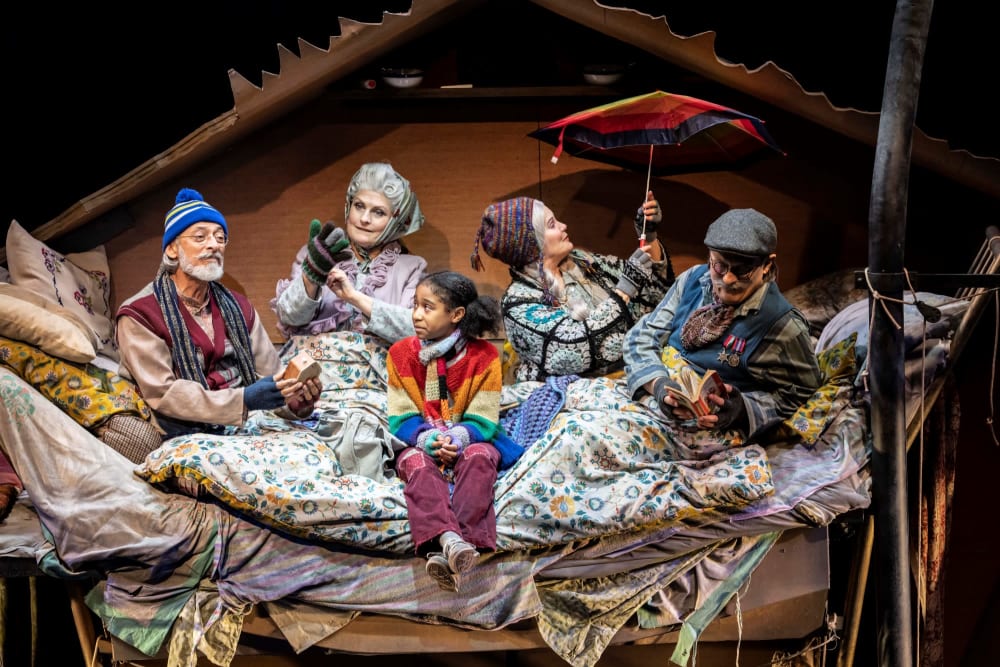 Leeds Playhouse, under James Brining's direction, has a strong tradition of family-friendly Christmassy adaptations for those looking for a non-panto festive outing. For instance, the memorable Sally Cookson-directed The Lion, The Witch and The Wardrobe was a hit back in 2017 and is still going strong in revival today.
This latest such Playhouse production is also a revival, of David Greig's 2013 West End and Broadway version of the famous Roald Dahl tale. As the show starts, we meet young urchin Charlie Bucket scouring the local scrapyard for discarded objects to take home as gifts for his mother and four grandparents. Charlie and his family live in cheerful poverty, making the best of their situation and looking after each other in their tiny ramshackle home.
The role of Charlie is played by one of four young actors depending on the night, and the person I saw in the role, Isaac Sugden, was delightful. He is a confident performer, sings well, and brings to the part just the right kind of honesty and warmth without becoming cloying.
Charlie's two passions are invention and, of course, chocolate. We learn, through amusing cutaways to live broadcasts, of a competition launched by eccentric chocolatier Willy Wonka to invite five children to his factory via golden tickets distributed randomly with bars of chocolate. And in further mini-scenes we meet each of four winners—each with a distinctive character quirk or flaw (basically either gluttony, or, well, just being a brat). Finally, as most of us will either know or anticipate, Charlie wins the fifth ticket and decides to take his Grandpa Joe (a wonderful performance from Michael D'Cruze) with him on the adventure.
This moment falls at the halfway point of the show, and it's only then, just before the interval, that we meet Willy Wonka (Gareth Snook). Building up the anticipation for his entrance would be risky if the role fell ultimately to a lesser performer, but Snook is a fantastic Wonka. While the costume and perhaps even some of his mannerisms acknowledge the iconic and well-loved film version originated by Gene Wilder, Snook very much sets himself apart from earlier precedents with a sinister eccentricity that makes him very watchable (as he was, also, in Wise Children).
The production also tips its (top) hat to the film by including some of the most famous songs from the well-loved 1971 adaptation—so along with Wonka's "Pure Imagination", we also get a couple of versions of "The Candy Man".
Wonka's factory minions the Oompa-Loompas—problematically depicted in Dahl's original edition of the book as essentially black slaves imported from Africa—are also given an update, so here the factory is staffed by energetically dancing cyborg beings.
A strong chorus performs as these factory denizens, and, as the children and their associated parents, they also create strongly differentiated and comedically over-the-top characters. Leonie Spilsbury, Julie Mullins, Katie Milner-Evans, and Christopher Howell do impressive work doubling (almost unrecognisably) as Charlie's family and various traumatised parents of obnoxious kids.
Again as many will already know, one by one the children fall foul of Wonka's factory, meeting an assortment of grisly ends (though there are various mumbled get-out clauses implying they're not really being killed, just taught a stern lesson). Finally, only Charlie is left and (spoilers) he gets on really well with Wonka.
This for me is a bit of a problem with the show—there's not really enough story to go round, and the structure ends up pretty linear and lacking in conflict for a dramatic piece (no matter how family-orientated or feel-good, plays could do with a bit more tension and drama). As with the film, the joy is in the gruesomeness and invention of the world of the factory, and here we're reliant for the most part on Simon Wainwright's video design and Tim Mitchell's lighting. There are some moments of real excitement and magic—Simon Higlett's set and costume generates some inventive effects, along with Chris Fisher's practical illusions.
But overall, I yearned for more of this practical, theatrical magic, and a bit less of the flattening effect created by reliance on the gargantuan video screen. It all felt a bit neat and clean, whereas the messy, creative set design of the first half, opening up and moving around to represent and reveal the scrapyard, the shops, and the Bucket home, was actually more enticing than the bright lights and emptiness of the second. The moments where the children's accidents were depicted with playful and absurd props and design (the human-size squirrel! the inflated Violet Beauregarde!) were glimpses of a fun and magical world, whereas the factory itself just felt somewhat plain in comparison.
On the musical front, too, it's quite telling that by far the catchiest songs in the show are those imported from the film. Despite the pedigree of composer Marc Shaiman, I just didn't find these tunes particularly memorable, or the lyrics interesting enough.
Overall then, while there's much to enjoy here—great performances, moments of design magic, and a good house band—it's not quite as solid-gold a ticket as some of the previous Leeds Playhouse Christmas hits.
Reviewer: Mark Smith