Cheer
Kitty Hughes
Big Loop Theatre Company
The Other Room, Cardiff
–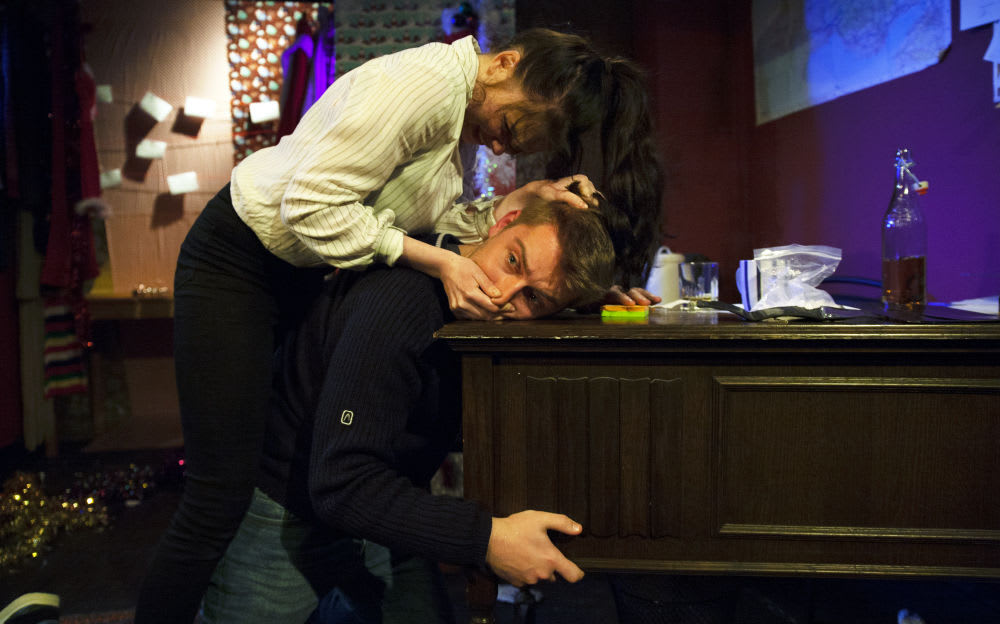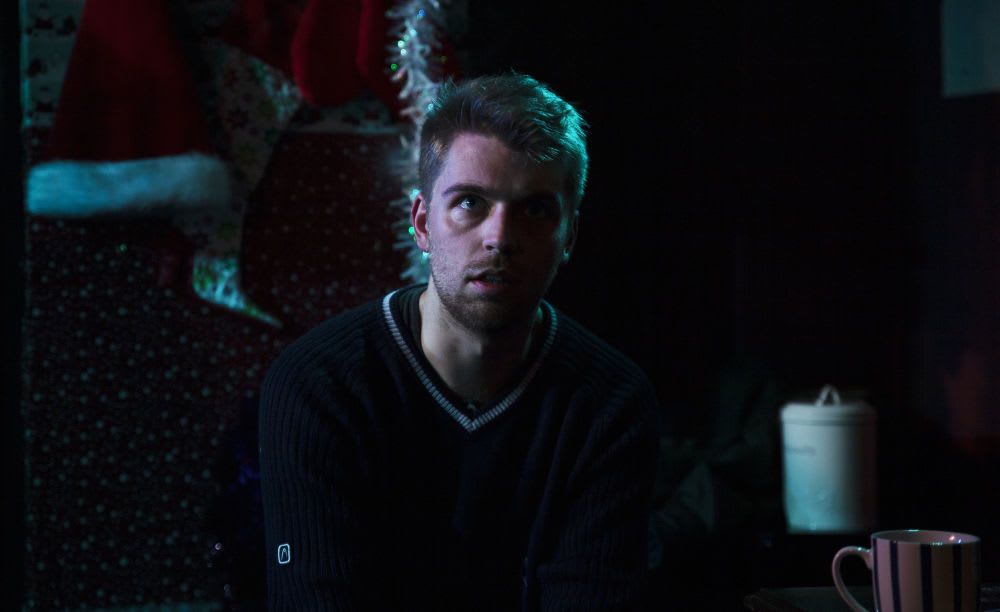 The Other Room can be relied upon to play host to darkly amusing takes on traditional fare at this festive time of year. Following on from Flossy and Boo's The Alternativity in 2017, the mantle has been passed on to Big Loop, who were responsible for Flowers (in 2017) and Flours (earlier this year).
Both pieces were surreal takes on the idea of finding oneself ill-equipped to cope with unforgiving adulthood. Kitty Hughes's script for Cheer (she also acts as stage-manager in this production) situates us once more in a cruel world.
We find ourselves in an austere office. A young woman is seated at a desk, painstakingly inscribing a complex document with the help of a jeweller's eye-piece. A knock comes at the door—obviously an unexpected and unwelcome visitor. She opens it and is greeted by a cheery young man who has made a perilous journey in order to take advantage of her expertise.
It is December, and we are in a society in which Christmas has been privatised (or is it nationalised?). Thus, celebrations are restricted to those who can afford them, with the poor restricted to either spectating at a distance, working as servants to the rich or seeking synthetic thrills via the illegal drug, Cheer.
It transpires that Alice Downing's buttoned-down Jools is not only a purveyor of counterfeit tinsel and baubles—the large cupboard at the back of Ceci Calf's meticulously assembled set opens up to reveal a veritable Santa's grotto of goodies, which illuminates the room—but also the forged licences which allow one entry into the privileged part of town, and its associated revelries.
The customer, Todd, played by Cory Tucker, wants a licence, but is obviously not in a position to be able to purchase one in the conventional manner. He does happen to have illicitly come upon a stash of Cheer, however, which Jools might be able to make use of…
As the story unfolds over an hour and a half, it becomes clear that the puppyish Todd may not be as guileless as he comes across and that Jools's businesslike criminality has its roots in a traumatic past. Tucker and Downing display excellent comic timing, the power dynamic shifting from moment to moment.
Inevitably, with illegal substances in the mix, we move into hallucinogenic territory—brilliantly evoked by lighting designer Garrin Clarke and sound designer Matthew Holmquist. Director Duncan Hallis seems to handle the associated movement-oriented elements of the tale with a little less assurance than the verbal sparring, but keeps the momentum going throughout.
Hughes's script is clever, humorous and heartfelt, turning what might have been a shallow satire on commercialism into something a little more emotionally involving. While some aspects of the society she has created remain vague, the narrative is sufficiently strong to keep us from dwelling on the outside world.
Ultimately, like many modern Christmas stories, Cheer deals with the pressure to succumb to festive hedonism and materialism as a refuge from loneliness, familial strife and political reality. There is bleakness, but also hope in a tale which, while it has its wacky moments, is more pensive than one might have expected.
Reviewer: Othniel Smith