Choreographics: Count Down / Ripple Effect / We Are Free / In Living Memory… / Vera
Choreography by Emmeline Jansen, Makoto Nakamura, Fabian Reimair, James Streeter, Stina Quagebeur
English National Ballet
Barbican Pit
–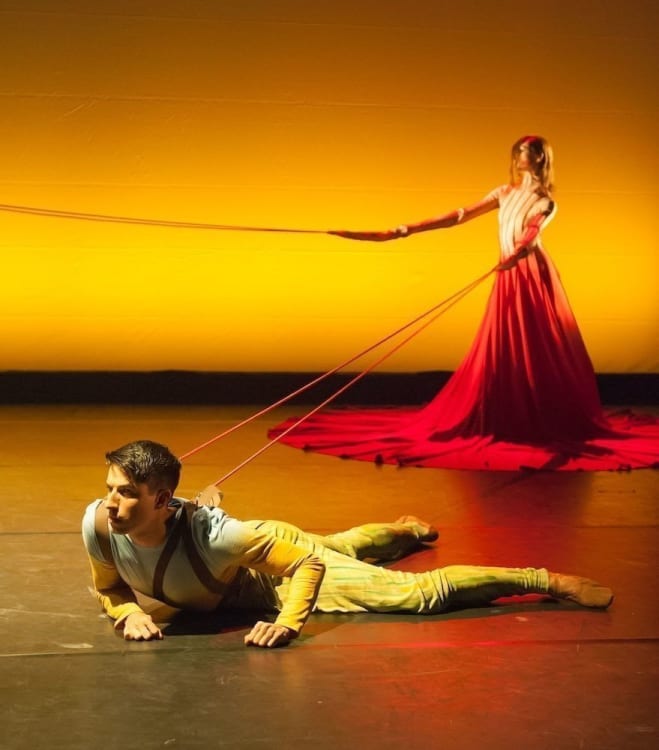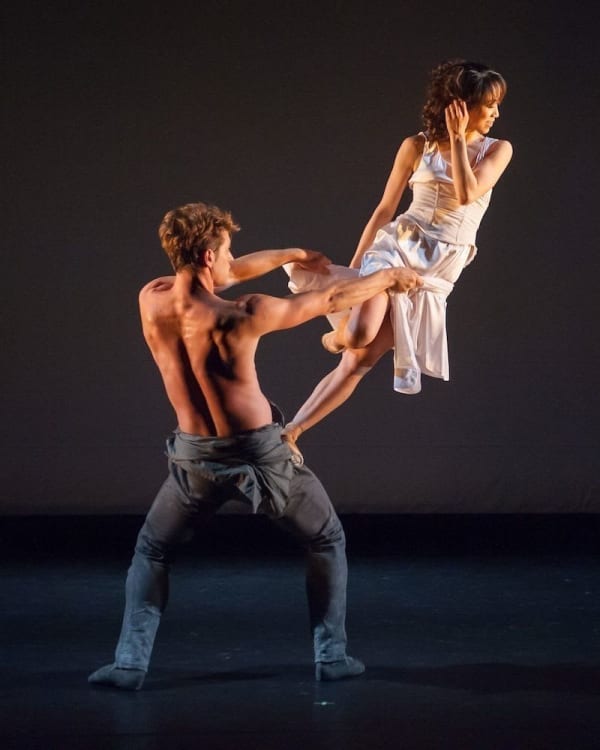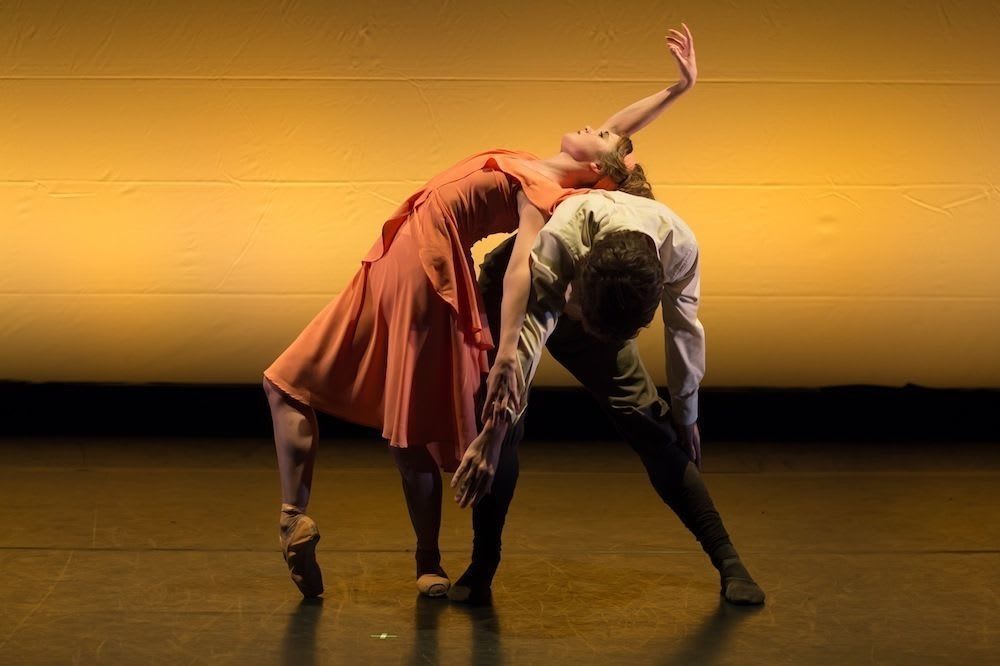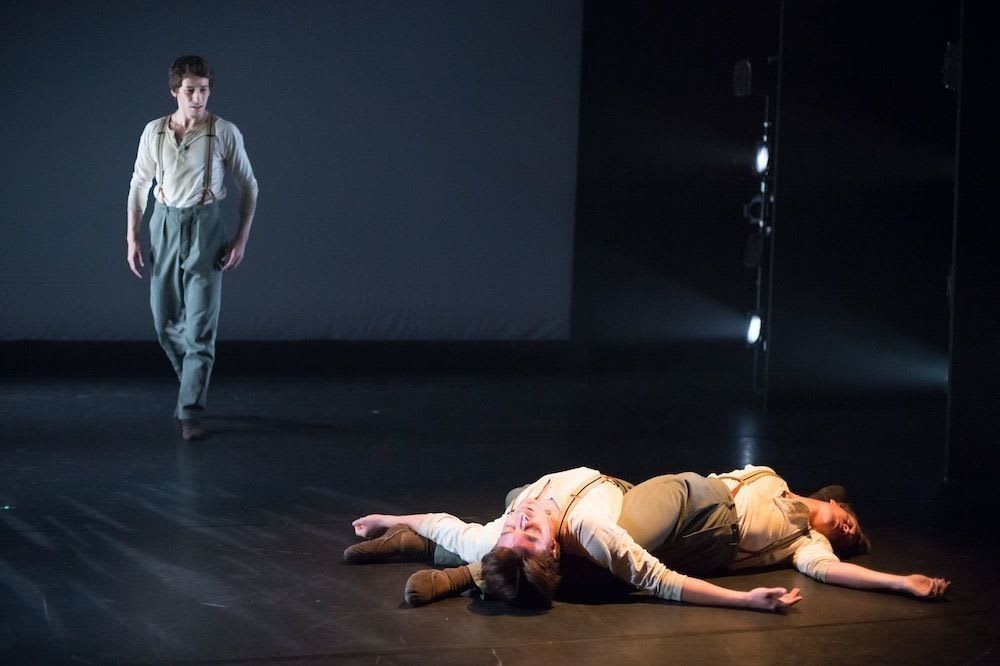 Tamara Rojo, Artistic Director of the English National Ballet, knows profile is everything, and so is money, for the healthy life of a company, for which she has massive ambition.
But above all its future lies with the young talent that is being carefully nurtured under her leadership, and as always there are gems to be found.
A few days ago, ENB held its Emerging Dancer competition at the 2,100-capacity Lyceum Theatre in Covent Garden. Last night it was the turn of their embryo choreographers at the 200-seat Barbican Pit. From small acorns…
The reason for the Pit at the Barbican (not the Place as in previous years) was, I presume, the thematic link with ENB's Lest We Forget recent commemoration of WW1 in the main theatre.
Five young choreographers, one the winner of English National Ballet School's own choreographic competition, the other four dancers in the company, were tasked with a similar responsibility.
WW1-inspired poems as their stimulus, three of the choreographers had them put to piano music by young composers who worked closely with them. The fourth used Ivor Gurney's (1890-1937) Longing, The Sea, and Sleep.
A short film of each choreographer explaining intention and motivation, and poems sung as a prologue, inevitably give the evening an academic tenor, a chamber concert aura, which each dance piece soon dispel.
Serious theme taken seriously can be a reverential downer, but the astute work on display is wonderful, even in these cramped quarters, and performances are intense, captivating and beautiful.
My compliments to all is that, lovely though it is to see dancers up close in such an intimate space—and the choreographers do use the space with a sophisticated sense of dramatic stagecraft—at times I longed for more space for their flying imaginations and spreading wings.
Emmeline Jansen, ballet school winner, delivers a musically adept solo, Count Down, created on herself that looks influenced by Wayne McGregor but also reminds me of George Clausen's 1916 painting, Youth Mourning.
Makoto Nakamura's two-part miniature dance drama, Ripple Effect, addresses post-war trauma through the prism of Wilfred Owen's Anthem for Doomed Youth put to music by David Hewson and sung by Jonny Muir.
Three soldier pals, Juan Rodríguez, Guilherme Menezes, and Joshua McSherry-Gray, in happy bonding trio and lament duet, lift and support each other on broad shoulders. Bugles sound and Menezes is the last man standing, dancing a solo over his two friends in death's embrace.
Internalised emotion is revealed again, this time in domestic gentle gesture: Ksenia Ovsyanick in simple frock, Menezes a morose shell-shocked figure, the long reach of war.
Fabian Reimair's We Are Free to Stephan Hodel's setting of Siegfried Sassoon's poignant Absolution sung by Simon Loughton, is profound, strong on imagery and looks fabulous thanks to Antonella Petraccaro's costume design.
The hope, the excitement and anticipation of war give way to its reality, its bloodthirsty machinery. Two couples, mirror images, happy boy girl waltzing duets turn to entrapment by bloody battle. Actions and consequences, death does not differentiate.
Harnessed to far-reaching tangling tentacles of a spreading tree, personified by a surreal faceless woman (Jeanette Kakareka), whose blood-red dress bleeds on the floor, the men (Laurent Liotardo and Francisco Bosch) are snared (les jeunes hommes et la mort), the women (Adela Ramírez and Angela Wood), too.
Wilfred Wilson Gibson's spine-chilling The Stone is James Streeter's spur for In Living Memory... Christopher Hamilton provides the music sung by Shimi Goodman; Erina Takahashi, James Forbat, and Nathan Young are the dancers.
Absence and grief, torn souls aflame, memories of happier times, the girl captured in her lover's shirt's embrace, her arms reaching out for the one not there, and the brothers-in-arms duet. Heart-breaking.
A keenly felt melancholy duet for Nancy Osbaldeston and Guilherme Menezes is Stina Quagebeur's take on John McRae's In Flanders Fields. Vera, honouring Vera Brittain's Testament of Youth, invokes the absent presence of a loved one, the numbness of loss.
A female sensitivity and sensibility pervades the piece, and Nancy Osbaldeston of the soulful eyes conjures forth a dazed distressed dramatic stillness, a disorientated going through the motions of life, a limp doll, whilst her dead man spirit dances around her as if to nudge her back to life.
Her grief spins into a mourning duet. He supports her on his back, two bodies as one. A move on the breath of emotion, a rise on to pointe, overwhelming in its simplicity, and twisting turmoil on wooden feet, but he sees her through, and then walks away.
Guided by choreographic mentor Kerry Nicholls, and music collaboration mentor Dr Bruce Wall (Executive Director, London Shakespeare Workout / LSW Prison Project) the incipient choreographers exceed my expectations.
Louie Whitmore is the costume designer for three of the pieces, recordings of the ENB Chamber Ensemble under Gavin Sutherland were produced by Yohei Sasaki, and ENB Associate Artist, George Williamson, oversaw the professional production.
Next year Choreographics will also welcome participants from outside the English National Ballet.
Reviewer: Vera Liber