Circus Days and Nights
Music by Philip Glass, libretto by David Henry Hwang, Tilde Björfors
Cirkus Cirkör
Malmö Opera, Sweden
–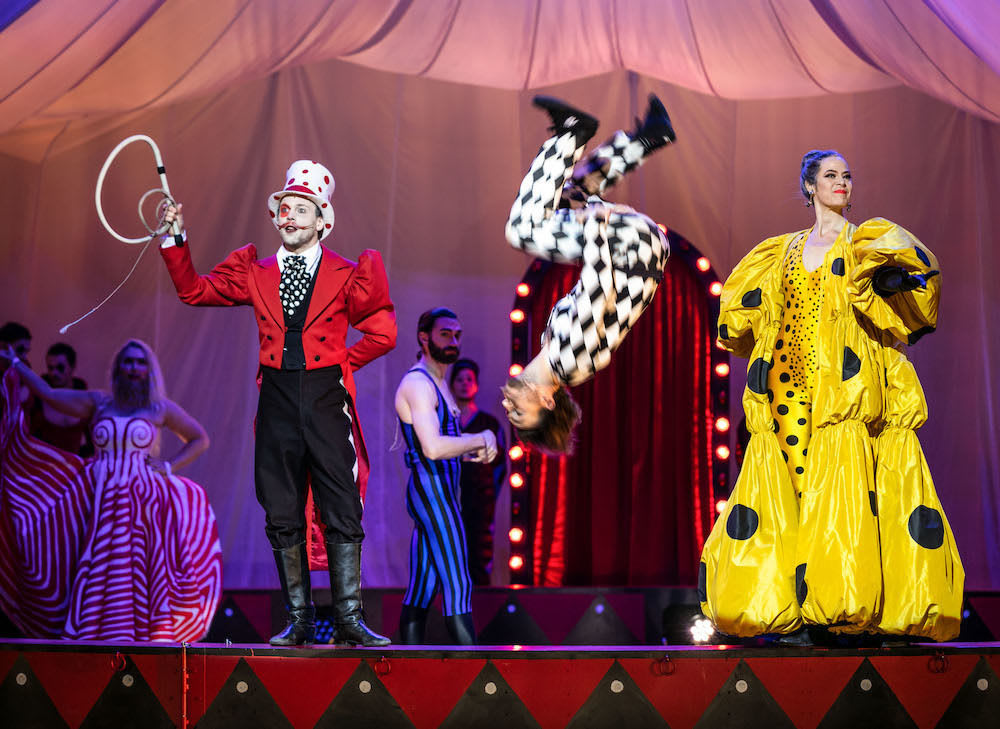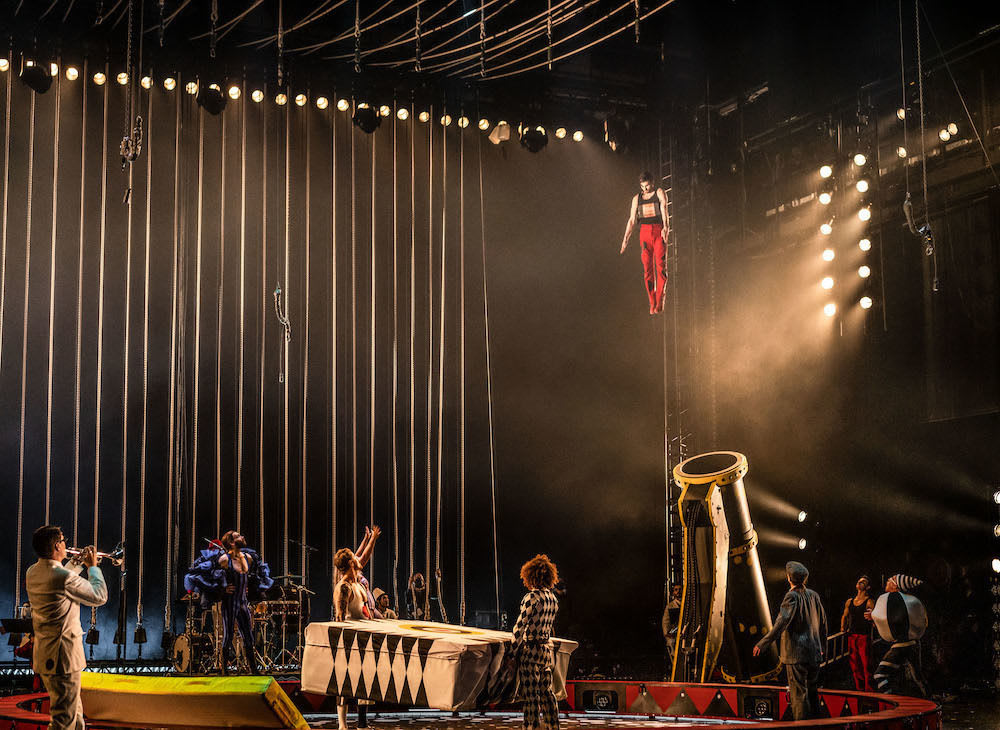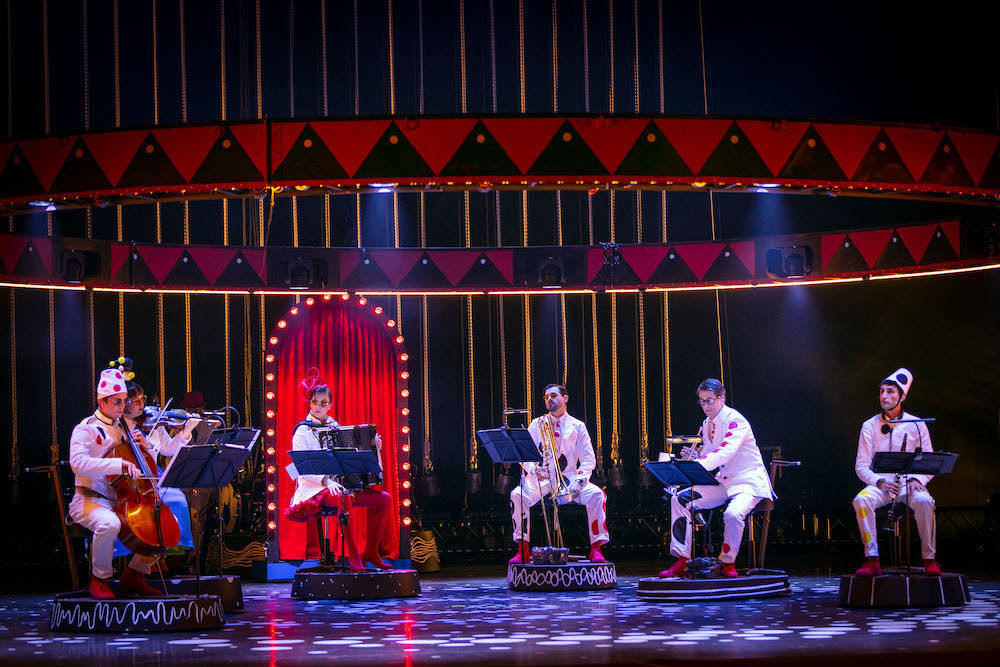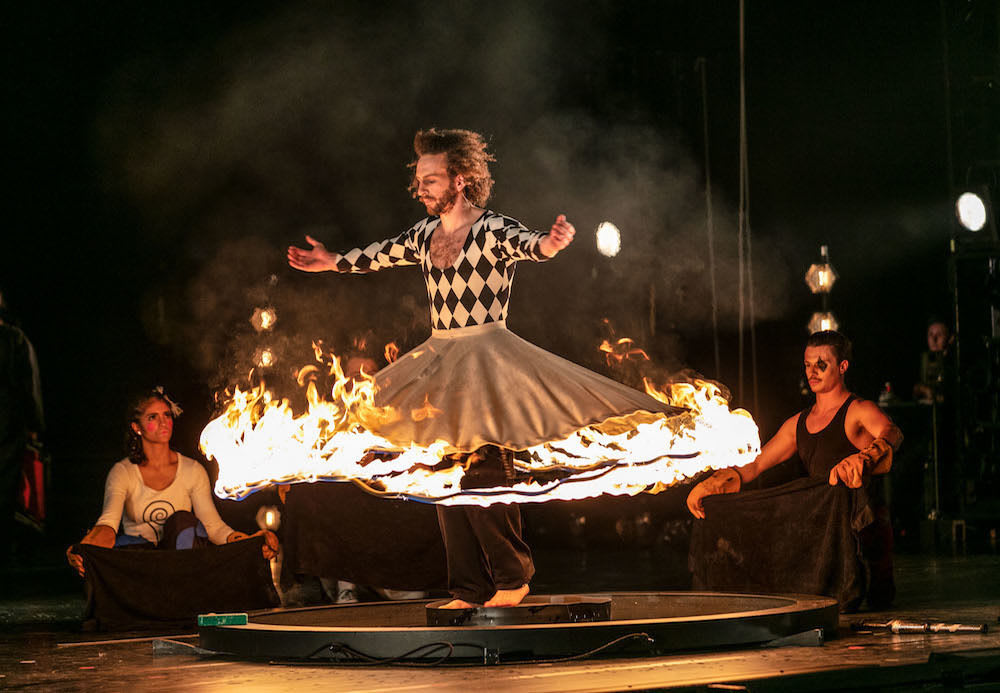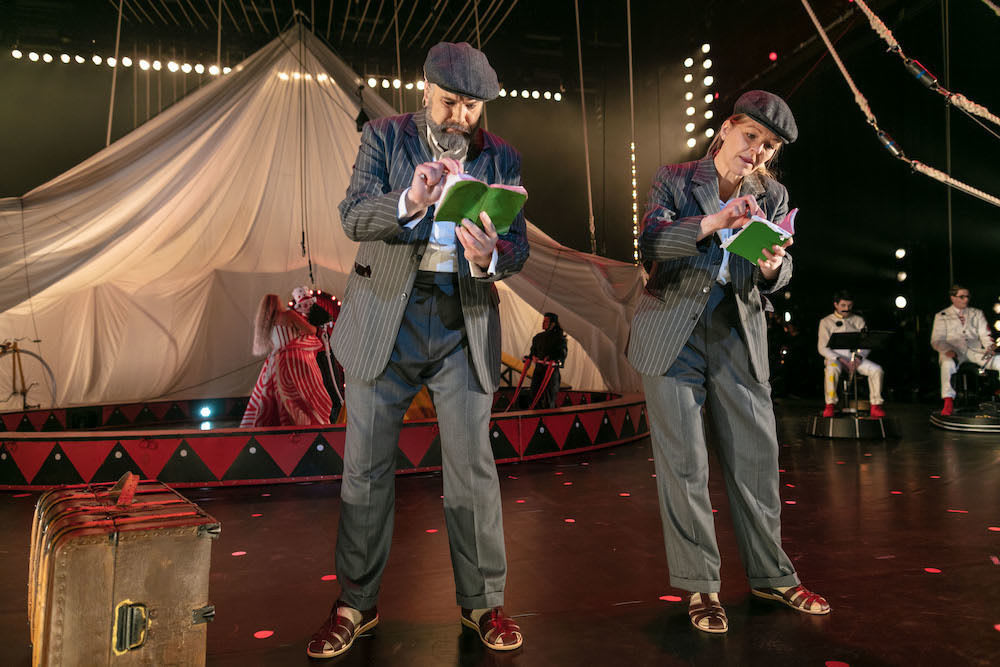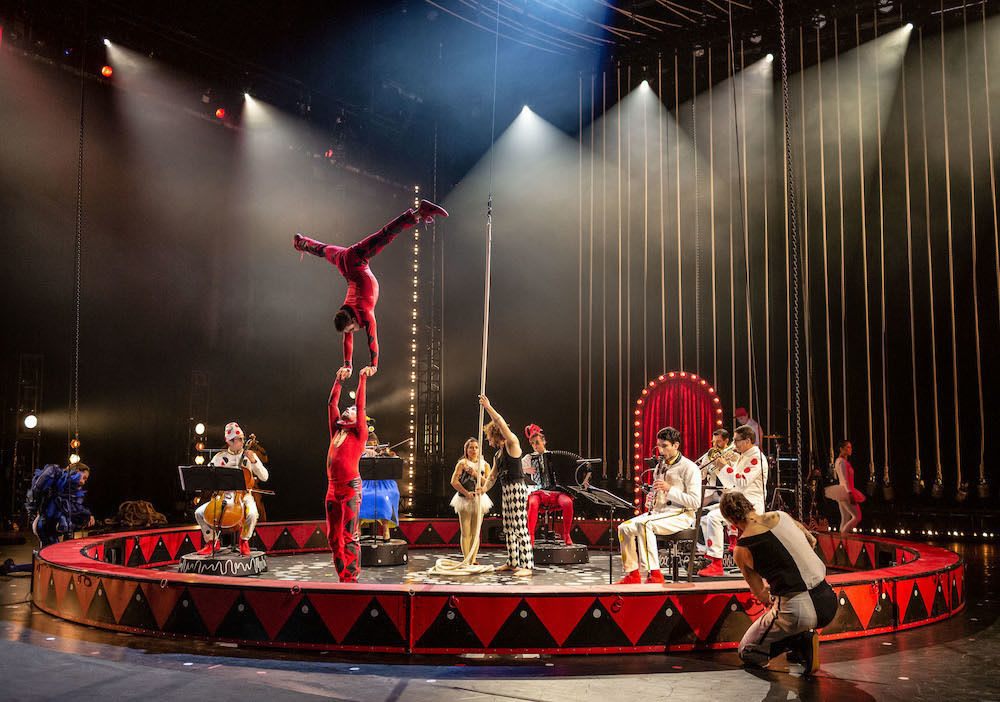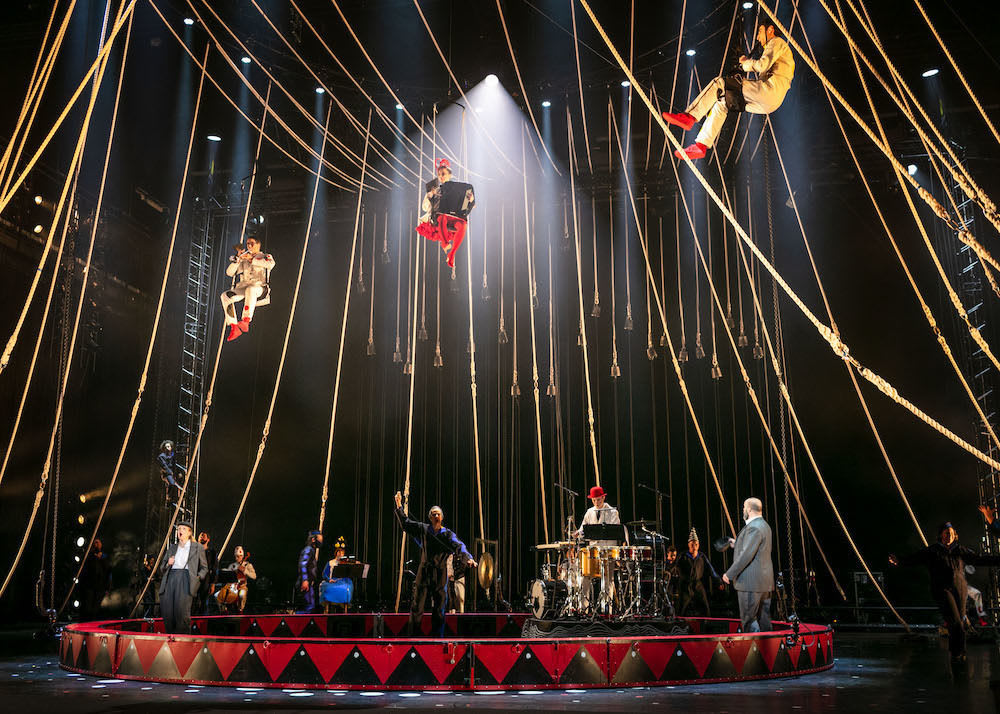 A world première of a Philip Glass opera is an event, lockdown or no lockdown, but it's more than that, one might call it serendipitous. Director Tilde Björfors, doing a residency at Robert Wilson's (and his influence here is immediately striking) Watermill Center in 2015, first heard Glass's Satyagraha and was knocked out by it. Circus music, she thought.
Dance music, too, as far as I am concerned. And Circus Days and Nights is stunning. I can barely contain my excitement. Two hours of uplifting music and philosophy… yes, philosophy but more of that later. And what performers, what razor-sharp direction, what warmth, I (not a particular circus fan) am spellbound for the whole two one-hour acts (there is an entr'acte interval with some interesting chat and time for a rest room visit).
Thank goodness for streaming, too, though I am beginning to tire of the small screen after these long months. Oh to be in Sweden's Malmö right now (I did once fly to Stockholm to see a Robert Wilson production). Björfors and Cirkus Cirkör surpass my expectations, the acrobats, jugglers, aerial performers, designers, singers and the musicians.
Only seven musicians but what a sound, and each has his and her moment in the sun, wheeled on and off the stage: Minna Weurlander on accordion (European cabaret and circus in one), Viktor Nordliden on cello (lyrical and Elgar-ish), Inga Zeppezauer on violin, Blagoj Lamnjov smooth clarinet, Oscar Fransson clarion call trumpet, Martin Jönsson jazzy bass trombone and Sigvald Fersum on percussion (a demon on the snare drum).
But let's start at the beginning. In 2017, Björfors met Glass and asked if he'd consider writing music for her Cirkus Cirkör… It turned out he'd been looking for a circus all along, as ten or so years ago he had bought the rights to Robert Lax's Circus Days and Nights poetry collection and was looking for the right circus. Here it was. This collection of poems was her "personal bible" for the last four years. The stars and planets had aligned.
Lax was a spiritual American poet some considered a saint, who turned to minimalism later in life. His friendship with abstract expressionist artist Ad Reinhardt also makes me think of Glass's with many artists—I've recently read his memoir "Words Without Music'. In the opera, there are two Laxes, young and old: Lax F, the poet as a young man sung by Elin Rombo, and Lax M, the old poet by Jakob Högström (he even gets to do a couple of magic tricks). In grey suits and flat caps, they heighten the sharp colours of the circus performers, but what lovely voices.
And their rapport with the performers is just so: young Lax sitting on a wagon, which looks more like a cloud (on cloud nine?), with eldest Cristiani son Mogador (how Nikolas Pulka has any breath to speak after his aerial exertions must be great muscle control or maybe there's a sleight of hand substitute). It's magical anyway.
Anyway… Glass's musical repetition and ecstasy chimed with Björfors, the small shifts in detail struck her as circus practice, "a physicalization of his music". I quote from the fulsome programme notes. Oh to have a hard copy. The images are stunning, the colours vibrant. I know what she means, I can't sit still either to those pulses and shifts. Glass always makes me want to pogo…
The more one delves, the more one finds spiritual soulmate links. Captivated as a child by the circus, Lax did what many would like to do: he ran away to the circus. And wrote of his travels with the Cristiani family circus (you can find old films of them online), which informs his poetry collection from which much of the libretto is taken. Not only that, but he practised meditation by Eknath Easwaran, who had been influenced by Gandhi, the subject of Satyagraha.
The circle / cycle of life, "all the days of creation in one day", the round big top, the raised tilted circus ring a halo and a huge wedding band, a marriage of elements. The Cyr wheel, bicycles, tumblers, and circles in the costume designs (and set by Magdalena Åberg): Mrs Cristiani's spotted costume lifted out of a Yayoi Kusama creation, others perhaps from the likes of Sonia Delaunay, Kandinsky, Malevich and more. Picasso's Pierrots, Alexander Calder wire models (big top shadow play) and red lines on the Bearded Lady's dress.
Now I understand why Phelim McDermott's productions of Glass's Akhnaten had the Gandini Jugglers, why Satyagraha had travelling players. Glass likes the circus. And it's that renewal of setting up in a new space, at dawn, a fresh start, and pulling it down to move on that is life's metaphor, and everyone has a role to play in it. The circus is the Creation, filled with love, trust, balance and grace by God's acrobats. A circus "builds a new Eden" every day.
As they put up the big top and take it down, I am reminded of David Storey's 1969 play The Contractor about the putting up and taking down of a marquee. Fascinating the teamwork and technicalities, but also the visual wizardry. Quite right that the technicians take a bow, lives are in their hands.
Ellen Ruge and Robert Hvenström's lighting design, Avgoustos Psillas's sound design, Methinee Wongtrakoon and Simon Wiborn's choreography and Saar Rombout's rig design are finely tuned. A magical vigorous five-star production that dazzles the eye, charms the ear, and lifts the spirit.
And what value for your money. I urge you to see it, hear it.There's a human cannon... life lived in the moment. A symbiosis of flamboyant music and sensory action… "a wedding of the spirit and the flesh"… and such exhilarating bewitching fun.
Reviewer: Vera Liber