Constellations
Nick Payne
Donmar Warehouse
Donmar Warehouse
–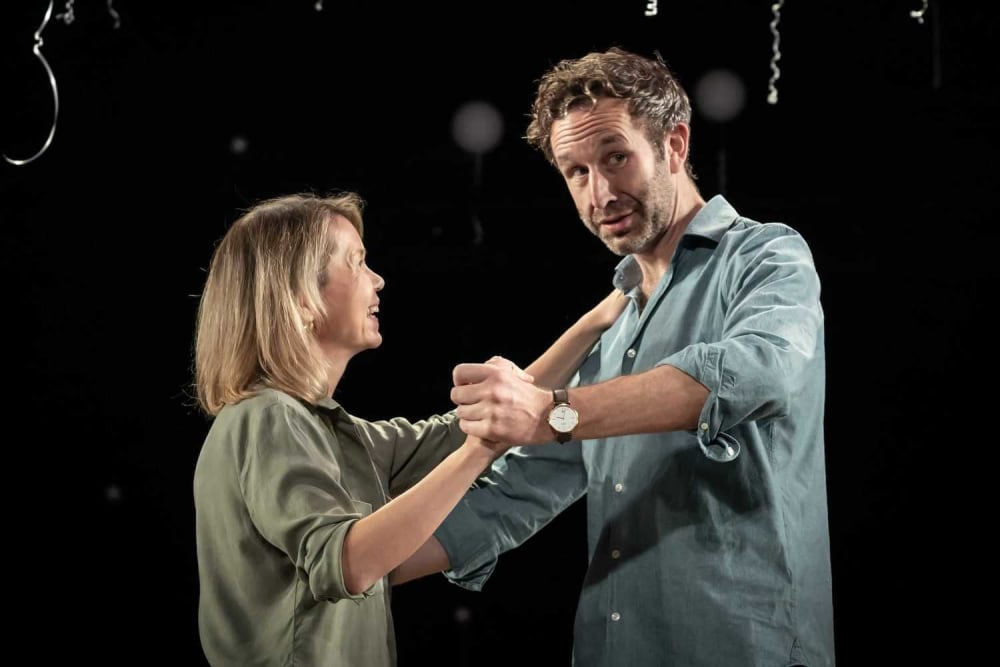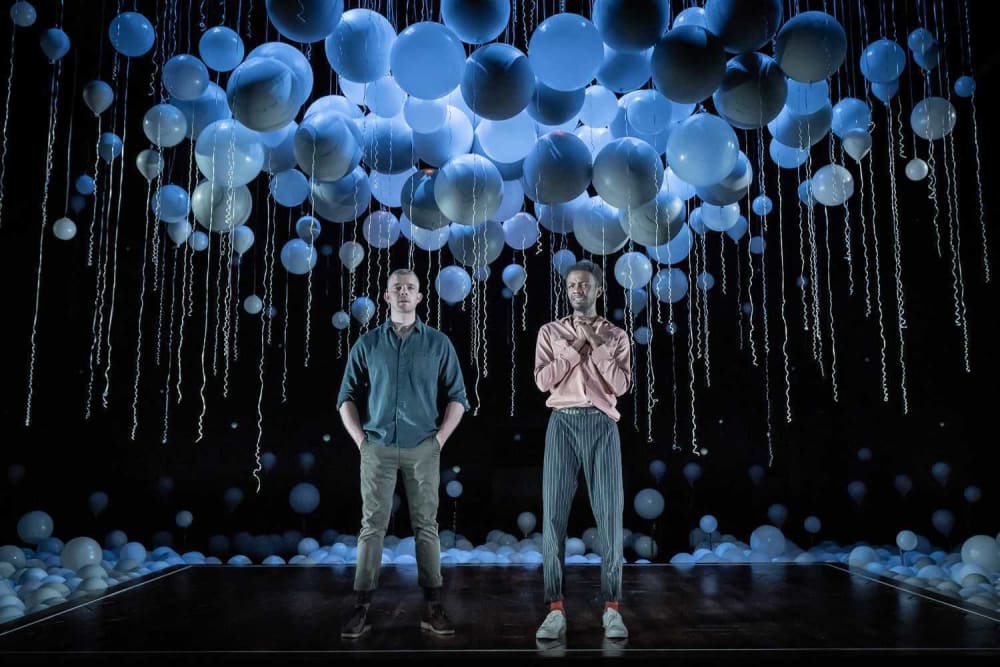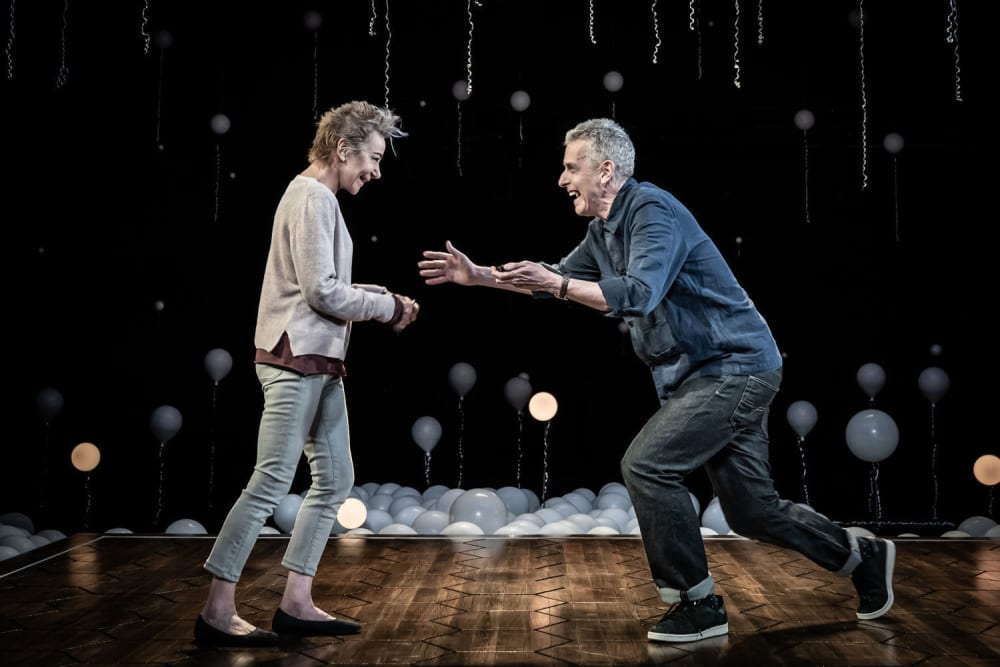 This review has been written jointly by Philip Fisher and Robert Tanitch.
If the definition of an instant classic is a play that is revived remarkably soon after its première, then Constellations fits the bill. Following the original Royal Court production in 2012 and the two-hander enjoyed a West End transfer at the end of that year, before heading off to Broadway three years later.
It was revived at Trafalgar Studios soon after and original director Michael Longhurst brought it back into the West End in a quadruple rendition during lockdown. It is those versions, featuring deliberately diverse casts, that have been filmed in productions that are now offered to the public either singly or as a set.
The show was an obvious choice for the coronavirus era, featuring a cast of two on a simple, single set. Designer Tom Scutt has concentrated on symbolism, with the stage featuring a honeycomb design, overhung by innumerable balloons. The meaning becomes clear as a 70-minute performance unfolds depicting the development of an intense relationship between beekeeper Roland and quantum cosmologist Marianne.
How much do you know about quantum physics? We are told that every decision we have made (and not made), comic and tragic, exists in an unimaginably vast ensemble of parallel universes.
The script, which elicits echoes of plays from writers such as Martin Crimp and Caryl Churchill, explores the infinite possibilities of their relationship. Innumerable brief scenes are constantly repeated but with different outcomes.
A proposal of marriage is made in five different ways and it is the construction of the play which makes it so fascinating to see. Just as you are beginning to get the hang of what is going on, the action rewinds a few seconds and tries again.
Eventually, the youngish couple fall in love and, with numerous evasions and explanations along the way, face many pitfalls that will be familiar to anyone sitting in the auditorium or, in this case, at home. The drama then goes further, but revealing any more would be a spoiler.
In this latest revival, Michael Longhurst seeks to address prejudice and diversity in his casting. The Anglo-Irish pair who seem closest to Nick Payne's original intentions are Chris O'Dowd and Anna Maxwell Martin. They deliver fine performances, although a modicum of age blindness is needed. The other couples are even further from obvious casting.
The performances can now be seen online and all you have to do is choose between that duo or any of Sheila Atim & Ivanno Jeremiah, Peter Capaldi & Zoë Wanamaker and Omari Douglas & Russell Tovey, Decisions, decisions. Roll the dice.
The play lasts 70 minutes. The actors manage the instant transitions with great skill and diversity. How did they learn their lines? How did they remember which sequence they were in? On one occasion, they even communicate in sign language.
Only actors, directors and theatre critics are likely to want to watch all four versions within a few weeks. So, which version should you choose?
Nick Payne's script is actually about a younger relationship, but Anna Maxwell Martin and Chris O'Dowd make the roles their very own. Sheila Atim and Ivanno Jeremiah are the right age and certainly righter than Peter Capaldi and Zoe Wanamaker, who are miscast. The most original version is the one which turns the characters into two gay males played by Omari Douglas and Russell Tovey, who are very physical and sexy.
Watch one version and, if you like it, you may be tempted to view another, even more so if you come into the category of theatregoer who might have enjoyed watching Henry Irving and Edwin Booth alternating Othello and Iago, John Gielgud and Laurence Olivier sharing Romeo and Mercutio, Benedict Cumberbatch and Jonny Lee Miller with Frankenstein and the Monster or Juliet Stevenson and Lia Williams swapping Mary Stuart and Queen Elizabeth I.
Constellations is a fascinating and a rewarding experience. Don't roll the dice. Instead, watch Anna Maxwell Martin and Chris O'Dowd first and see where that takes you.
Reviewer: Philip Fisher