Contemporary Cuts 2021
Choreography Amaury Lebrun, Demis Volpi, Jonathan Watkins, Cathy Marston. Kenneth Tindall
Northern Ballet
Sadler's Wells
–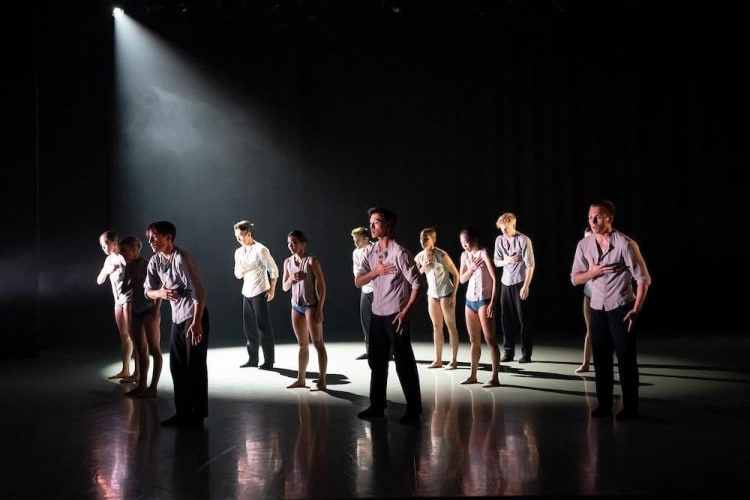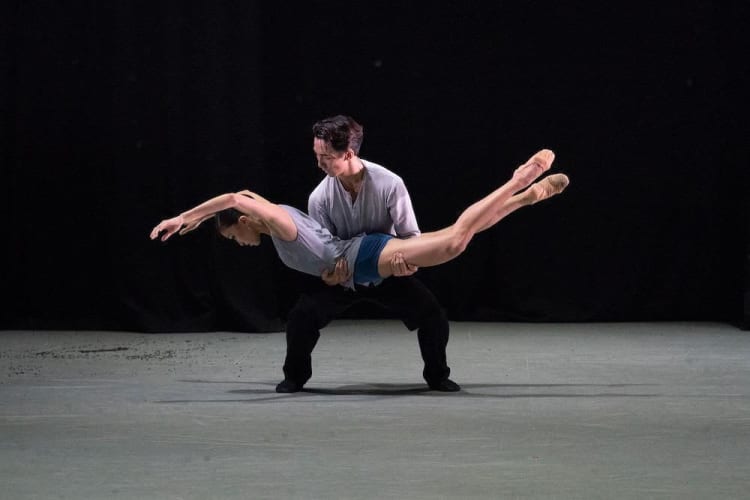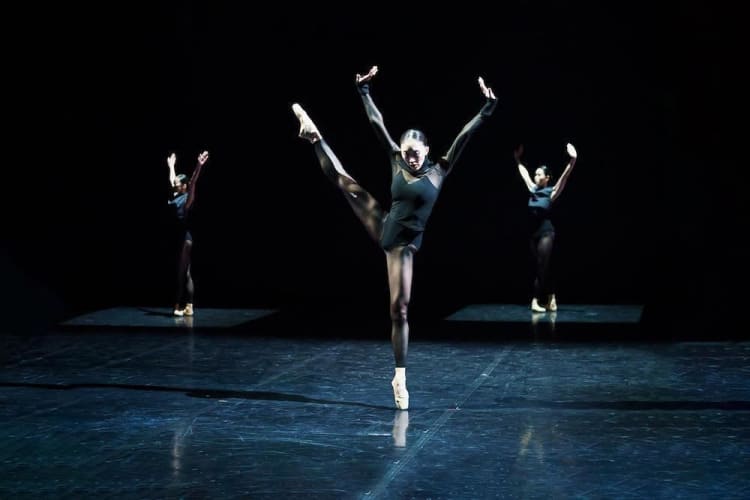 A mixed programme that showcases the range of Northern Ballet's company on the last night of their visit to London has an appreciative audience albeit a small one—not just COVID but probably sunshine keeps many away. Well, they missed out.
Bookending the evening are two London premières, which, if not entirely similar, have a comparable sensibility. Amaury Lebrun's For an Instant reflects on life's brief moments: "For an instant... I live / For an instant... I breathe / For an instant... I die / For an instant... I dance". Lebrun calls it an abstract work, "poetry in motion". The music provides the elegiac substance.
Heavy heartbeat drum and the devotional baroque sounds of Heinrich Biber and Henry Purcell give it a fleeting narrative, some of which looks as if it is personal to the twelve dancers themselves, so intense is their commitment. All of life is here from beginning to end, and religious imagery holds it together. Dust falls, dancers leap in formation, in exaltation, there are anguished solos, until all is stilled. They step back into the darkness. So much is packed into half an hour, it doesn't feel like an instant.
States of Mind by Kenneth Tindall closes the evening on an Aretha Franklin / Bob Fosse-ish high. Not that it starts that way. "Created in 2020 and inspired by a collection of thoughts, feelings and news headlines, this work is an abstract response through movement to a selection of situations experienced during the global pandemic." So another bag-full of emotions to music by Johann Sebastian Bach, Jacob Ter Veldhuis, and the unexpected Aretha Franklin...
Franklin is not the only surprise—we hear a recording of the queen's voice giving comfort with carefully chosen sympathetic words to her subjects during our collective travails. She speaks of separation and of coming together. Dancers slump, walk like zombies, an anxious cello sounds, there is much agitation—on pointes it looks good.
The music is introspective, beautiful, matched by beautiful choreography. Developpés unfold into high extensions, gentle lifts give way to high kicking women in black and dashing (in every sense) young men—have we stepped into Chicago (the musical)? Almost. I'm also reminded of William Forsythe.
The light changes to red. The mood is hopeful, not indigo anymore. Is this post-lockdown hope—we're almost there… Six women and seven men get down and funky in a jazz club. I leave with a spring in my step.
In between these two group pieces come three short duets from Demis Volpi's Little Monsters, from 1984 and Jane Eyre, all very enjoyable, and good choices for the potpourri of contemporary pieces.
Volpi's is a bit corny, but when isn't love corny? Elvis Presley's "Love Me Tender", "I Want You, I Need You, I Love You" and "Are You Lonesome Tonight?" is all you need to know about the scenario. Listen to the words: how possessively passionate love turns sour and how the parting of the ways is so depressingly sad.
My late husband would have loved this. He believed in corny. Don't bring your cynicism to this. Abigail Prudames manipulates Joseph Taylor's arms, clutches his legs, torso, head, but then the song changes and eventually they are at opposite 'lonesome' corners of the stage.
The Countryside pas de deux from 1984 is lovely. Minju Kang and Lorenzo Trossello (the Marquise de Meurteuil and Danceny of Dangerous Liaisons) strip down to their underwear and under a wide spotlight release their pent-up passion. Are they being watched? You bet.
Dominique Larose and Mlindi Kulashe (Madame de Tourvel and Vicomte de Valmont in the Dangerous Liaisons I saw a few days ago) give another heartrending and heartwarming narrative performance. She is angry, thinking he loves another, little knowing he is about to propose to her. She falls into his arms, her joy and release of tension is palpable. Such a tender moment—we won't mention the wife in the attic... A piano on stage is played by Andrew Dunlop, the only live music of the evening.
Lack of sets, or rather minimal sets, does not take away from the travelling light presentation of a company in good health and humour, the dancers more than amply decorate the stage with their energetic presence under Alastair West's dramatic lighting.
Reviewer: Vera Liber