Creature
Direction and choreography Akram Khan
English National Ballet
Sadler's Wells
–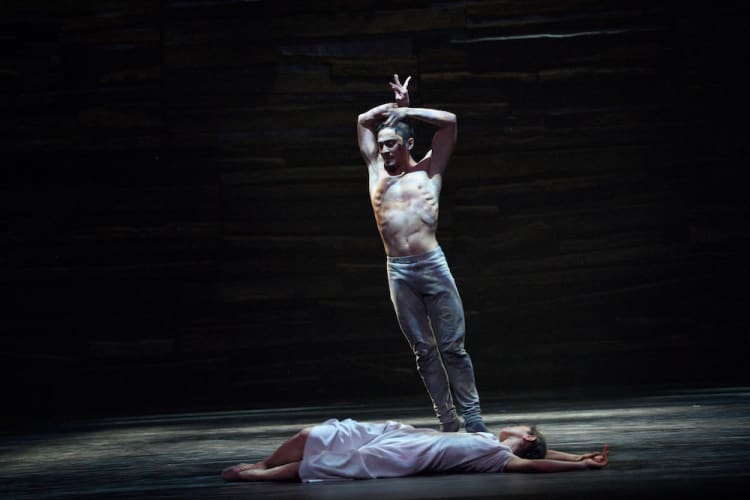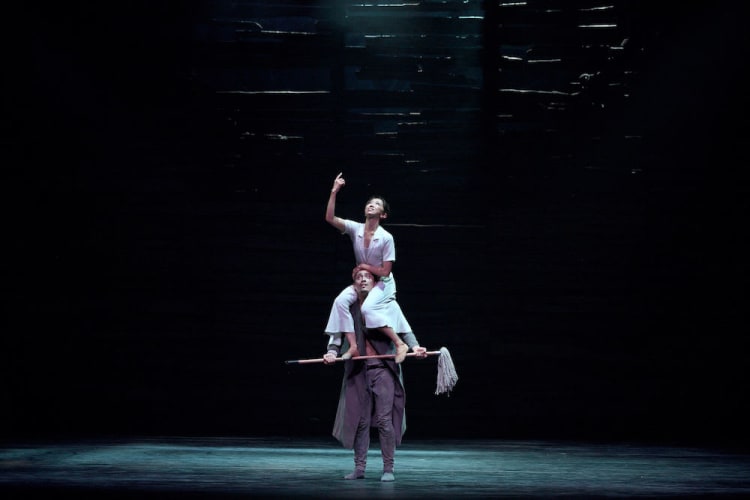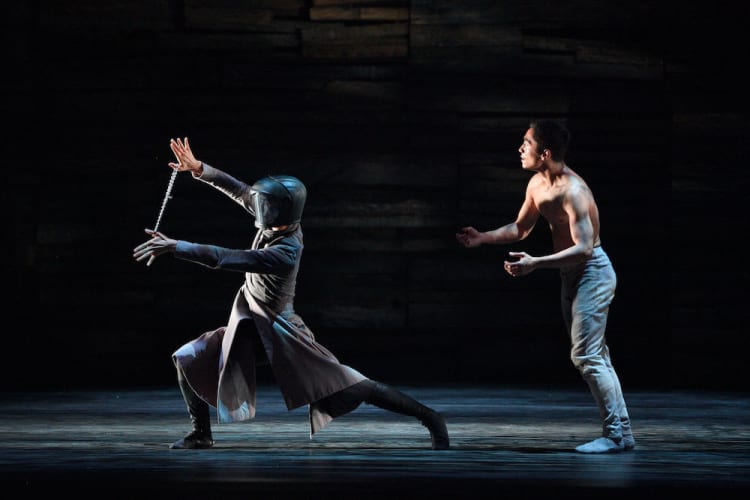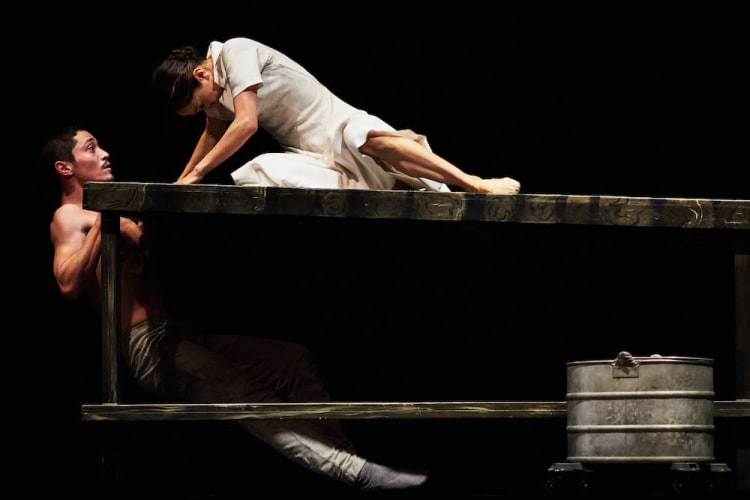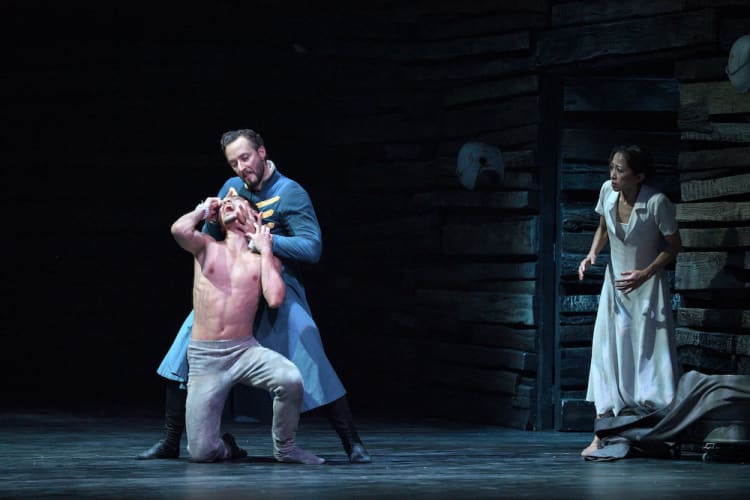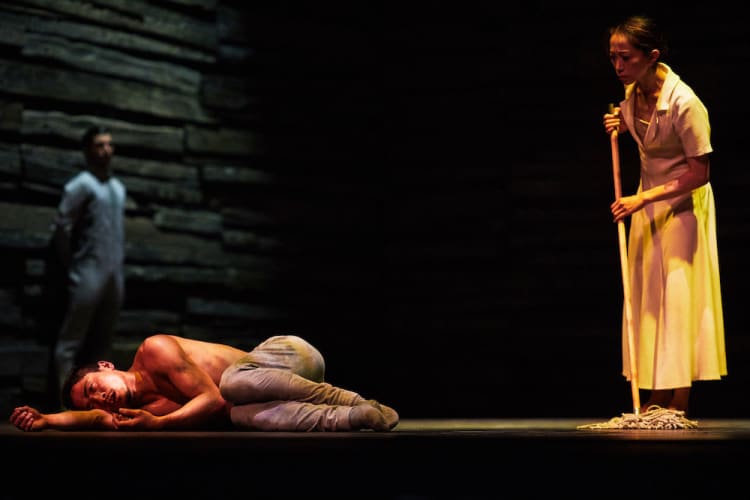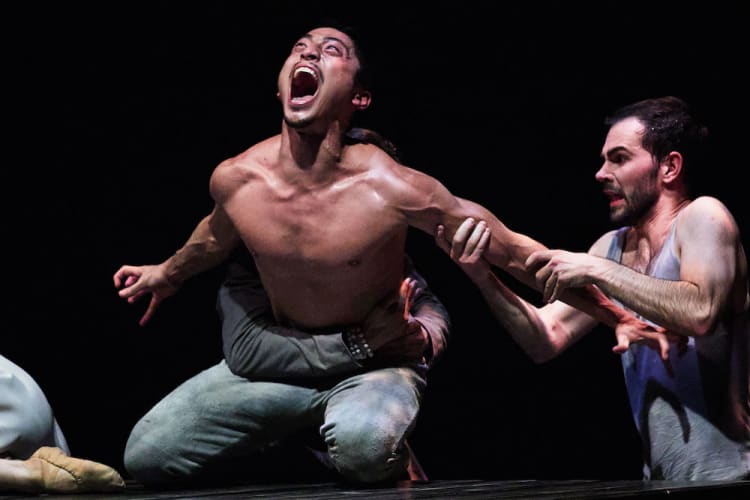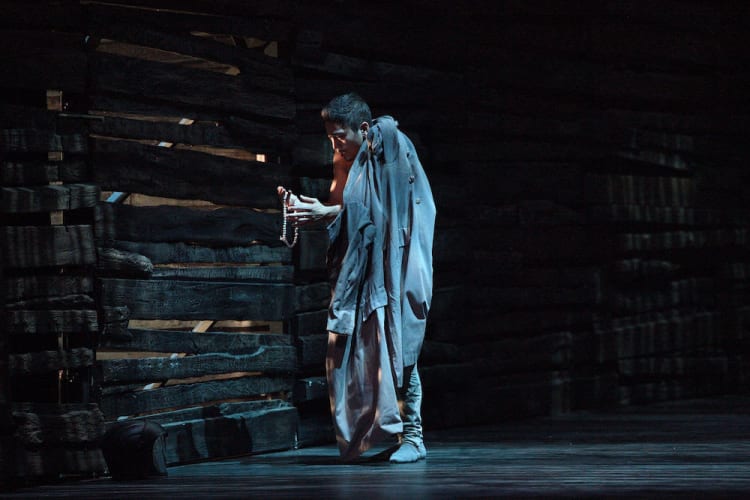 Dystopian, apocalyptic, Akram Khan's third creation (after Dust and Giselle) for the English National Ballet has had much time to percolate during lockdown with openings deferred. Maybe that explains its dark mood (Michael Hulls's lighting notwithstanding), his dip into Mary Shelley's Frankenstein and Georg Büchner's Woyzeck. Really it is a piggyback rewrite of the latter with some characters named from that text, and some liberties taken with the storyline. There's even a Byron poem in the programme: Darkness. Metaphorical and literal...
"The outcast, the stranger, have been a common theme in my work", says Khan. "In Creature, I am looking further into the areas related to the sense of abandonment, rage and loss."
Two hours of gloom and doom on Tim Yip's brown set, a crumbling, wood-slatted hut, somewhere in the Arctic we are told. And instead of rage, I am filled with déjà vu—colour palette similar to Khan's previous two ENB works, relationship between those in power and those without is very like his Landlords and Workers from Giselle, even some of the body language and moves, especially the expressive Kathak hands. There Fabian Reimair played the Landlord and here he plays the all-powerful Major—whose blue military frock coat picks him out from the monochrome, sepia rest (costumes by Yip)—with similar cruel insouciance.
This is not to say that Khan's choreography is not powerful, but I fear he is repeating himself. The audience will be making their own connections and searching for their own references. My companion, who has never seen his work before, loves the piece—she sees Metropolis and 1984. Metropolis I see too in the army drill formations, but also Caliban, stormtroopers, Solaris, Rite of Spring... Neither of us had read the synopsis before play.
Jeffrey Cirio is remarkable as the uncomprehending Creature, especially in his solos and emotional duets with Erina Takahashi's Marie, his carer, but apart from that, she is given little to do but lurk in corners, sweep the floor and scrub the wooden table. Likewise, his friend Andres (Victor Pringent) is a timid soul wiping down the walls and almost merging with them.
Stina Quagebeur's research station Doctor and Ken Saruhashi's Captain are marginal figures. And what those worry beads (or is it a necklace talisman, a symbol of power?) are about I'm not sure, but they are meaningful as they pass from hand to hand.
The Creature, it seems, is being used to test tolerance to the cold outside and treated cruelly by the arrogant Major, who has power over life and death—he kills Marie as indifferently as he would crush a fly, squeezing her throat with one hand. After which there is nothing to do but abandon the workstation, mission seemingly accomplished. The final image of the discarded Creature is both moving and a relief. The noble savage remains with Marie's dead body as the walls fall down around him and dust swirls.
Apparently, we are to believe this is "mankind's proposed colonisation of the 'final frontiers' on earth and beyond". To this effect, the soundscape has a crackly, recorded (Andy Serkis doing the voice) phone message full of static from a 'proud' Richard Nixon to the first astronauts on the moon. Voices merge with portentous dissonance in composer and sound designer Vincenzo Lamagna's score—there's even snatches of Ravel's Bolero… from the more amenable past? And the held silences remind me of Crystal Pite's works.
The English National Ballet dancers, as usual, are tremendous—what pliant raw material they are in Khan's hands, but the wondrous English National Ballet Philharmonic orchestra is unnecessarily over-amplified. Klaxons sound, church bells ring, bleeps and machine whirrs, much is on repeat. It's like a surround sound film score. Oh for Robert Wilson's (with Tom Waits and Kathleen Brennan) Woyzeck.
Reviewer: Vera Liber