Curtains
Book by Rupert Holmes, original book and concept by Peter Stone, music by John Kander, lyrics by Fred Ebb
Dan Looney, Adam Paulden and Jason Haigh-Ellery for DLAP Entertainment, Sally Horchow and Roger Horchow
Wyndham's Theatre
–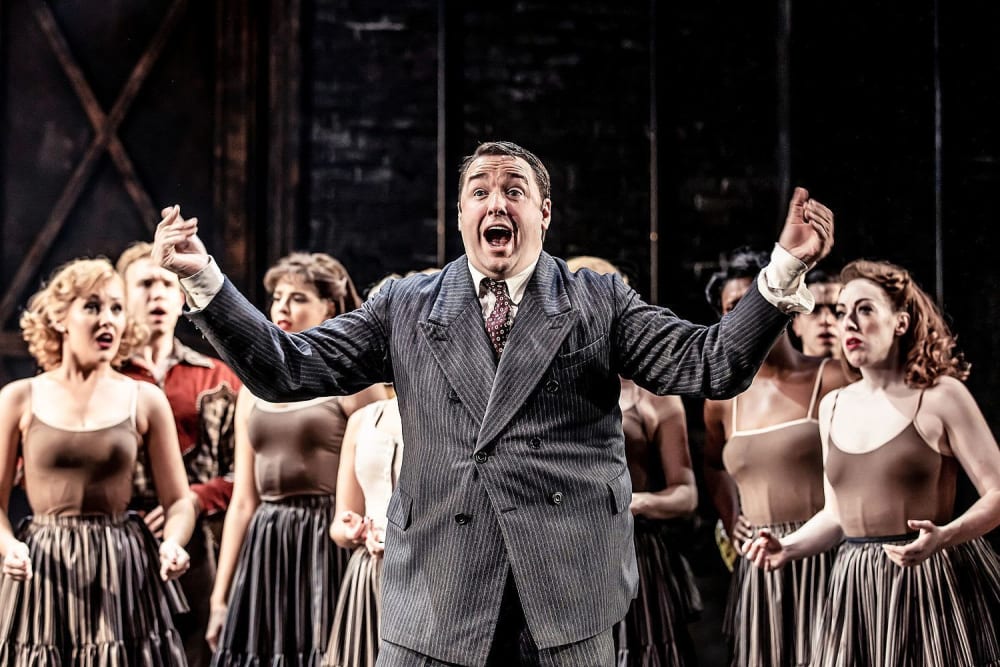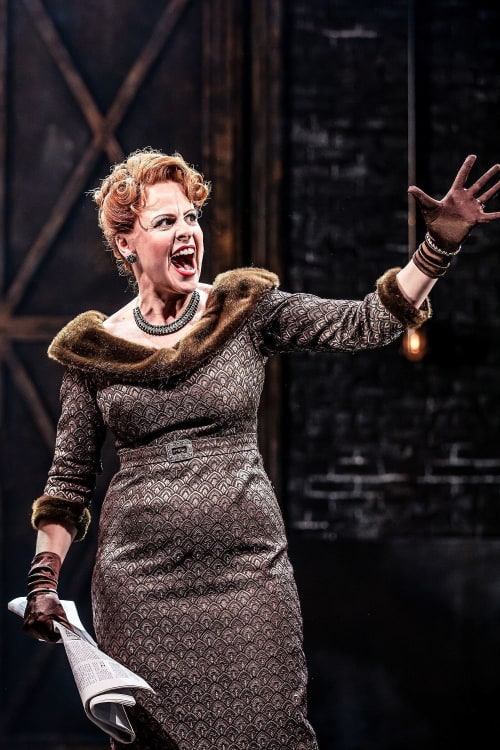 Curtains may not quite be as perfect as Kander and Ebb's finest, Chicago and Cabaret, but those have to be amongst the best musicals of all time.
Given that duo's presence and a great book from Rupert Holmes, it is surprising that this enjoyable musical, which premièred on Broadway a dozen years ago running for over 500 performances, has taken so long to reach the West End. Even then, it has only been booked for a very short run.
Set largely backstage in a Boston theatre at the end of the 1950s, the musical is a comedy whodunnit containing as many twists and turns as an Agatha Christie and many more laughs.
Indeed, the main strength of this 2¾-hour evening lies in humour that is often corny but almost always well-judged and very funny.
It helps that there are many theatrical in-jokes, not to mention a few jibes at critics that inevitably went down particularly well on press night.
The plot starts out on stage as an apparently drunken leading lady takes a badly acted show towards inevitable doom. Given an initial premise that sets Robin Hood in the Wild West, it is hard to see who could have done much better.
However, when she collapses behind-the-scenes, it is not from alcohol or embarrassment but as a murder victim.
Thereafter, a team of around 20 show folk, all of whom are harbouring secrets, the most significant of which is the identity of the murderer, talk of Broadway, when they are not interacting with a starstruck detective.
In a role that won David Hyde Pierce a Tony, comedian turned stage actor Jason Manfred makes Lt Frank Cioffi highly likeable, if rather weak as a police interrogator. On the other hand, he does have enough charm to attract Leah Barbara West's Niki Harris, while less predictably proves himself an adept dramaturg / director.
Elsewhere, Rebecca Lock proves strong in every way (including vocally) as impresario Carmen Bernstein, while Emma Caffrey is amusing as her dim but ambitious daughter Bambi. Samuel Holmes gets many of the laughs going way over-the-top while playing prissy English director Christopher Belling.
Following the abrupt departure of the hopeless leading lady, the erstwhile romantically attached co-writers Aaron Fox and Georgia Hendricks have a problem. This is resolved when Carley Stenson in the latter role steps into dead woman's shoes, much to the irritation of her devoted colleague played by Andy Coxon.
All of this is almost by the way, since plot-wise most viewers will enjoy the romance but be more interested in working out whodunnit, the resolution being suitably unpredictable.
Of equal importance is the song and dance. While there are no blockbuster hits, the music is always tuneful and the singing capable, with highlights including "The Woman's Dead", "In the Same Boat" and "Show People".
Alistair David's choreography takes time to reach top gear, but there are some great moments, particularly when Alan Burkitt and Emma Caffrey get together for the square dance.
Curtains could be a perfect Christmas ticket, since it is such great fun. Under the direction of Paul Foster, there is an intriguing plot, plenty of laughs and high-quality song and dance, which is the ideal recipe for a night out that should please young and old.
Reviewer: Philip Fisher