Dad's Army Marches On
Jimmy Perry and David Croft
Calibre Productions
Theatre Royal, Newcastle, and touring
(2010)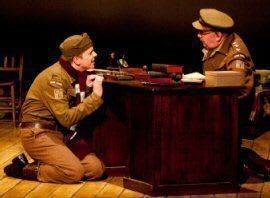 What a difference two years can make. When, in 2008, I reviewed Dad's Army: The Lost Episodes, I talked of a packed house, of outbursts of spontaneous applause and "a good night out, full of laughter and nostalgia". At the first night of the Newcastle run of Dad's Army Marches On there were a lot of empty seats, very few outbursts and some laughter. The nostalgia was still there, though.
The scripts of the four episodes in this show are by the orginal authors Perry and Croft; the actors do a fine job of reproducing the familiar, indeed well-loved characters from the TV show and director James Robert Carson keeps the show moving at just the right pace. It could indeed be described as lovingly reproduced from the original.
The four episodes - Mum's Army, Branded, Young and Beautiful and The 2½ Feathers - are linked by narration from Leslie Grantham as Pte. Walker and each is different. We have a Brief Encounter moment for Captain Mainwaring (Timothy Kightly), the expulsion (and re-instatement) of Pte. Godfrey (Maitland Chandler) from the unit, a very funny bit of physical comedy for Pte. Pike (Thomas Richardson) and a flashback to the early army career of Lance-Corporal Jones (Richard Tate), as well as a moment of supreme silliness as Jones, Godfrey and Frazer (Kern Falconer) are made to look "young and beautiful" by Frazer's "skill" in post-mortem make-up.
The catchphrases are all there too: "Stupid boy!"; "Doooomed!"; "Awful...ly nice".
The set is a bare stage with a seagull, a beached boat and some nets to establish the seaside and particular scenes being suggested by flown backdrops (a single window for the church hall, for example) or quickly placed furniture. All effective and efficient.
And yet, whilst there are moments of hilarity and rather more moments of quiet chuckles, the evening as a whole doesn't quite work. What we have is a reproduction of the TV shows, an attempt to put on stage something we have seen on screen. However theatre and TV are different. They work in different ways and make different demands on their audiences, so to simply reproduce is an exercise in nostalgia, relying on our memories for impact and effect.
In recent years we've seen many reproductions of TV sitcoms (as well as the first Dad's Army there's been Hi-Di-Hi, Porridge, The Likely Lads, dinnerladies) and radio comedy series (Round the Horne, Stop Messing About) on stage. At first they were very well received but now perhaps the novelty has worn off. Most of the TV series are being re-run on satellite channels and the BBC continues to revisit Dad's Army on a regular basis on terrestrial TV. No matter how well the stage versions are presented, they can't really measure up to the originals and if those originals are easily available, perhaps the stage shows aren't terribly attractive to theatregoers.
It's a pleasant enough evening at the theatre but not one which will remain long in the memory.
Reviewer: Peter Lathan