Day of the Flymo
Paddy Campbell
Live Theatre
Live Theatre, Newcastle
–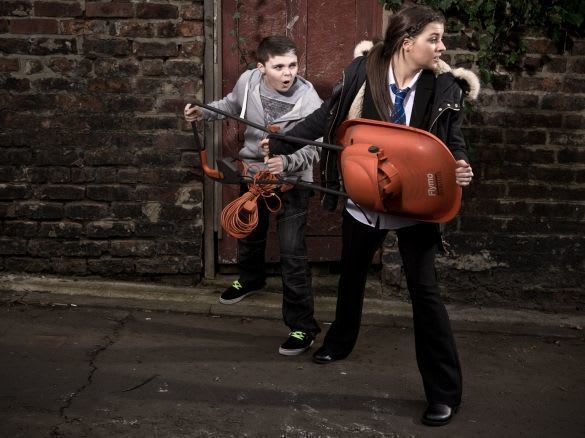 Over the years, Newcastle's Live Theatre has done a great deal of work with young people. It runs a Youth Theatre, delivers theatre in education projects and has two writing projects, First Draft and Write Stuff, in which primary and secondary students respectively write plays which are then performed by professional actors, and one play by 12-year-old Chelsey Cleminson was developed into a full production and toured to 15 schools. It also has young writers groups and masterclasses for teachers.
Now the Education and Participation department has gone a step further and commissioned Paddy Campbell, author of the award-winning Wet House, to write a play for the Youth Theatre which would use professional actors for the adult roles and form part of the main season.
As Wet House was based on Campbell's experience of working in a "wet house", a refuge for homeless alcoholics in which drink is allowed, so Day of the Flymo arises from his current work in a children's home.
"It's not as black and white as people might think," he says, and the play certainly shows the complexities of lives which are chaotic. Coming into contact with a real-life 12-year-old Liam, we'd almost certainly be repelled: a bed-wetting school refuser, permanently excluded from mainsteam education, swearingly rampaging through life on the verge of criminality (and sometimes crossing that line), diagnosed with ADHD, possibly on the Autism spectrum or bipolar, Campbell nonetheless finds in him (and conveys to us) something endearing.
He's funny (although at times we laugh and then feel guilty); he cares about his family, mother Karen and sister Becca, (although that doesn't stop him behaving as he wants); he can even feel sympathy with Clara, a girl from a "posh" school who is herself having problems.
As the play progresses, too, we see the growth of his relationship with social worked Ben, through whose eyes we see the development of the story, for the play's structure presents us with episodes from Liam's life interspersed with extracts from Ben's reports.
It's a strong cast. 14-year-old Kalem Patterson as Liam does a remarkable job of presenting this complex character, capturing both the pathos and the humour which characterises Campbell's work, whilst Tezney Mulroy, a 17-year-old drama student, really convinces as Becca, desperate to hold the family together and support both Liam and their inadequate mother, Karen.
Clara shows us a world which is very different, but it's a world which presents problems of its own, just as serious and devastating as those faced by Liam and his family, and it reminds us that disfunction can take many forms. 16-year-old Sophie Pitches nicely captures the pain and the middle-class reticence which tries to hide it.
The adults are played by Jill Dellow, herself a one-time member of Live's Youth Theatre, as Karen, and Akemnji Ndifornyen as social worker Ben. Campbell's observation of character is as acute in relation to adults as it is to the youngsters and both actors totally inhabit their roles.
I understand that Campbell has another project on the stocks at the moment. I look forward to seeing where he'll take us next!
Reviewer: Peter Lathan