DESH
Choreography, direction and performance Akram Khan
Akram Khan Company
Sadler's Wells
–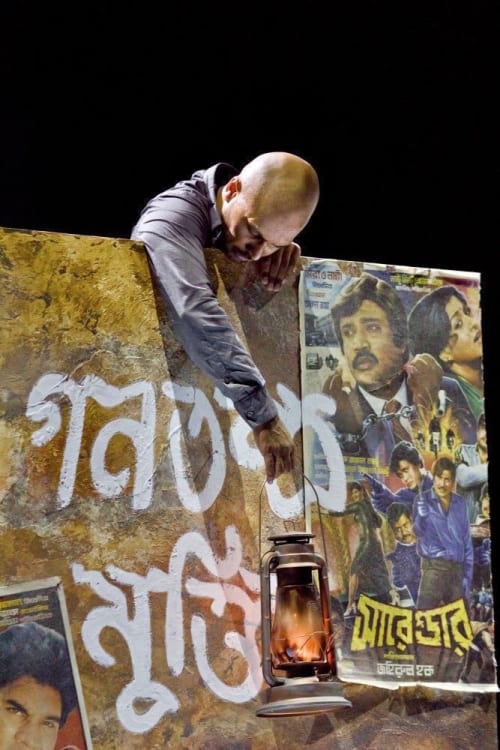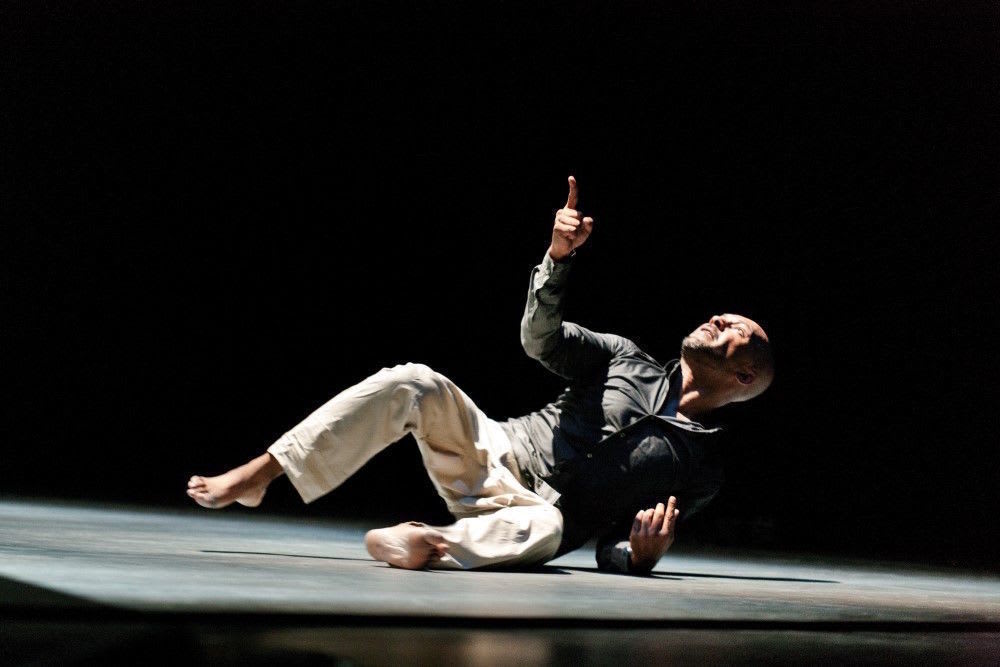 Homeland / Desh: what does it mean to any of us? Is it country, family, what if one's heart is divided, the plight of immigrants? What of the second and third generations? Akram Khan takes on and embodies his family in an eighty-minute solo performance of searing virtuosity and fine-tuned commitment. Each of us contains multitudes whether we like it or not.
In DESH, Khan makes peace, finally, with his Bangladesh heritage. But it is not simple, it never is. There is generational conflict, juvenile indifference to parents' burdens and political traumas (soles sliced off, a man is told "now try standing on your own two feet"), of wanting to be like everyone else—what's wrong with liking Michael Jackson or Lady Gaga instead of his parents' mellifluent music?
His mother seduces him with fairy tales into learning her language, a password into a magical realm. His father tells it like it is, or was. It is this mingling of the real and the unreal, the harsh and the gentle, into a magical realism that is the way into the essence of his being, into discovering his desh, of making sense of who he is in our conflicted world. Are we citizens of everywhere or nowhere?
Stories, some reliable some not, are what we pass on to our children. Now he has two himself with Japanese dancer Yuko Inoue, one wonders what they will have to distil. And Khan is a captivating storyteller, always allowing space for the viewer in his gently paced tale.
What is this central patch of earth that the man is seeking to smash, what is this patch of grass in Bangladesh that transforms into a lawn in Wimbledon? Is it a burial mound from which he pulls his father's kameez or the hard nut of memory?
He is his father, the cook, who endures incredible hardship on the Indian Continent, the son visiting it for the first time, overwhelmed by its cacophony, violent protests and visual richness, and the little boy in the animated story swinging from creepers, climbing the tallest tree in the jungle to reach the bee's honey, encountering snakes, crocodiles, butterflies, a huge elephant, on the way, sheltering from the slanting rain, bemused by the army tank.
Juxtaposing street protest with his own against his father, DESH is an episodic lesson in perspective, metaphor, and mature wisdom, and Khan enchants with his particular style of quicksilver kathak and understated acting. A tapestry of what he has been told and experienced is woven with childlike awe and amazement—how could he have denied all this?
A little man on the big chair, a big man on the little chair; the big chair swallows up the little; with a swift turn the big chair becomes a shanty shack—how quickly fortunes can rise and fall. Stories within stories…
Frustrated by the voices on a crackling line linking his two different worlds—gently mocking an Indian call centre—is he quietly chiding himself and by extension us? Look at this jewelled mosaic and embrace its glittering patterns.
A mosaic put together by many masters: Michael Hulls's crepuscular dusk to dawn lighting, Tim Yip's stunning visual design animated by Yeast Culture, Jocelyn Pook's soundscape of flowing water, vibrating city noises and lyrical music composition, stories written by Karthika Naïr, slam poet PolarBear and Khan.
Khan is giving his last performances of DESH, so I suggest if you've not seen it, or him dance, now is the time to do so. Seeing it in 2011 and 2013 I thought it his best work to date. Now, of course, he has created more, not least a superlative Giselle for English National Ballet, but nothing as personal and close to his heart as DESH.
He dangles upturned in a tangle of white streamers—a forest of the mind—that little boy trying to see his way out of it. I think he has. Time to move on. The fourth and final visit to Sadler's Wells, DESH has not lost its power to touch the soul: my companion, a laconic Englishman new to the work, was deeply moved, beyond my expectations. Who says the arts can't move mountains?
Reviewer: Vera Liber