Devilish! A musical comedy
Music by BB Cooper, book and lyrics by Chris Burgess
Landor Theatre
Landor Theatre
–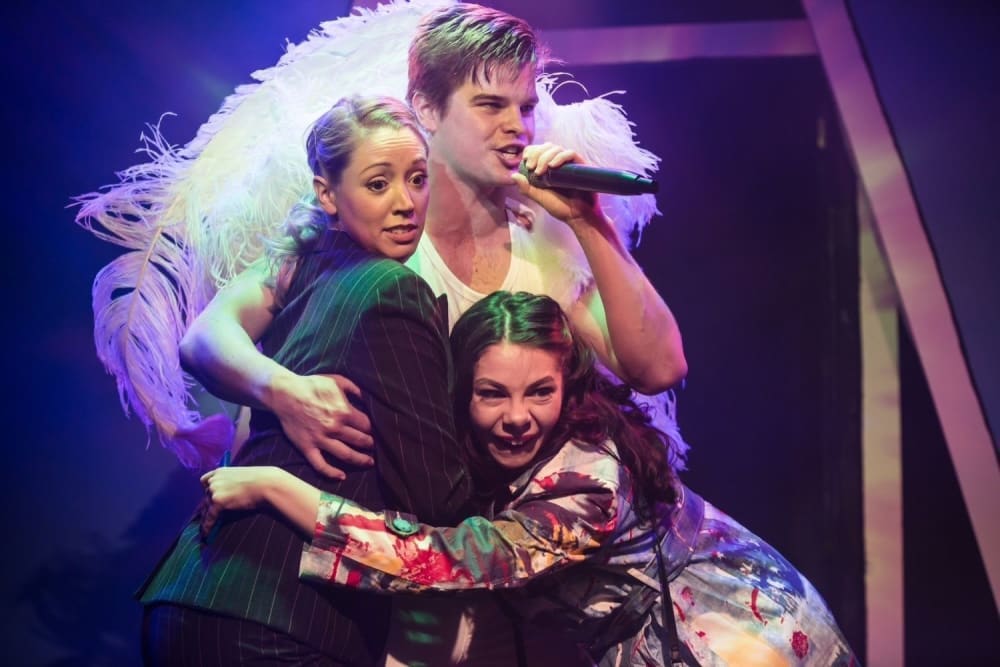 Devilish! is a British musical comedy which is currently receiving its world première at south London's Landor Theatre, a diminutive venue whose musical theatre flag-flying credentials are unimpeachable.
A fable where love is victorious, Devilish! is the comic story of an angel who flies too close to earth and gets shot down by the military, crash-landing into the conservatory of Ruth.
Circumstances dictate that Angel is spotted by Ruth's hard-nosed television producer boss, the dastardly Nick Brimstone, a character channelling Simon Cowell with the ethics of News International.
Seeing in Angel an opportunity to increase ratings, Brimstone sets out to use the gullible visitor from above to his own commercial advantage whilst also exploiting to his libidinous benefit Ruth's ditsy colleague Maddie who will do anything to become a weather girl.
For a while, it looks as though Ruth is the only person with any principles until, as foretold from the outset, all the goodies find some self-respect and/or true love and the baddies don't.
It's a fun little story directed at a brisk pace by Marc Urquhart and played out on a well-thought-out, comic-strip-themed set (designer David Shields), which lends itself to being cleared away to make space for some witty choreography by Adam Scown.
Book writer and lyricist, Chris Burgess, whose credits include The Jewish Legends, Lunch with Marlene and Sophie Tucker's One Night Stand, openly pleads guilty to plagiarism in the programme.
Burgess quotes various points of inspiration—a remark of John Ruskin's, an H G Wells novel, a painting of Icarus by Bruegel to name three—and admits that the audience may see traces of Pinocchio and The Picture of Dorian Gray in the show.
My main issue with Devilish! is that this isn't the half of it. There are also resounding echoes of The Tin Man in The Wizard of Oz, Witches of Eastwick and any version of the Faustian legend you wish to bring to mind.
The only new thing in the melange is that Devilish! has an unapologetically 21st century setting, sanctioning some satire of our celebrity-driven media.
The book is, nevertheless, as lightweight as a feather from Angel's wings, though the lyrics have moments of wit and care.
Burgess has patently stayed clear of anything challenging. I am not suggesting that musical comedy is the genre for an insightful debate on the existence of God, but he has given angels no function or purpose. "Angels only fly" we are told; no wonder Angel has no discernible personality.
I get that this is fluffy and cartoonish but Burgess needs to throw us a crumb between the laugh-out-loud moments which unquestionably punctuate this show.
Given nothing much to go on, Alex Green (Angel) and Victoria Hope (Ruth) can bring little presence to their gossamer-thin characters and neither has a strong or notable voice to deliver the songs with a punch.
I found myself time and again watching for Laura Hyde and Helen Ward-Jackson from the ensemble, who gave multiple tiny roles well-crafted characterisations and whose powerful voices brought depth to the rich ensemble sounds carved out by musical director Ian MacGregor.
If there is depth to be found, it comes from these two ladies, Gareth James who is twinkle-eyed in his wickedness as Brimstone and Katie Ann Dolling, who provides a stand-out comic performance as Maddie.
Composer B B Cooper, whose credits include Ghetto 1577 and The Jungle Book has written a score reliant on a jazz feel, which works well for a lot of the songs but isn't enough to bring real substance, leaving even the best of the musical numbers acceptable rather than memorable.
I really wanted to like this new musical comedy but it wouldn't let me.
Reviewer: Sandra Giorgetti