Doctor Dolittle
Book, music and lyrics by Leslie Bricusse
Palace Theatre, Manchester, and touring
(2007)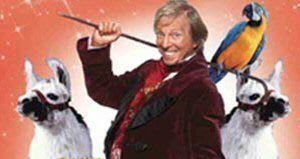 Leslie Bricusse's famous musical version of the classic children's novels by Hugh Lofting about a man who can talk to animals in their own languages comes to Manchester starring the irrepressible Tommy Steele.
Doctor Dolittle is a doctor who doesn't really like people very much and so struggles to earn a living, not helped by the fact that his patients have to negotiate his personal and varied menagerie whenever they come to see him. His parrot, Polynesia, begins to teach him animal languages, and he decides to become an animal doctor. After a run-in with the local magistrate, Dolittle is helped to escape from gaol by a friendly circus elephant and goes on a voyage to find the great pink sea snail. Love interest is provided by the niece of the magistrate who, of course, finds him rude and frustrating at first but grows to love him.
This version of the show has been altered quite a bit from the 1998 stage original. It is not unusual to see a reduction in the scale of a production for a tour, and there are certainly big cuts in the scenery and the number and involvement of the animals in the action. However there are changes to the show itself, with songs cut (The Vegetarian has gone) and many others changed to make Dolittle's contribution to them substantially larger. Polynesia's interjections in Talk to the Animals have gone, Dolittle has a whole verse of I've Never Seen Anything Like It before Blossom and Gertie and their circus even appear on stage and Dolittle has stolen Matthew's act one finale song After Today and Matthew's contribution to Where Are The Words?, changing the romantic plot completely.
Tommy Steele is superb in the title role, demonstrating that he can still play a substantial musical comedy role even as he approaches his 71st birthday next month. He has very good support in the excellent Abigail Jaye as love interest Emma Fairfax, and Conor Michael-Sheridan is perfectly fine in his much-reduced role as Matthew Muggins and shows he has a very good voice in the bits of songs he still has left. Joanna Forest, playing Tommy, isn't remotely convincing as a young boy, which is probably more of a reflection on a poor casting decision than on her performance. Other notable performances come from David Anthony and Joanna Lee Martin who are extremely good as circus owners Alfred and Gertie Blossom, Ako Mitchell is great as Straight Arrow and Halcro Johnston bellows appropriately as bad-tempered magistrate General Bellowes.
The other big stars of the production are the animals, supplied in the original West End production by Jim Henson's Creature Shop. Most of those that remain in the show are absolutely wonderful and threaten to steal the show from the humans. Jip the old English sheepdog is a full costume containing James Deverell, but this is a long way from Dick Whittington's cat and looks and moves incredibly like a real dog. There are some other really good larger animals, including the dancing Pushmi-Pullyu, an elephant and a baby mammoth, plus the two fantastic orang utans that only come on to dance the finale.
Some smaller animals that look really good include Gub-Gub the pig, who moves just like a Muppet animal but no longer goes on the voyage, Sheila the fox, Sophie the seal, a duck, a pair of sheep and a lobster. Others are not so good and look a little like stuffed toys. The sea snail is okay when it eventually becomes visible through the smoke although not as amazing as we are led to believe, but the giant lunar moth is quite a disappointment, as it is just a person in a costume with feeble wings attached, hanging from a wire. While it would be too much to expect the original, that flew over the audience, to transfer to a touring production, this is a bit of a let down for the big final scene.
A special mention should be made to the sound crew, as this is the first time in a long time I have seen a show at the Palace that uses microphones where the vocal sound wasn't painfully shrill for at least part of the time.
Despite some reservations on the cuts in the show and staging, what remains is still a very entertaining family show with some great, catchy songs that deserved a much bigger audience than it had on the press night. Tommy Steele shows once again that he still has that twinkle, that cheeky smile and that charisma on stage that made him a star half a century ago, and he can certainly move around the stage for a man in his seventies.
At the Palace Theatre until 18th November
Sheila Connor reviewed this production at Woking, V Mitchell reviewed it in Newcastle and Philip Seager in Sheffield
Reviewer: David Chadderton