DruidMurphy - Conversations on a Homecoming
Tom Murphy
Druid
Hampstead Theatre
–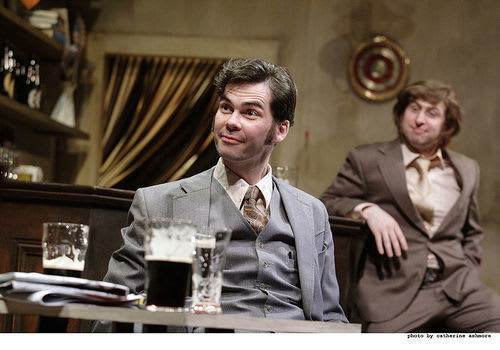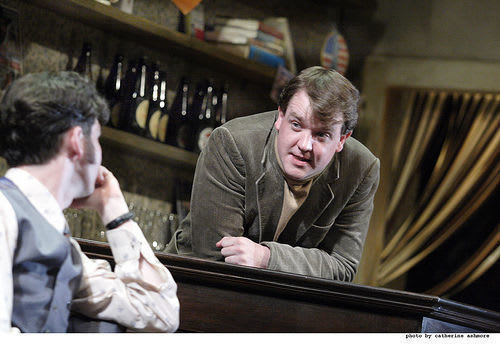 The opening play of the DruidMurphy trilogy presents a vision of the failure of the Great Irish Dream, if ever there was such a thing.
Seen from the perspective of the 1970s when it was written, Conversations on a Homecoming is sparked by the return of Michael Ridge played by Marty Rea to a small town in the West of Ireland.
The details of the decade of his absence are related in Guinness and Jameson's veritas, with truths slowly emerging as the pub's inhabitants become less and less coherent.
The setting is beautifully realised by designer, Francis O'Connor as a pub that puts this play in a direct line between the works of JM Synge and Conor MacPherson.
For close to two hours, actor Michael spars with his old pals, carefully saying nothing of his glorious achievements across the water where the streets should be paved with gold but, for him, probably aren't.
His main catechist is Garrett Lombard's Tom, a poet-schoolteacher who seems to have done well for himself, but tied to ageing parents has limited aspirations. His failures are summarised by a 10-year engagement to giggly, good-natured Peggy played with scene-stealing humour by Eileen Walsh.
Things have gone little better for mechanic Junior (Rory Nolan) and estate agent Liam (Garrett Lombard), whose current commission is to sell the pub, which is run by a rather slow-witted old lady and her pretty, teenaged granddaughter.
Thereby hangs an allegorical tale, since the White House with its photo of JFK over the bar is actually owned by JJ, a contemporary of Michael who has long since drunk away the profits. His experiences suggest that JJ was part Jesus, part Kennedy.
However, as the upholder of the faith, he failed dismally, begging parallel questions about the Catholic Church in an age when atheism or mere neglect was becoming the norm.
Garry Hynes's production has spells that feel too much like being stuck with a crew of drunken bores during a lock-in but is also makes some telling points about the insularity and sheer dullness of life in the backwaters of Ireland.
Conversations on a Homecoming also begs the question as to whether the emigrant escapees fared any better than those who stayed at home and concludes with an answer that is at best ambivalent and probably negative.
As one expects from Druid, the actors, led by Rea and Lombard with particularly strong support from Eileen Walsh, inhabit this play superbly, ensuring that the naturalism shines through.
DruidMurphy consists of Conversations on a Homecoming, A Whistle in the Dark and Famine. The plays can be seen independently or together on a single day.
Reviewer: Philip Fisher