DruidMurphy - A Whistle in the Dark
Tom Murphy
Druid
Hampstead Theatre
–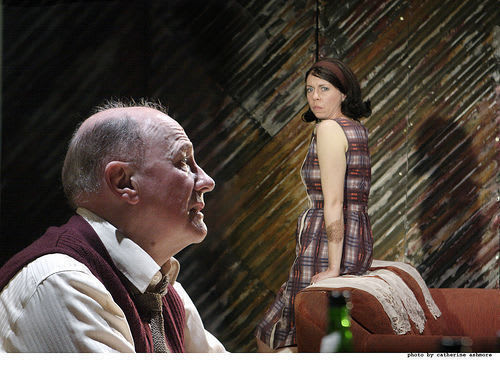 A Whistle in the Dark takes Tom Murphy to Pinterland. It is like a menacing Anglo-Irish cross between The Homecoming (which opened three years later in 1964) and The Godfather or any one of a hundred other hard-nosed gangster movies. There must also be every chance that it influenced subsequent works by Martin McDonagh.
The setting is the Coventry home of Michael and Betty Carney in 1960. The former, played by Marty Rea, is a handsome, intelligent Mayo boy who has settled in the Midlands and married a respectable local girl, Eileen Walsh.
Life would be good but for the presence in their cramped house of two of his brothers, come to England to make their fortune.
Brains are at a premium in this family, who have an over-sized portion of chips on their collective shoulders. Things could be worse as Harry, who is the epitome of evil but is given a sterling performance by Aaron Monaghan, at least brings in some cash by pimping.
As if things weren't hard enough already, the household is about to be supplemented by Michael Senior, Dada and his youngest boy, Des.
Their arrival heralds a crisis for weak Michael and feisty Betty, as the Carneys decide to wage war on their equally nasty Irish counterparts the Mulryans, with every prospect of fatal consequences.
Before that, the characters are fleshed out, with Michael proving to be bright but a coward, unexpectedly showing himself to be a chip off the old block, Niall Buggy's Dada sounding well-spoken (almost) but happier to talk a good fight than get into one.
Egged on by the old man and by Harry, the others have the brains and instinct of feral animals. Only Gavin Drea as Des could change but the 18-year-old hasn't the will to overcome his powerful, bullying brothers.
This play was never likely to have a happy ending but still offers many surprises in its portrayal of the kind of men who will end up dead or in prison and fully deserve such fates.
Garry Hynes draws fantastic performances from her leading quartet of actors in a taut 2½ hours that are never too predictable and can be chilling but also expose a side of humanity that we would all wish didn't exist. Despite its distasteful side, like so many films about hoodlums, A Whistle in the Dark, the middle play in the DruidMurphy Trilogy, makes for compelling viewing.
DruidMurphy consists of Conversations on a Homecoming, a Whistle in the Dark and Famine. The plays can be seen independently or together on a single day.
Reviewer: Philip Fisher