Everybody's Talking About Jamie
Book and lyrics by Tom MacRae, music by Dan Gillespie Sells, from an Idea by Jonathan Butterell
Sheffield Theatres
Apollo Theatre, Shaftesbury Avenue
–

Listing details and ticket info...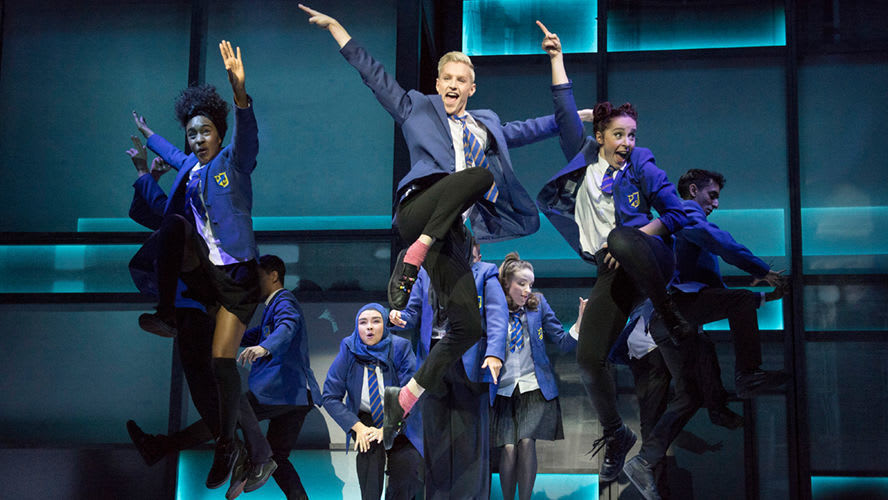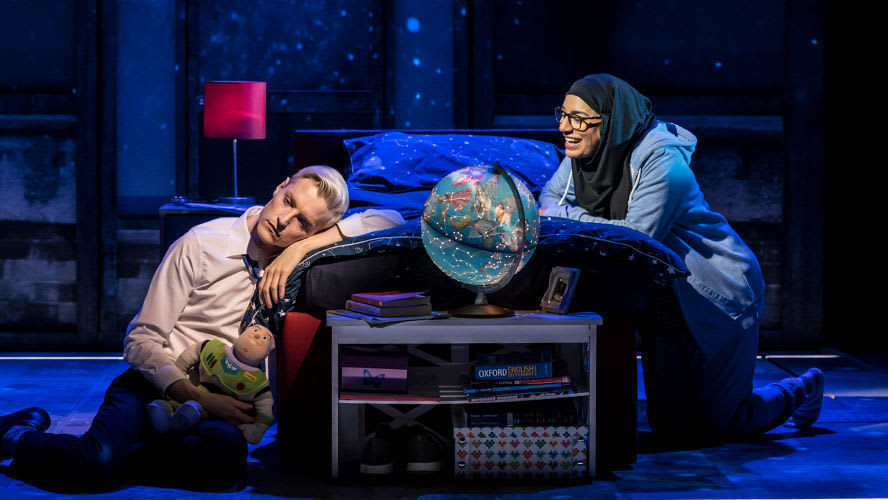 Once they see the show, there is little doubt that not only will it be accurate to say Everybody's Talking About Jamie but theatregoers will be singing the song of the same name for days afterwards.
On the face of it, this show seems to be lacking most of the main ingredients necessary for a West End hit.
It is based on an unlikely true story, has a boilerplate plot that verges on soap opera, is set in Sheffield rather than Las Vegas, features a 16-year-old with ambitions to become a drag queen and has no recognisable stars in the cast.
Against all of these odds, this show keeps audience members glued to their seats (allowing for a drink and stroll at the interval) for two and three-quarter hours of bittersweet comedy, catchy music and some lively choreography.
The best way to convey the experience is to imagine an eccentric combination of Priscilla Queen of the Desert, The Full Monty and Kinky Boots and then throw in a modicum of Matilda the Musical.
Jamie Campbell first came to prominence in 2011 as the star of BBC TV documentary Jamie: Drag Queen at 16. Director and the inspiration behind the show Jonathan Butterell was so taken by the programme that he decided to fulfil his dream by converting the blond(e) bombshell into Jamie New and invite John McCrea to create the character for a stage musical set in the city of its launch at Sheffield's Crucible.
In the early scenes, you have to feel sympathy for Tamsin Carroll's Miss Hedge, a schoolteacher working with a class that is multicultural but largely unimaginative and heading for dead-end jobs, if they are lucky. All that she really needs is a tall, skinny, gay pupil with bleach blond(e) hair and a liking for her Jimmie Choo shoes and his own glitzy frocks.
Pleasingly, Jamie gets positive support from his mother Margaret played by Josie Walker and her friend Ray, Mina Anwar.
In an unlikely twist, he also befriends hijab-wearing Pritti Pasha, who has cornered the whole class's brains and, in the person of Lucie Shorthouse, has a lovely singing voice, with which she complements the dulcet tones of Mr McCrea, particularly in "Spotlight".
Give or take a little gender-bending, the story could come from any number of coming-of-age musicals, as the youngster nervously tries to prepare for the school prom, with the assistance of comedian Phil Nichol in the role of Hugo Battersby a.k.a. Loco Chanelle.
As shown here, the ups and downs of life teetering on six-inch high red stilettos can be excessively sentimental but that is the point of a feelgood musical.
Kate Prince's choreography is frequently energetic, helped by a good song and dance crew, while there is a stream of good songs, with the title song taking the plaudits but a number of others highlighting the talents of the cast, for example "He's My Boy", which allows Josie Walker as Margaret to power her way into the heart of every audience member, just as Jamie had done with "The Wall in My Head" earlier in the evening.
The evening is also a triumph for John McCrea, who could find himself an overnight sensation thanks to a big personality and overflowing talent as both a comedian and singer.
While Everybody's Talking About Jamie might initially sound like a show with limited appeal, thanks to the love that has been lavished on this production together with its heart and soul, this might just be an unexpected West End success with the capacity to achieve a lengthy run.
Reviewer: Philip Fisher