Fathers and Sons
Brian Friel, after the novel by Ivan Turgenev
Donmar Warehouse
–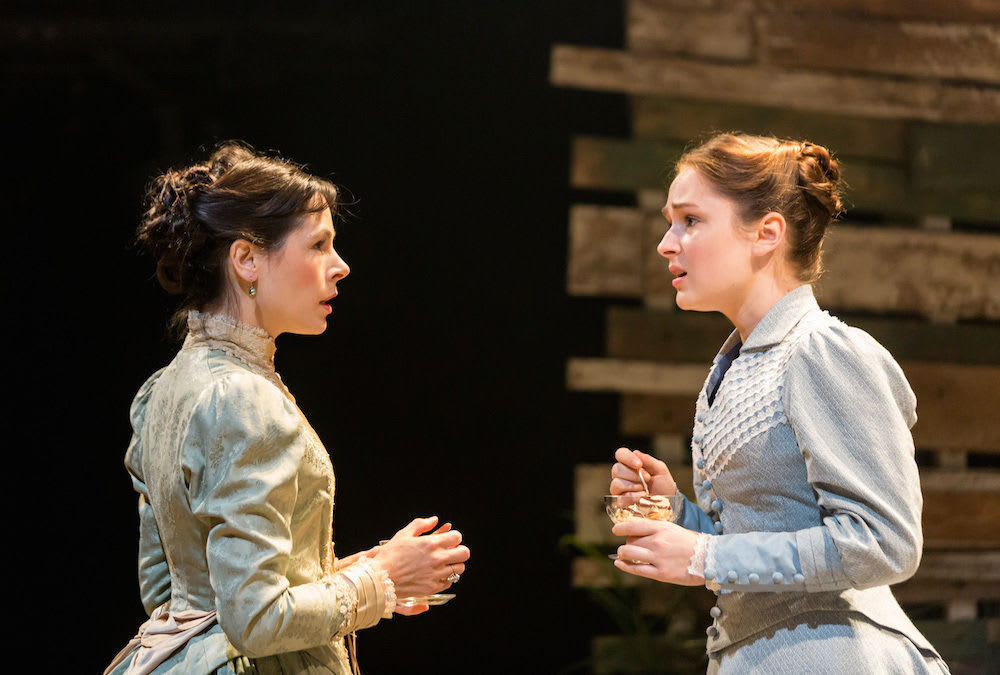 It seems inevitable that the shade of Anton Chekhov will be evoked in many of the reviews of Brian Friel's stirring 1987 stage adaptation of Turgenev's classic novel of Russian yearning, revived by hot young director Lyndsey Turner who has had recent successes with Chimerica in London and Machinal on Broadway.
The ingredients of a work that was published in 1862, only two years after the playwright / doctor's birth, are almost exactly the same as those in his works, albeit cooked up in different measures.
During the 2½ hours, there are opportunities to witness old men pining for women who are young enough to be their daughters, duels, doctors, penniless hangers on and recently emancipated comic serfs.
The drama opens in the home of a rather quaint but generous landowner, Antony Calf's Nikolai. There, passions run riot around the intoxicating figure of Bazarov played by Seth Numrich, whose English accent is so good that it is hard to believe that he is American.
This beautiful young nihilist stirs the hearts of almost all that come within his ambit from devoted parents to doting women and even his devoted friend and Nikolai's son, Joshua James playing the gauche, star struck Arkady.
The excessively arrogant Bazarov commits wholeheartedly to revolutionary politics, women and outlandish ideas, breaking hearts with a fervour that is admirable, if also dangerous and misguided. Indeed, even his mother cautions the putative doctor using the insightful words, "you're too smart for your own good".
Around him, most of the dramas involve smouldering love both actual and desired involving inter alia the excellent Elaine Cassidy ripping at the heartstrings as Anna, a financially astute widow who has suffered terribly as a result of familial financial distress, and Caoilfhionn Dunne's wise Fenichka, who finds happiness through love for her illegitimate son.
Adding colour are a series of supernumeraries led by Tim McMullan in the role of pretentious Uncle Pavel, surely a cousin to Chekhov's Gaev, dotty old Princess Olga hilariously rendered in a couple of delightful cameos by Susan Engel, while from a different generation Phoebe Sparrow is sweetly bombastic in the role of Katya.
Lyndsey Turner's pacy production takes place in an all-encompassing setting designed by Rob Howell, in which mismatched planks leave gaping symbolic gaps between them just like the people, almost all of whom who struggle to find peace in a thoroughly satisfying drama.
It is superbly acted from top to bottom with a thrilling performance from Seth Numrich reminiscent of a young John Malkovich and just as good as he was in Sweet Bird of Youth, especially complemented by Elaine Cassidy and Caoilfhionn Dunne. Karl Johnson also makes a strong impression as young man's hopeful father.
Unexpectedly, although the ending is somewhat enigmatic, it offers far more hope than had seemed likely for much of an evening filled with frustration and unhappiness.
Once again, the Donmar is home to what should be a big hit with its actions not only for Chekhovians but also anyone who has a feeling for humanity, love and politics.
Reviewer: Philip Fisher