Sweet Bird of Youth
Tennessee Williams
Old Vic
–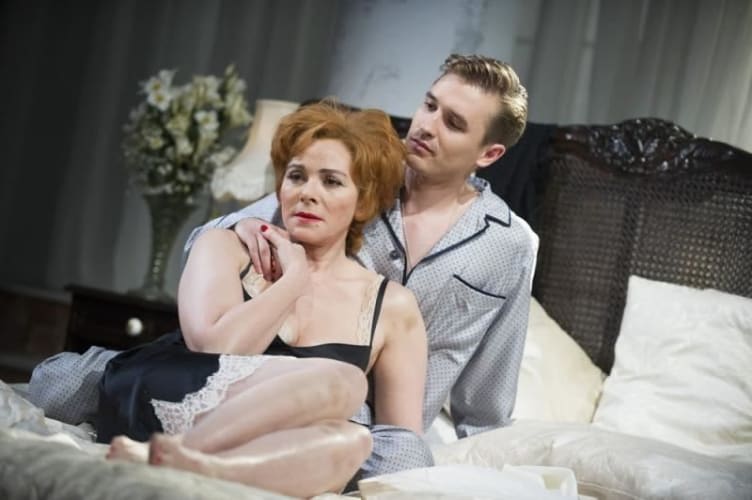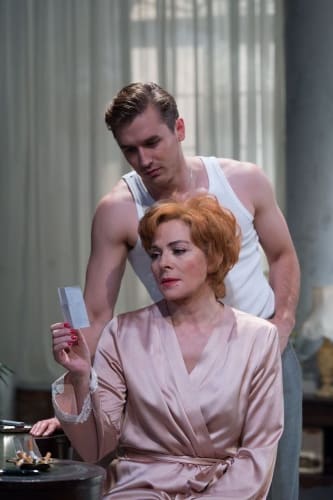 Tennessee Williams has something in common with the exponents of Commedia dell'Arte, in that he has a tendency to use a series of stock characters in different combinations.
This means that his plays are instantly identifiable, even those that are less commonly produced. Sweet Bird of Youth, which is probably best known for the film version starring Paul Newman and Geraldine Page, fits that bill nicely.
Its main character is a drunken gigolo whose great beauty is beginning to wane as his 30s inexorably approach. This leaves Chance Wayne with a future that is at best uncertain, though the character played by Broadway Golden Boy Seth Numrich on his London debut seems destined to go down fighting to preserve his dreams.
His sporadic partner in crime is Kim Cattrall's red-headed faded starlet, Princess Kosmonopolis aka Alexandra Del Largo, not one but two names to conjure with (neither of which she can remember on awakening).
The neurotic, middle-aged former film and stage star is so drugged up and depressed following an unsuccessful comeback that she can barely stand and breakfasts on pills, vodka and oxygen.
The drama queen and toy boy become mutually dependent, each replacing rather than buoying up the other's dreams, as they hit the southern town of Saint Cloud, from which the young man hails.
Chance is on a mission more dangerous than anything he experienced during his spell in the navy. He has returned to see the girl that he loves, Louise Dylan as vulnerable, bleach blonde Heavenly Finlay. What he doesn't know or won't admit is that he has blighted her life in ways too horrible to contemplate.
That is unfortunate, since her cigar-smoking big daddy, Owen Roe's odious Boss Finlay is a mean politician and hypocritical bully not too far from publicly supporting rednecks who have castrated an innocent negro pour encourager les autres to steer clear of white women.
A running time of close to three hours opens with a long, depressive wallow between the visitors, before Chance sets off on a fated mission that gets as stormy as the weather surrounding Rae Smith's underlit set, when all hell begins to break loose.
Seth Numrich gives a lively but nuanced performance as a man who veers between bravado and self-knowledge, peaking in a great comedy double act towards the end, as Chance and Alexandra begin to accept their collective desperation and the fact that they may be able to help each other.
Audiences that come to see Sex and the City's Samantha in the flesh will not be disappointed, since Miss Cattrall has a whale of a time accurately portraying a character gone to seed but still retaining occasional flashes of hope and odd vestiges of past glories, posing as if her life depended on it and shining when a rare opportunity for comedy presents itself.
The pair seem perfectly matched and are well drilled such that they make the most of some great timing and pauses, which enhance the comedy and drama in a play that might otherwise seem rather disheartening.
While Sweet Bird of Youth may not be the very best that Tennessee Williams had to offer, this version put together with the assistance of James (This House) Graham should prove to be a triumph.
This well-cast production directed by Marianne Elliott, who is currently riding high following the transfer of The Curious Incident of the Dog in the Night-Time to the West End, is therefore strongly recommended, especially for fans of the writer, who will enjoy seeing familiar characters, sometimes in unusual interactions, as well as lovers of good acting.
Reviewer: Philip Fisher