Get Up Stand Up! The Bob Marley Musical
Music and lyrics by Bob Marley, book by Lee Hall
Playful Productions, Stage Play and Cedella Marley
Lyric Theatre, Shaftesbury Avenue
–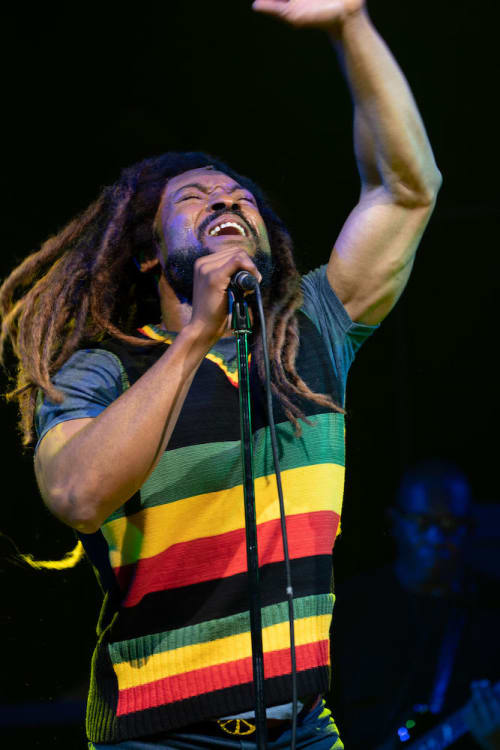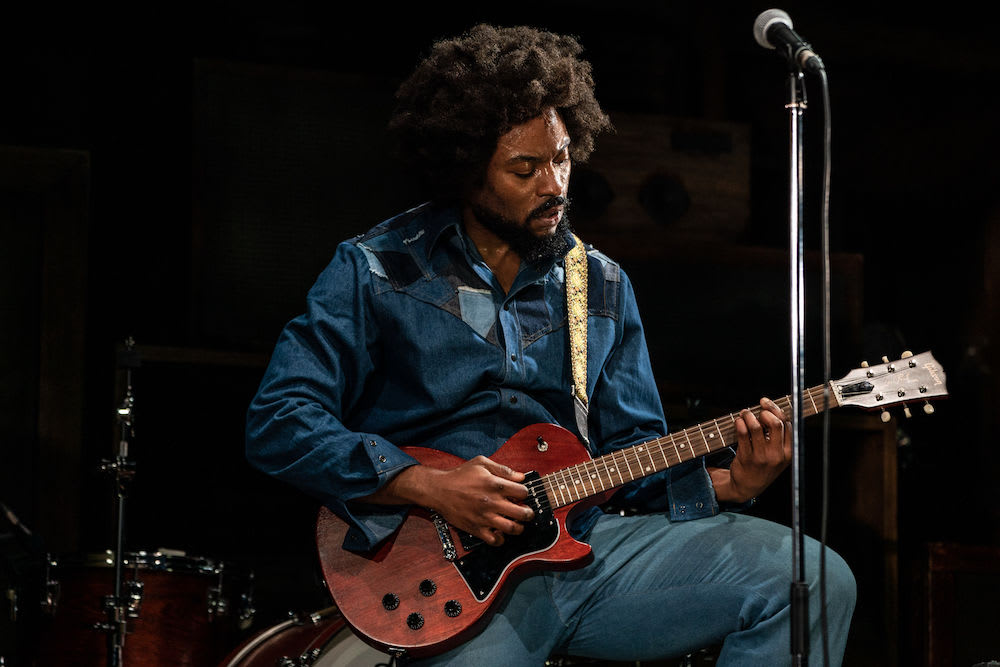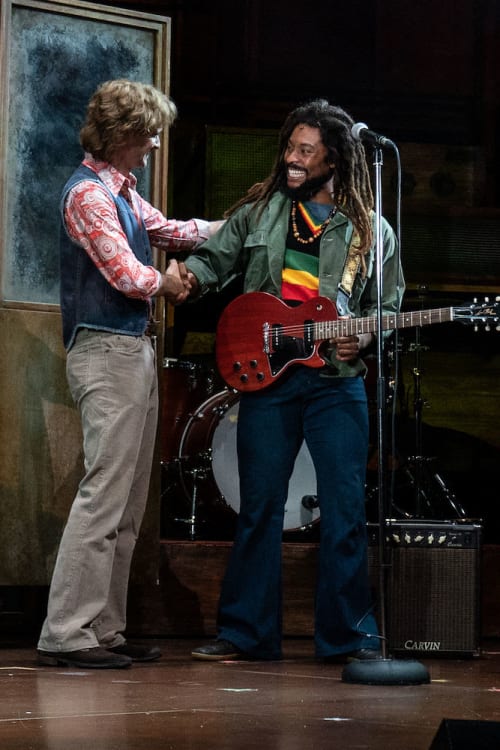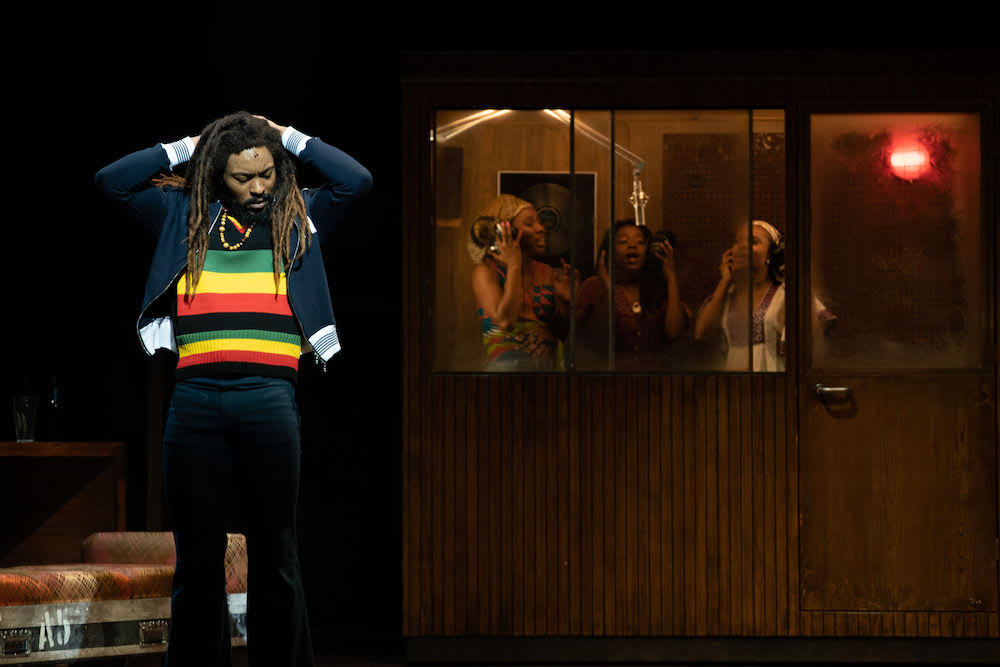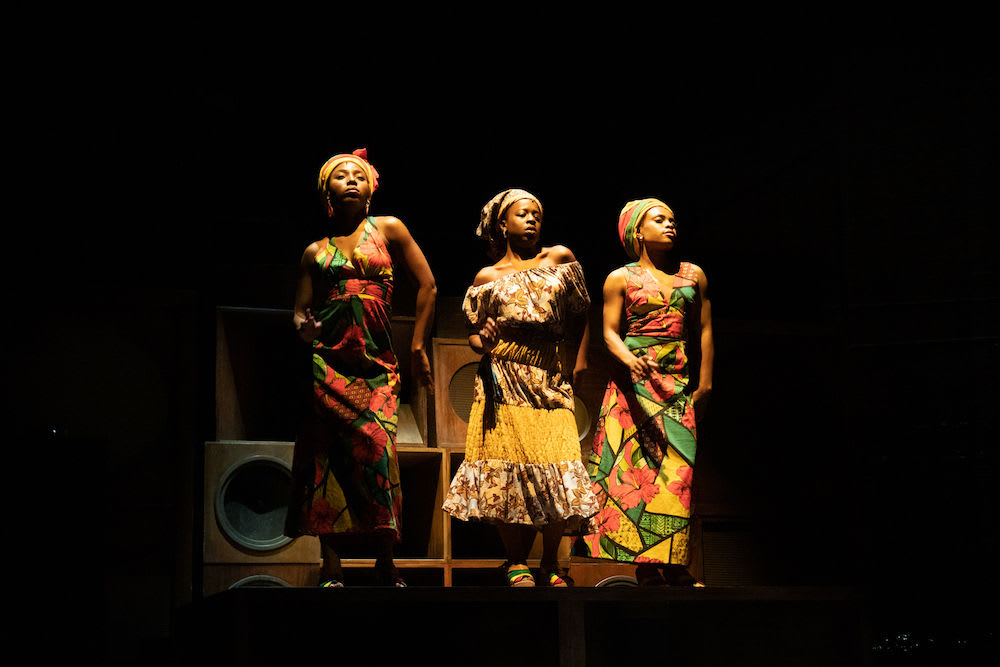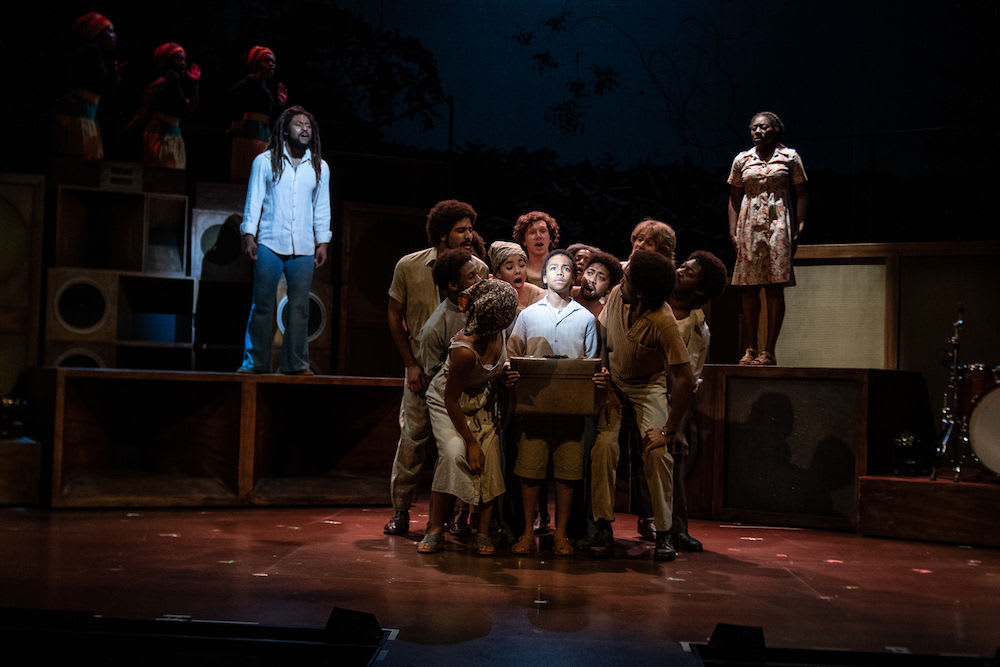 Arinzé Kene looks nothing like Bob Marley (1945–1981) but by Jah he is Bob Marley in every fibre of his soul, body and sound. Interviewed for the programme he said, "I have to do it because I feel I'm the right person to do it. Bob's messages resonate with me so deeply that I'd be turning down blessings from Jah! There aren't many in my career, but this is a must!... Bob never shied away from the fact that he was an entertainer but the message imbued in there is brilliant."
I second his every word: committed performance, physically, emotionally, and intellectually. Electrifying, it's not just his dreads that fly. He must run at least the equivalent of a marathon very night. I remember being blown away by his performances in Misty and Girl From the North Country, but this is something else.
His words just about encapsulate the show—it is entertaining—the show is jumping from the very first moment. And Marley's messages of unity, peace and brotherhood are loud and clear in his lyrics, which are put in context not just by the snapshot storyline but also by old footage of political news on television screens dotted about the auditorium. Jamaican politics, violence, Marley and his wife survive an assassination attempt in their home, which brings him to England (comically freezing in the snow in Leicester in 1974), the band hating eating white man's "shit", and ultimately global fame.
I'm grateful for the screens because sometimes it is hard to hear the dialogue, the audience is quite vocal: two women next to me talk and sing throughout—the sign of a good time and total immersion. I'm surprised at the demographic, mostly white middle-aged who probably grew up with his reggae sound. There's a point in the show when one of the Wailers complains about playing to white audiences… and Marley is denigrated as a "white man hero".
The stage is banked high with speakers (design Chloe Lamford) and the cast is large (I count about twenty-four including backing singers, swing and ensemble) with a fabulous seven-strong band, but before we come to that, there is a warm-up act—Craig Blake's DJ Sway—I'll say no more except he is great. They are all great. Gabrielle Brooks as Marley's long-suffering wife Rita, who had to put up with his inner child and philandering (three in a marriage), but how could she refuse such a strangely naïve and unique personality… their duet is beautiful.
His younger scared self is played tonight by Cannon Hay (I think): when Marley is dying (far too young), his seven-year-old self, parting from his mother (Julene Robinson) to go to London alone to a father who doesn't come, reappears. He did it then, he can do it now. "Don't worry 'bout a thing". Lee Hall brings some of his sensitive Billy Elliot The Musical to the game.
But, everything rides on Kene's impassioned performance, especially near the end as he steps forward and addresses us all, and the audience falls silent. Then he breaks into "Redemption Song", sung alone and to simple accompaniment, and the cheers are loud and long. In fact, the cheers are deafening throughout for every well-known song. This is more than a juke-box musical—and what songs, at least twenty-five of them from "Could You Be Loved", "Stir It Up", "No Woman No Cry", "I Shot the Sheriff", "Punky Reggae Party" to "Redemption Song", "Jamming" and finally a call to arms "Get Up Stand Up"—more of a revivalist meeting.
A life story through song, within the political turmoil of the time in Jamaica, is brought to life by a tremendous cast, and most importantly of all by his family's approval and involvement. His daughter Cedella Marley says, "just as my father embraced London, his family embrace it as well… There were a lot of sacrifices made and a lot of hard work happening during his time there and for me opening this particular show in London is meaningful."
If Marley had not met Chris Blackwell (Henry Faber) of Island Records in Notting Hill in 1972, if Blackwell had not taken a punt on him and The Wailers and trusted him to deliver in a musical world where bands were being ripped off, would he have played in 1978 at the One Love Peace Concert in the National Stadium ("Jamaica needs you…") or in 1980 in New York's Central Park… or reconciled political leaders…? His lyrics are relevant today in a world where black lives are still in danger. "One love, one life, let's get together…"; "could you love and be loved…".
Director Clint Dyer, choreographer Shelley Maxwell (terrific), video and sound designers Tal Yarden and Tony Gale, and a huge list of creative and production teams (especially wigs), have pulled off a palpable hit (DJ Sway says he's bilingual in Shakespeare and Jamaican). Bob Nesta Marley made sweet music, first on a homemade guitar, the group rehearsing in a graveyard, rebellious teenagers, survived guns and knives at his gigs, as he preached love. What a mix. Look up the meaning of Nesta—his mother said it meant messenger, bringing his message to the world, but there's more. Fascinating.
Reviewer: Vera Liber