Ghost Stories
Jeremy Dyson and Andy Nyman
The Lyric Hammersmith
Grand Opera House, York
–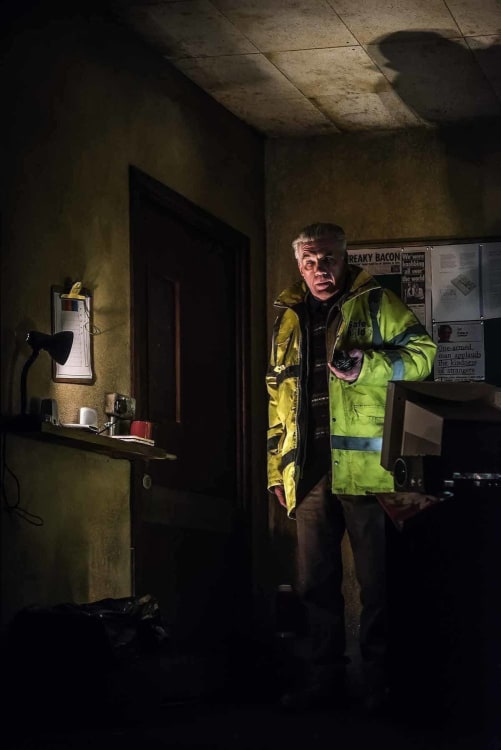 Until fairly recently, Stephen Mallatratt's ingenious adaptation of The Woman in Black was the pre-eminent supernatural chiller of the British theatre. Then, in 2010, Ghost Stories erupted onto the stage, where it has been scaring the bejesus out of audiences ever since. Now, ten years later, Andy Nyman and Jeremey Dyson's theatrical spookfest has embarked upon its first regional tour.
As with Agatha Christie's The Mousetrap, critics have been sworn to secrecy about Ghost Stories' various twists and turns. For that reason, all I can tell you is that the show is framed as a lecture delivered by an increasingly uneasy parapsychologist, Professor Goodman (Joshua Higgott).
At the beginning of the lecture, Goodman voices his scepticism about the supernatural, but this doubt is eroded as he recounts the supernatural encounters experienced by three different 'percipients': Tony Matthews (Paul Hawkyard), a night-watchman with family baggage; Simon Rifkind (Gus Gordon), a gauche teenager; and Mike Priddle (Richard Sutton), a corporate yuppie of Farage-level smugness.
I have wanted to see Ghost Stories for years. I'm a huge fan of supernatural fiction and films, particularly the classic portmanteau film Dead of Night (1945), which appears in one of Goodman's lecture slides, and I have long admired the work of Nyman and Dyson—both of whom have managed to combine their dual loves of comedy and horror in a number of marvellous projects.
It's entirely predictable therefore that I relished every moment of this tightly-focused 80-minute thriller. Despite having seen the 2017 film adaptation starring Paul Whitehouse and Martin Freeman, I still found the three ghost stories thrilling and absorbing. Nyman and Dyson are absolutely steeped in the supernatural genre, and they know how to build up a sense of dread by establishing a spooky setting and making the audience wait for the scares to arrive.
Jon Bausor's versatile set allows for the creation of various creepy and claustrophobic locations, and James Farncombe's low lighting makes excellent use of darkness. I've never seen a theatre so dark before—often, the only light on stage is that of a torch or car headlamp.
Importantly, Nyman and Dyson also appreciate the pleasure of a good jump scare, and the play is punctuated with such moments, aided splendidly by Scott Penrose's special effects. Praise must also go to Nick Manning for his unnerving sound design.
I have no compunction about recommending Ghost Stories to all theatre fans who enjoy a good fright. Nyman and Dyson's play flirts with psychological and philosophical issues—namely our curiosity about death—but at its heart Ghost Stories is a first-rate theatrical rollercoaster.
Reviewer: James Ballands