Good People
David Lindsay-Abaire
Hampstead Theatre
–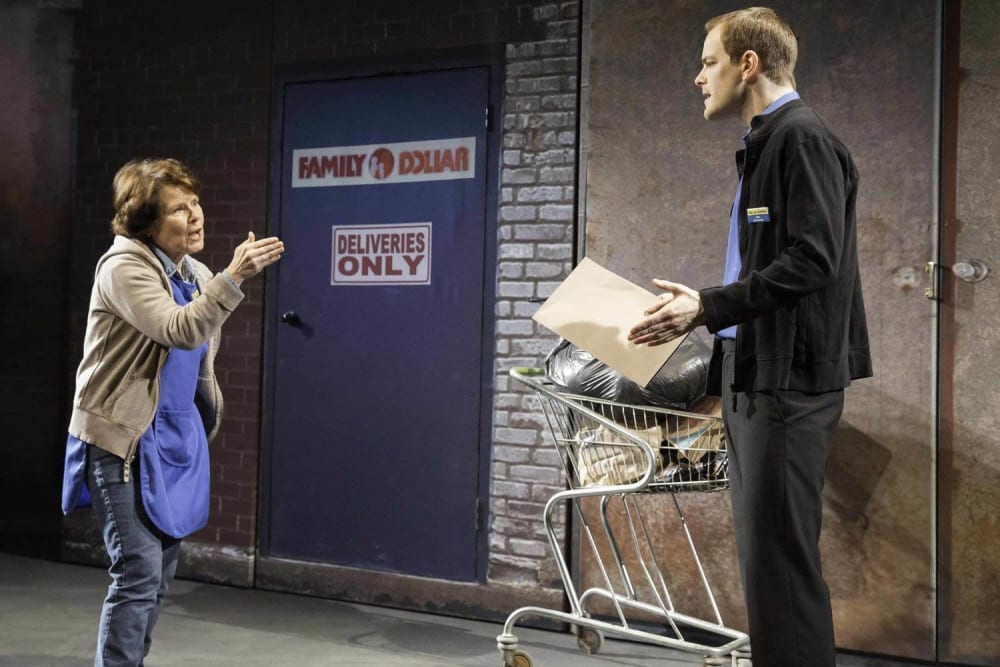 David Lindsay-Abaire has achieved fame and quite possibly fortune by writing the book and lyrics for Shrek the Musical.
The American writer has also penned a series of plays both on and off Broadway. Indeed, he is so prolific that he was named as the most produced playwright in America for 2012-13.
Very little of his work has travelled across the Atlantic to date, although Fuddy Meers did make a brief foray into London.
Good People is almost divided into two separate plays by its interval. These take place on a revolving set designed by Hildegard Bechtler, which transforms from a grimy alleyway to an equally grimy kitchen before spectacularly changing into the kind of modern living room that any affluent doctor and university professor would be proud to call their own.
In the first half of its two-hour running time, the play focuses on a group of raucous women in Southie or, more formally, South Boston. The opening scene grabs viewers by the throat as Imelda Staunton's mouthy Margie is thrown out of her job by the young Stevie, Matthew Barker playing the son of a childhood friend.
Struggling with wisecracking desperation to make ends meet, Miss Staunton's character becomes far more sympathetic than seemed possible, given her rough edges.
It helps that her best friends are dotty Dottie, a monument to selfishness played with relish by June Watson and Lorraine Ashbourne as blowsy Jean. In their company, anyone would seem relatively normal.
More poignantly, Margie's daughter Joycie, conceived some 30 years before while she was still at school, is severely retarded bringing out the best maternal instincts in what might otherwise seem a totally comic character.
The job hunting promises nothing except torture at the local Gillette factory until Jean bumps into Mike, an old school friend of the women, who has made good while most of his contemporaries are in dead-end jobs or in several cases just dead.
Lloyd Owen, who seems to be specialising in American parts having played the eponymous Bodyguard, takes the role of a cultured, affluent doctor who is not beyond a little Southie belligerence himself.
While gently welcoming, he has no intention of providing great assistance beyond being conned into inviting his old flame to a house party.
The interval intervenes after which Good People becomes much closer to an upmarket sitcom as Margie barges her way into Mike's home to attend a party that she knows has been cancelled.
Now, she is able to have some fun at the expense of the good doctor with the assistance of his younger wife, a sympathetic lecturer portrayed with great charm by Angel Coulby.
Marital problems, racial issues and class all rear their ugly heads without necessarily telling us very much more about the human condition. That is a pity since David Lindsay-Abaire has created a fascinating protagonist and initially set up a situation that could have opened up untold opportunities.
Even so, there are some strong moments, particularly in the first half of the evening, and Imelda Staunton shines under the direction of Jonathan Kent.
Reviewer: Philip Fisher