Groundhog Day
Book by Danny Rubin, music and lyrics by Tim Minchin
Old Vic Theatre
–

Listing details and ticket info...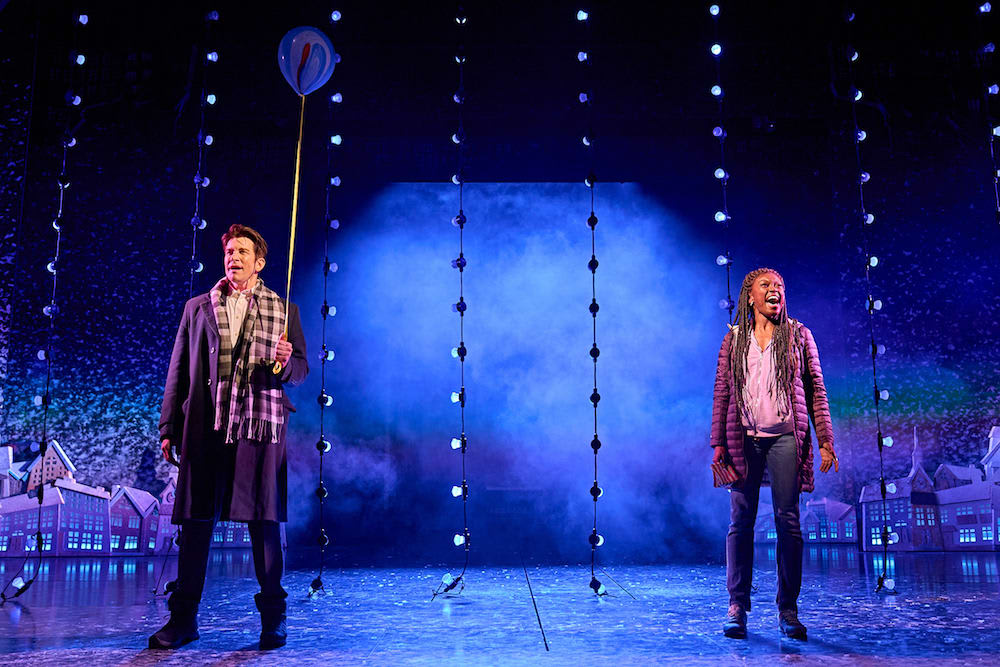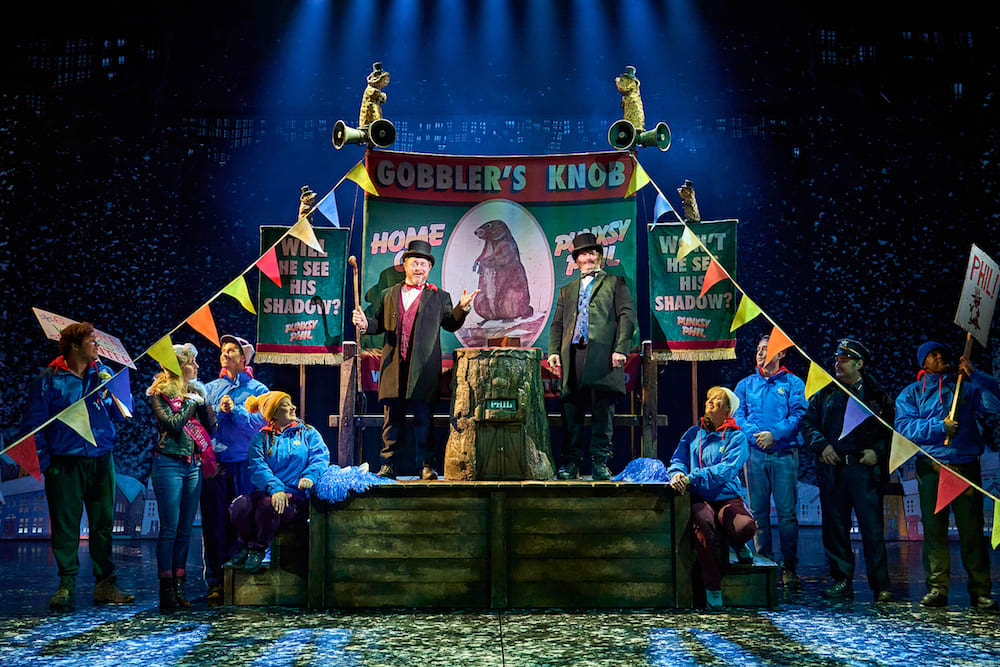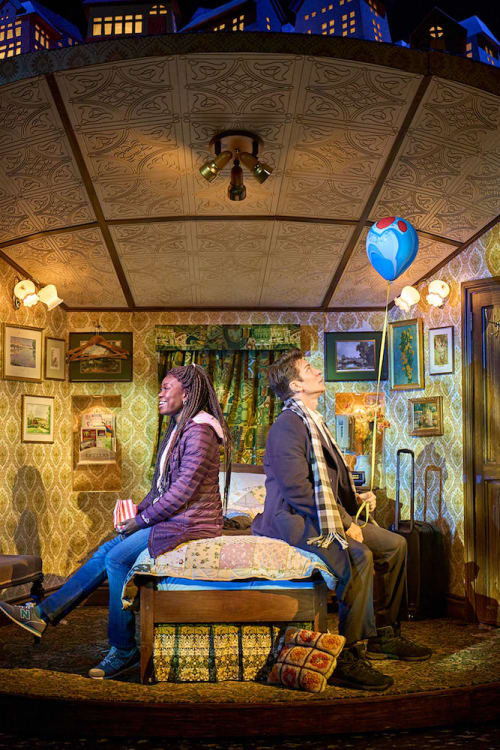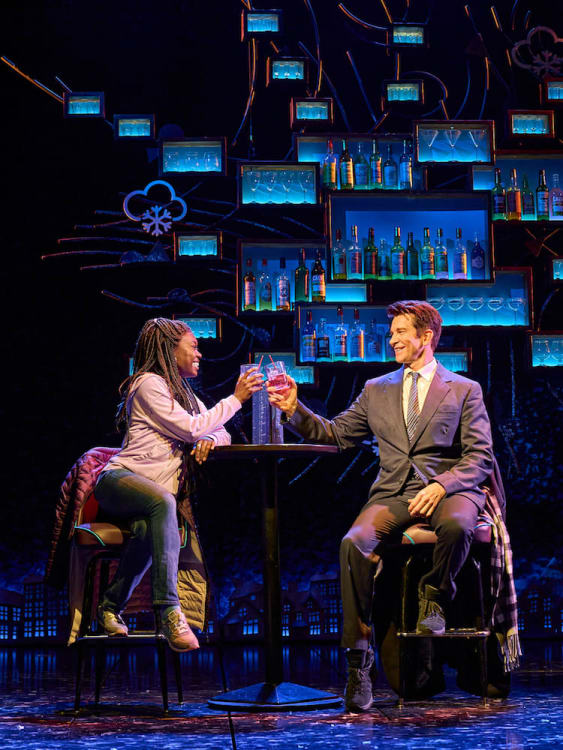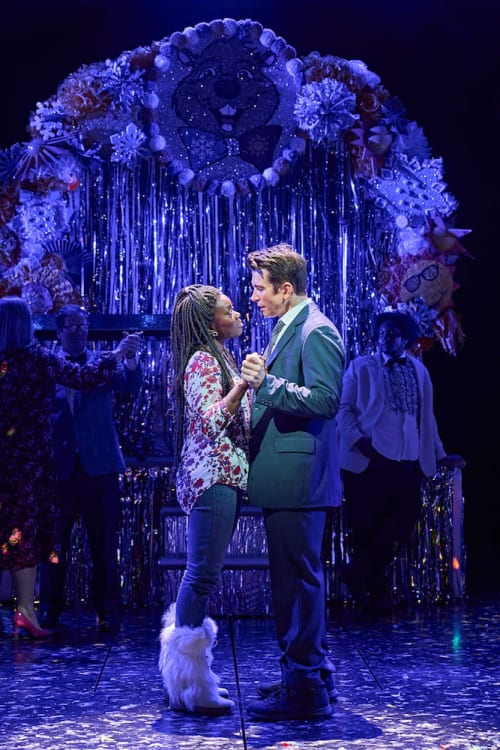 Olivier Award-winning (Best New Musical, Best Actor) Groundhog Day is back on repeat—like its subject matter—for a twelve-week run. Andy Karl is also back as Phil Connors, that sardonic Pittsburgh TV weatherman Bill Murray made popular in the eponymous 1993 film written by Danny Rubin and Harold Ramis.
In 2016 Rubin enjoyed a second coming with the musical, brilliantly scripted with songs by the ever-witty Tim Minchin (Matilda the Musical) and directed with infectious joie de vivre by Matthew Warchus. With its blizzard lockdown context, it would make a good Christmas show—think It's a Wonderful Life, which Warchus references.
It's a feel-good musical, a timely one for the age we live in, a relevant one, a lesson in empathy and love for one's fellow man. It reminds me a little of Come From Away—that small-town simplicity and kindness. And of our own lockdown—if only it had been as much fun as this one.
Phil is a shit, not to put too fine a term on him. Or "an asshole", as Rita says, "lucky he's funny-ish". But with each day, 2 February, being reprised, he evolves to thinking he can do anything, he can't die no matter how hard he tries, he's a god he says. Is this Nietzschean free will? "If there's no tomorrow we can do what we want".
Oops, I've not read the programme notes on Nietzschean "eternal recurrence", Aristotle on "happiness and acquiring moral character" and Buddhism's "cycle of death and rebirth". Made palatable by effervescence, rude and crude (shadow play enema) jokes and knowing looks on the stage—very tongue-in-cheek...
Slowly, the old Phil learns to use his daily experience—to pull young Nancy (Eve Norris, "better to be leered at than not desired at all") for a one-night stand, to practice seducing the local producer Rita. The cynical Phil has come to small-town Punxsutawney for Groundhog Day, when the said rodent predicts the weather.
Much is made of the fact that both are called Phil. There's subtlety there, if only we can see it, blinded as we are by the inevitable love story trajectory and Phil's (not the rodent's) eventual redemption.
He lodges in a tiny claustrophobic room in a B&B where the coffee is terrible and the talk repetitive. Small-town folk are denigrated for their unsophisticated lives: life there is always repetitive. But it is kind, and this is what the new Phil eventually learns: to do good deeds, to see with freshly acquired (in)sight.
Sounds sanctimonious? No, it's an absurdly droll parable played with verve and boundless energy by cast, musicians and cheerleader dancers who double as local characters. The music ranges from belting traditional musical numbers to folksy to harmonising barroom duet, to jazz—Tanisha Spring's Rita has a great jazz voice. And an independent mind—she studied eighteenth century French poetry… The script is full of such delicious non-sequiturs. Phil, of course, tasteless as ever, is vulgar in French.
Phil learns the piano—tedious repetition is the way to perfection—and wows the townsfolk with his playing. And the moral is… Of course, it all ends happily ever after. The final scene—Phil and Rita, their heads touching, sitting backs to us on a park bench, watching the red sunset or sunrise—is a cliché eagerly anticipated.
Warchus directs at a pace—he needs to, as there are inevitable longueurs with this subject matter. Rod Howell's brilliant set (and costumes) is storybook: toy town tiny houses, a toy van—there's an aerial scene of a police car chase that is delightful—and a clock that makes me think of Cinderella. There's much to read in the setting.
Christopher Nightingale's musical supervision and orchestration, Hugh Vanstone's lighting, Paul Kieve's subtle illusions and Andrzey Goulding's video and animation complete the sleight of hand that is theatre. The entire cast performs (Lizzi Gee choreography) with slick precision on a swiftly changing set. The musical numbers are full of hope: "If I Had My Time Again".
Reviewer: Vera Liber