Hamlet
William Shakespeare
Shakespeare's Globe
–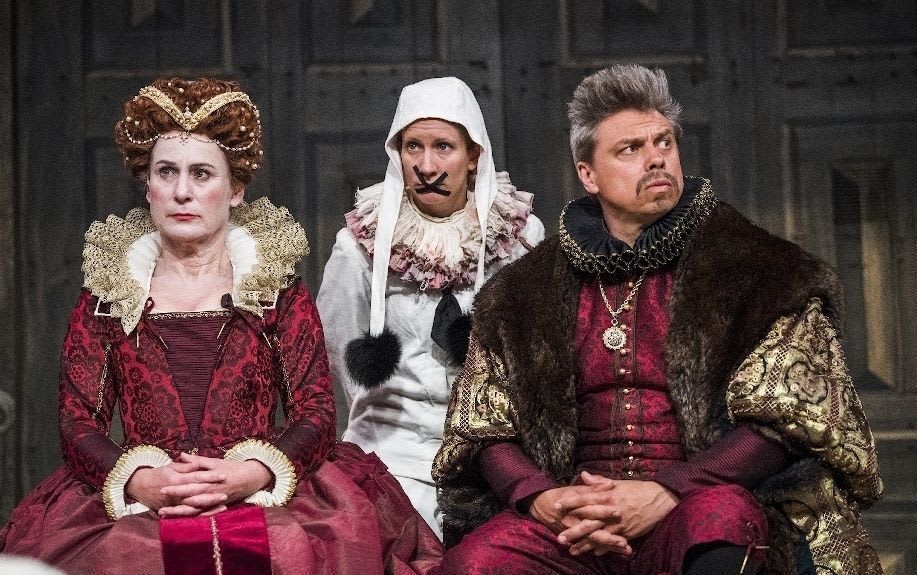 Following in the footsteps of a controversial predecessor, the advent of Michelle Terry as the Globe's fourth Artistic Director might have been expected to offer some safe choices. However, the actress opens with a couple of politically correct productions that are likely to shock purists and mystify the uninitiated.
Those purists will need to be reminded that some of the greatest hits of another great Globe Hamlet, her originating predecessor Mark Rylance, required him to don frocks. In return, as she did so splendidly when playing Henry V at Regents Park, Miss Terry dons breeches to become the latest in a relatively long and distinguished line of female Hamlets.
Another aspect of the new Artistic Director's risk-taking is demonstrated by the choice of director. Rather than one, there are two and neither Federay Holmes nor Elle While is exactly a household name.
This duo is handcuffed from the start by casting decisions that were probably taken out of their hands. The idea of a 12-strong ensemble to play both As You Like It and Hamlet makes sense and the six-all gender split is manageable. However, the desire for gender neutrality will take some getting used to and can go badly wrong, particularly in tragedy.
The evening's big draw is capable of portraying Hamlet and overcoming any initial doubts about the character's gender. As one would expect, this talented actress does a more than serviceable job. However, she would have benefited from a number of more practical decisions regarding those surrounding her. It would also be good to learn why she was dressed as a clown or Pierrot for much of the production.
Oddly, one problem is that all of the older male actors are comedians rather than tragedians. This means that James Garnon is forced into service as Claudius, without having the necessary gravitas. Ironically, judging by her sterling work in As You like It, his Gertrude, Helen Schlesinger might have been better suited had the roles been swapped.
Elsewhere, Shubham Saraf barely makes an impression as Ophelia, hardly helped by the fact that he towers over Bettrys Jones, who acts well but lacks the physicality or vocal power to play Laertes.
Similar issues arise around many of the other elements of this production, which stretches to close to 3 hours.
On the plus side, Colin Hurley garners plenty of laughs as the Gravedigger and Catrin Aaron makes a superb foil to the star in the expanded role of Horatio.
The good news is that Michelle Terry delivers soliloquies well, allowing viewers to see into the soul of her character and the production calms down during the last hour, beginning to get to the essence of a play that could and should have been far more powerfully and meaningfully delivered by this talented group.
Viewers will now await the remainder of Michelle Terry's opening season as Artistic Director with interest. Her heart is clearly in the right place and she is a fine actress so one hopes that future productions will be faithful to the originals and make the most of a unique theatrical space and atmosphere.
Reviewer: Philip Fisher