Heisenberg: The Uncertainty Principle
Simon Stephens
Elliott & Harper Productions
Wyndham's Theatre
–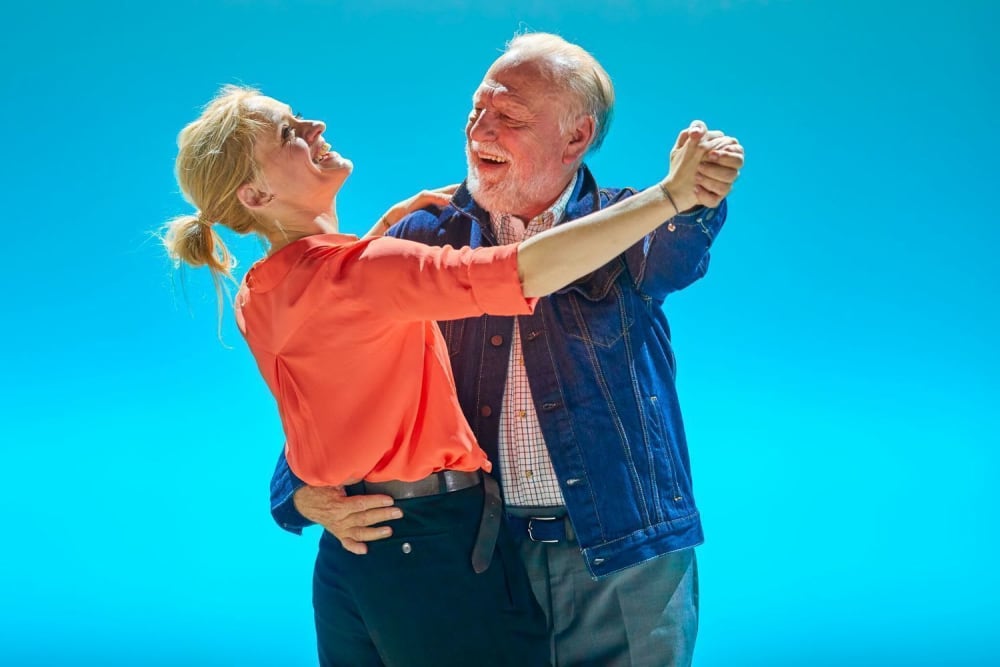 For their new company's inaugural production, director Marianne Elliott and producer Chris Harper have surrounded themselves with old friends.
Miss Elliott has directed many of playwright Simon Stephens's greatest hits, while almost the whole of the backstage team are enjoying a reunion having worked together on The Curious Incident of the Dog in the Night-Time.
The play chosen to launch the company is enjoying a British première, having originally opened in 2015 (as Heisenberg) at Manhattan Theatre Club off-Broadway in a Mark Brokaw production starring Mary Louise Parker and Dennis Arndt that transferred to Broadway a year ago.
For those without a scientific background, Heisenberg's Uncertainty Principle broadly says that vagueness is built into nature meaning that we can measure a particle's velocity or position but not both at the same time. This is the premise that Simon Stephens has used to view the lives and interactions of two, deliberately mismatched characters.
Designer Bunny Christie has created the stage equivalent of a blank page. The white box set with minimal props changes shape and size symbolically and also gets a series of artistically coloured projections as the 90 minutes develop.
The simplicity speeds up a production that follows the fortunes of two people from their first meeting in a London railway station.
There, Kenneth Cranham's 75-year-old English butcher Alex Priest is erroneously accosted by American school receptionist Georgie Burns, 33 years his junior and almost as much of a joker as her legendary namesake. The lady is played by Anne-Marie Duff, another previous collaborator with Marianne Elliott on the National's Saint Joan, for which both won awards.
In keeping with assumed national traits, he is reserved and respectful while she is frankly a little crazy, telling tales that prove to be invented before allowing him (and us) a glimpse into her rather sad real life.
While Alex has barely known love or any kind of excitement, Georgie has fared little better, although she has a son who has decamped for New Jersey in an attempt to escape her clutches forever.
Love or its equivalent burgeons between the duo despite their generational divide, before they take an unlikely road trip with an ostensible aim that may be less relevant than the opportunity it gives them to gain a better understanding of themselves, each other and the meaning of life.
Anne-Marie Duff is a delight to watch as she depicts the slightly unstable but rather lovable Georgie. With lesser material, Kenneth Cranham does a good, sensitive job of bringing understated Alex to life as her foil.
Writing in this vein, Simon Stephens is an expert in depicting the common man or woman on stage, warts and all. Some of the scientific ideas that he explores are likely to fly far over the heads of many audience members but visitors to Wyndham's will come away with a better understanding of the human heart and the foibles to which we are all so easily prone.
Reviewer: Philip Fisher