Julius Caesar
William Shakespeare
Donmar Warehouse
King's Cross Theatre
–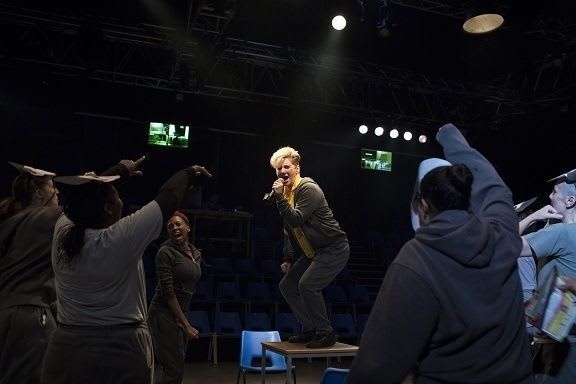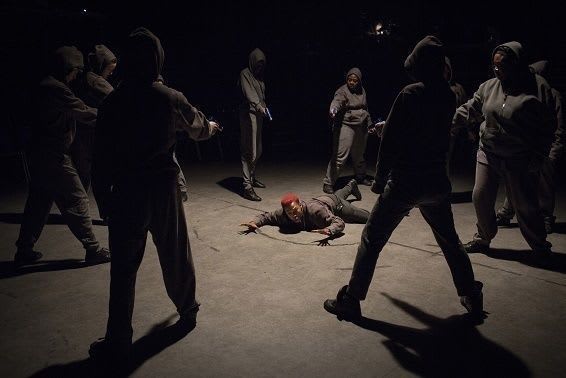 The Donmar has transported Phyllida Lloyd's all-female Shakespearean interpretations to Kings Cross Theatre for a very full day, even allowing for the fact that each of the performances has been pared down to around two hours.
The framing device is one of those popular social experiments in which plays are put on by hardened female prisoners. This accounts for the austere, caged setting and dissonant soundscape, not to mention a degree of regimentation for visitors.
The acting is also intentionally unorthodox, with accents typically far from Received Pronunciation but that does not detract from the drama.
Julius Caesar opens as Jackie Clune makes the title character pompous and patronising towards his friends as well as his countrymen.
It should therefore come as no surprise that rebellion is contemplated, first fomented by Martina Laird's Cassius.
The revolutionary soon recruits others, most particularly his brother Brutus, played by Dame Harriet Walter sporting a mildly eastern European accent.
With pace maintained throughout, the conspirators are soon reach fever pitch in their fervour for change, genuinely believing that removing Caesar will free the country from torment.
Despite warnings from Leah Harvey as a Soothsayer savant and Zainab Hasan playing his wife Calpurnia, Caesar ventures out on the Ides of March meeting a predictably early death.
As the whole world knows, this heralds two immortal speeches. First, Brutus pays homage to the man whom he has just assassinated. Then, even more memorably, stating in a prone position and gradually rising to the job, the impressive Jade Anouka in the guise of Mark Antony rouses the people to civil war.
The unrest is conveyed with rock drumming and guitars, symbolising the sturm und drang of warfare, before the play ends in relatively traditional fashion, if one can ignore the inmates being rounded up just in time for lights out.
In addition to the leading lights, the support throughout this ensemble is strong, Sheila Atim proving particularly affecting as Lucius as well as showing off a sweet singing voice.
Phyllida Lloyd has created a short, sharp, modern adaptation that combines some fine comic touches with deep pathos to satisfying effect, even if it can be deliberately a little rough around the edges as power is frequently viewed in a prison context rather than a majestically classical interpretation.
See also reviews of Henry IV and The Tempest.
Reviewer: Philip Fisher